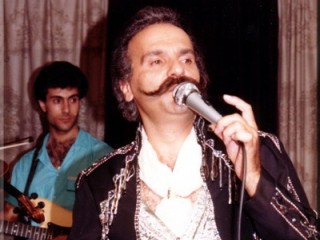 Tony Hanna
Date of birth : -
Date of death : -
Birthplace : Lebanon
Nationality : Lebanese
Category : Arts and Entertainment
Last modified : 2011-05-18
Tony Hanna also known as Toni Hannah is a Lebanese singer born and raised in a small village in the Lebanese mountains.

Early in his life, Tony Hanna moved to London, England where he spent five years and then to the Detroit where he stayed for 20 years. Finally he returned back to his native village in Lebanon.

Tony Hanna's talent became evident in the early seventies. As soon as he launched his singing career, he turned to a best seller artist and a singer with a special life style and look. He was nicknamed by a British journalist "Lebanese Dali" because of his moustache.

Tony Hanna was accompanied by professional Dabkeh dancers who dance the traditional Lebanese village dances.
Tony Hanna''s songs got him to tour and sing in to all the capitals of the Arab world, cities in north America, in addition to Australia, Paris, London, Brazil and Venezuela.

In the early 2000, he joined hands with Michel Elefteriades and together they reproduced some of his old songs with a new musical distribution. Tony joined the fusion experiment and with the Yugoslavian Gipsy Brass Band created some nice ecclectic music that received a lot of good reviews and appreciation.

View the full website biography of Tony Hanna.