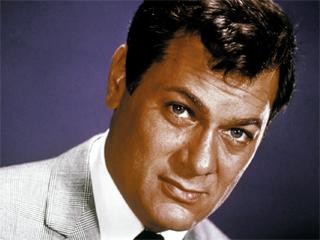 Tony Curtis
Date of birth : 1925-06-03
Date of death : 2010-09-29
Birthplace : Bronx, New York, U.S.
Nationality : American
Category : Famous Figures
Last modified : 2010-09-30
Tony Curtis (June 3, 1925 – September 29, 2010) was an American film actor. He played a variety of roles, from light comedy, such as the musician on the run from gangsters in Some Like It Hot, to serious dramatic roles, such as an escaped convict in The Defiant Ones, which earned him a nomination for the Academy Award for Best Actor. From 1949, he appeared in more than 100 films and made frequent television appearances.

Curtis was born Bernard Schwartz in the Bronx, New York, the son of Emanuel Schwartz and his wife Helen Klein. His parents were Hungarian Jewish immigrants from Mátészalka, Hungary. Hungarian was Curtis' only language until he was five or six, postponing his schooling. His father was a tailor and the family lived in the back of the shop—the parents in one corner and Curtis and his brothers Julius and Robert in another. His mother had once made an appearance as a participant on the television show You Bet Your Life, hosted by Groucho Marx. Curtis said, "When I was a child, Mom beat me up and was very aggressive and antagonistic." His mother was later diagnosed with schizophrenia, a mental illness which also affected his brother Robert and led to his institutionalization. When Curtis was eight, he and his younger brother Julius were placed in an orphanage for a month because their parents could not afford to feed them. Four years later, Julius was struck and killed by a truck.

During World War II, Curtis joined the United States Navy inspired by watching Cary Grant in Destination Tokyo and Tyrone Power in Crash Dive (1943). He served aboard USS Proteus (AS-19), a submarine tender, and on September 2, 1945, he witnessed the Japanese surrender in Tokyo Bay from about a mile away. Following his discharge, Curtis studied acting at the Dramatic Workshop of The New School in New York with the influential German stage director Erwin Piscator, along with Elaine Stritch, Walter Matthau, and Rod Steiger. He was discovered by a talent agent and casting director Joyce Selznick. Curtis claims it was because he "was the handsomest of the boys." Arriving in Hollywood in 1948 at age 23, he was placed under contract at Universal Pictures and changed his name to Tony Curtis, taking his first name from the novel Anthony Adverse and his last name from "Kurtz", a surname from his mother's family. Although the studio taught him fencing and riding, Curtis admits he was at first only interested in girls and money.


Career
Curtis's uncredited screen debut came in Criss Cross (1949) playing a rumba dancer. In his second film, City Across the River (also in 1949), he was credited as "Anthony Cross" . Later, as "Tony Curtis", he cemented his reputation with breakthrough performances such as in the role of the scheming press agent Sidney Falco in Sweet Smell of Success (1957) with Burt Lancaster (who also starred in Criss Cross) and an Oscar-nominated performance as a bigoted escaped convict chained to Sidney Poitier in The Defiant Ones.
He did both screen comedy and drama together and became the most sought after star in Hollywood: Curtis' comedies include Some Like It Hot (1959) and Sex and the Single Girl (1964), and his dramas included playing the slave Antoninus in Stanley Kubrick's Spartacus (1960) co-starring Kirk Douglas and Sir Laurence Olivier, The Outsider (1961), the true story of WW II veteran Ira Hayes, and The Boston Strangler (1968), in which he played the self-confessed murderer of the film's title, Albert DeSalvo. The latter film was praised for Curtis' performance.
Curtis also appeared frequently on television; he co-starred with Roger Moore in the TV series The Persuaders!. Later, he co-starred in McCoy and Vega$. In the early 1960s, he was immortalized as "Stony Curtis," a voice-over guest star on The Flintstones.
Throughout his life, Curtis enjoyed painting, and since the early 1980s, painted as a second career. His work commands more than $25,000 a canvas now. In the last years of his life, he concentrated on painting rather than movies. A surrealist, Curtis claimed "Van Gogh, [Paul] Matisse, Picasso, Magritte" as influences. "I still make movies but I'm not that interested in them any more. But I paint all the time." In 2007, his painting The Red Table was on display in the Metropolitan Museum of Art in New York City. His paintings can also be seen at the Tony Vanderploeg Gallery in Carmel, California.
Curtis spoke of his disappointment at never being awarded an Oscar. But in March 2006, Curtis did receive the Sony Ericsson Empire Lifetime Achievement Award. He also has a star on the Hollywood Walk of Fame, and received the Ordre des Arts et des Lettres (Order of Arts and Letters) from France in 1995.
Curtis died at his Las Vegas home on September 29, 2010, of an apparent cardiac arrest.
Curtis' Filmography
* Criss Cross (1949)
* City Across the River (1949)
* The Lady Gambles (1949)
* Take One False Step (1949) (scenes deleted)
* Johnny Stool Pigeon (1949)
* How to Smuggle a Hernia Across the Border (1949) (short subject)
* Woman in Hiding (1950)
* Francis (1950)
* I Was a Shoplifter (1950)
* Sierra (1950)
* Winchester '73 (1950) (Credited as Anthony Curtis)
* Kansas Raiders (1950)
* The Prince Who Was a Thief (1951)
* Meet Danny Wilson (1952) (cameo)
* Flesh and Fury (1952)
* No Room for the Groom (1952)
* Son of Ali Baba (1952)
* Houdini (1953)
* The All-American (1953)
* Forbidden (1953)
* Beachhead (1954)
* Johnny Dark (1954)
* The Black Shield of Falworth (1954)
* Six Bridges to Cross (1955)
* So This Is Paris (1955)
* The Purple Mask (1955)
* The Rawhide Years (1955)
* The Square Jungle (1955)
* Trapeze (1956)
* Mister Cory (1957)
* Sweet Smell of Success (1957)
* The Midnight Story (1957)
* The Vikings (1958)
* Kings Go Forth (1958)
* The Defiant Ones (1958)
* The Perfect Furlough (1958)
* Some Like It Hot (1959)
* Operation Petticoat (1959)
* Who Was That Lady? (1960)
* The Rat Race (1960)
* Spartacus (1960)
* Pepe (1960) (cameo)
* The Great Impostor (1961)
* The Outsider (1961), as Ira Hayes
* Taras Bulba (1962)
* 40 Pounds of Trouble (1962)
* The List of Adrian Messenger (1963) (cameo)
* Captain Newman, M.D. (1963)
* Paris, When It Sizzles (1964) (cameo)
* Wild and Wonderful (1964)
* Goodbye Charlie (1964)
* Sex and the Single Girl (1964)
* The Great Race (1965)
* Boeing Boeing (1965)
* The Flinstones (1965) (voice)
* Chamber of Horrors (1966) (cameo)
* Not with My Wife, You Don't! (1966)
* Arrivederci, Baby! (1966)
* Don't Make Waves (1967)
* On My Way to the Crusades, I Met a Girl Who... (1968)
* Rosemary's Baby (1968) (voice)
* The Boston Strangler (1968)
* Monte Carlo or Bust (1969)
* You Can't Win 'Em All (1970)
* Suppose They Gave a War and Nobody Came? (1970)
* The Persuaders! (1971–1972)
* Mission: Monte Carlo (1974)
* Lepke (1975)
* The Count of Monte Cristo (1975)
* London Conspiracy (1976)
* The Last Tycoon (1976)
* Casanova & Co. (1977)
* Sextette (1978)
* The Manitou (1978)
* The Bad News Bears Go to Japan (1978)
* The Users (1978)
* Electric Light Orchestra Out of the Blue: Live at Wembley (1978)
* Double Take (1979)
* Title Shot (1979)
* Little Miss Marker (1980)
* It Rained All Night the Day I Left (1980)
* The Mirror Crack'd (1980)
* The Scarlett O'Hara War (1980)
* Othello, the Black Commando (1982)
* Where Is Parsifal? (1983)
* BrainWaves (1983)
* The Fantasy Film Worlds of George Pal (1985) (documentary)
* Club Life (1985)
* Insignificance (1985)
* The Last of Philip Banter (1986)
* Balboa (1986)
* The Passenger - Welcome to Germany (1988)
* Lobster Man From Mars (1989)
* Midnight (1989)
* Tarzan in Manhattan (1989)
* Walter & Carlo In America (1989)
* Prime Target (1991)
* Center of the Web (1992)
* Hugh Hefner: Once Upon a Time (1992) (documentary)
* Naked in New York (1993)
* The Mummy Lives (1993)
* A Century of Cinema (1994) (documentary)
* The Immortals (1995)
* The Celluloid Closet (1995) (documentary)
* Roseanne - TV Series (1996) (role as Hal, ballroom dance studio instructor)
* Hardball (1997)
* Brittle Glory (1997)
* Alien X Factor (1997)
* Stargames (1998)
* Louis & Frank (1998)
* Play It to the Bone (1999) (cameo)
* Reflections of Evil (2002) (narrator)
* Where's Marty? (2006)
* The Blacksmith and the Carpenter (2007) (voice)
* David & Fatima (2008)
* The Jill & Tony Curtis Story (2008) (documentary feature)
View the full website biography of Tony Curtis.