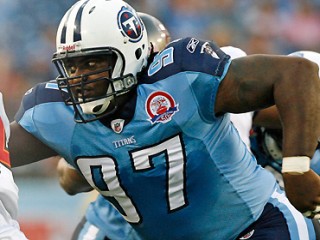 Tony Brown
Date of birth : 1980-09-29
Date of death : -
Birthplace : Chattanooga, Tennessee
Nationality : American
Category : Sports
Last modified : 2010-12-11
PRO:
A powerful defensive tackle who plays with good leverage and solid technique, Tony Brown is entering his sixth NFL season. In the past four years, he has gone from looking for a job in the NFL to being a team leader and a mainstay in the middle of the Titans defensive line. One of the most consistent performers on the defense, he has missed just two games since becoming a full-time starter in 2007. The Chattanooga native was a midseason roster addition in 2006 after after he was released by the Carolina Panthers on Sept. 23, 2006. After entering the NFL as a rookie free agent with the Panthers in 2003, he spent 13 games on Carolina's practice squad before being signed to Miami's active roster for the final three games of his rookie season. In 2004, Brown played for the 49ers in all 16 games. In 2005, he was out of football after being waived by San Francisco prior to the season. He was re-signed by the Panthers on Jan. 9, 2006 and then allocated to NFL Europe's Amsterdam Admirals. There, he earned NFL Europe Co-Defensive MVP honors after recording 40 tackles, four sacks, one fumble recovery, one interception and five passes defensed in 10 games. He returned from Amsterdam to rejoin the Panthers and spent the first two weeks of the season on their active roster before being released.

CAREER HIGHLIGHTS:
• Brown's total of 13 sacks from 2007-09 tied for seventh in the NFL among all defensive tackles.
• In 2009, Brown set career highs with five sacks, a team-high 25 quarterback pressures and a team-high three forced fumbles.
• In 2008, he set a career high with a team-leading 10 tackles for loss and also led the team with 24 quarterback pressures.
• Brown became a full-time starter in 2007 and set a career high with 83 tackles.
• In 2006 against the Houston Texans (10/29), less than a month after being unemployed, Brown recovered a David Carr fumble and returned it 40 yards for his first career touchdown.

TITANS TIDBITS:
• After being released by the Carolina Panthers in September 2006, Brown returned home to Chattanooga and hoped his phone would ring. Sitting in church shortly thereafter, it did. His prayers were answered when he felt his phone vibrate with a call from his agent, informing him through a text message the Titans were interested in his services.
• Off the field, Brown enjoys spending time fishing.
• In April 2007, he hosted the Believe to Achieve Celebrity Basketball Game in Chattanooga along with Oakland Raiders defensive lineman Terdell Sands.

CAREER TRANSACTIONS:
• The Chattanooga, Tenn., native was originally signed as an undrafted free agent by the Panthers on May 2, 2003 and was waived Aug. 31, 2003.
• Signed to Carolina's practice squad on Sept. 2, 2003.
• Signed by Miami off Carolina's practice squad on Dec. 13, 2003.
• Claimed off waivers by San Francisco from Miami on Sept. 7, 2004.
• Waived by San Francisco on Sept. 3, 2005 (out of football during 2005 season).
• Re-signed by Carolina on Jan. 1, 2006 and released Sept. 23, 2006.
• Signed by the Titans as a free agent on Oct. 3, 2006.

COLLEGE:

• Three-year starter at Memphis, as senior earned second-team All-Conference USA honors while recording 66 tackles, four sacks, one forced fumble, eight quarterback pressures and five passes defensed.
• As junior, registered career-high 68 tackles, seven sacks, one fumble recovery, one forced fumble, 17 quarterback pressures and four passes defensed.
• Graduated in December 2002 with degree in sociology.

PERSONAL:

• Married to Lachandra, couple splits time between Nashville and Chattanooga, Tenn., with their infant son, Tyre (aka Lil Juice).
• Played linebacker and tight end at City (Chattanooga,Tenn.) High School and earned All-State honors on defense as a senior.
• Also lettered four years in basketball and baseball (first base and catcher). Helped basketball team to state title as freshman power forward.
• List of favorites: (movie) "The Five Heartbeats"; (TV show) "The Wire"; (actress) Halle Berry; (music artist) Prince; (vacation getaway) "at the house"; (sports team other than Titans) New York Yankees; (school subject) math; and (food) hot dogs.
• Born Robert Anthony Brown Jr. on Sept. 29, 1980 in Chattanooga, Tenn.
View the full website biography of Tony Brown.