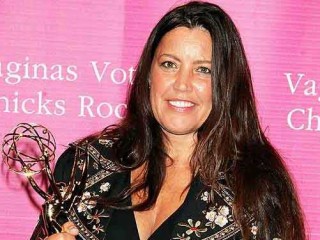 Toni Childs
Date of birth : 1957-10-29
Date of death : -
Birthplace : Orange, California,U.S.
Nationality : American
Category : Arts and Entertainment
Last modified : 2011-11-03
Toni Childs is an American singer-songwriter;she has released four studio albums and is best known for her songs "Don't Walk Away" (a Billboard Hot 100 hit in the United States in 1988), "I've Got To Go Now", a Top 5 hit in Australia in 1991, and the Emmy-winning "Because You're Beautiful" (released as a single in 2004, and featured on her 2008 album Keep The Faith).
Toni Childs "delivers ... evocative, evanescent music that allows you to immerse yourself and drift away," according to Rolling Stone critic Steve Pond. With the release of Union, her 1988 solo debut album, she has been favorably compared to rock and folk artisans such as Van Morrison, Joan Armatrading, and Phoebe Snow. "You notice her voice first," explained Pond. "It's full, deep and flexible ... her album's commanding centerpiece." Childs has been classified by many reviewers as ranking alongside other female folk stars coming into the spotlight in the late 1980s, such as Suzanne Vega and Tracy Chapman, and with the likes of them is credited with the resurgence in popularity of serious women singer-songwriters. "She makes music," asserted Jay Cocks of Time, "that catches the sweet, scary feelings, all the uncertainty and release, that can come when the sun goes down."

Her early years, spent there and in small towns in Arkansas, Oklahoma, and Kansas, were not especially conducive to developing her musical talents--her parents were strict Christian fundamentalists who forbade her to listen to rock or pop music, "or even go to the movies. There was a lot I missed out on," she confided to Cocks. She was also unhappy in school, due to a dyslexic reading disorder that went undiagnosed and caused her to be placed in classes for slow learners. But despite her troubles, Childs's aptitude for music began to show through; she started writing songs when she was fourteen. Because she did not know how to play a musical instrument at the time (later she learned guitar and bass), she tried to write a musical solely for voice; the story concerned a mermaid. "I just locked myself in my bedroom for two weeks," she told a Seventeen interviewer, "and scribbled it out."

When Childs was fifteen, however, she could no longer stand her repressive family environment. There had been other problems as well; when she was twelve, the man she thought was her biological father divorced her mother--before he left he revealed that he had only been stepfather to Childs and her brothers, and that a man who had been introduced as a friend of the family was their real father. Her mother remarried again, and Childs did not get along well with her second stepfather. She told Seventeen that he "didn't have a good grip on who he was. You love your mother, you want to make her life better, but after a point you can't really help, and you have to go." So she left home. She worked odd jobs to live; she served as a nanny, and did chores in a commune that fed her for her work. Childs began listening to rock then, too, and found herself admiring the work of David Bowie, Led Zeppelin, and Pink Floyd.

One night, at about the same time, Childs was in a southern California roller rink and the band performing there allowed her to see what her voice sounded like through a microphone. "I sounded like somebody who could really sing!" she recalled for Seventeen. A few years later, Childs began singing with rock bands herself, and by 1979 was the leader of Toni and the Movers. As John Milward put it in an article for Mademoiselle, the group "was for [Childs] the living out of a loud, raunchy rock-and-roll fantasy, complete with skunk-drunk performances and plenty of LSD." The band was not very successful, and its leader was arrested on drug charges for her efforts to earn money for the band. Childs spent three months in a federal prison, with fellow inmates like former members of the infamous Charles Manson family, and heiress-turned-brainwashed terrorist Patricia Hearst. The experience reformed her: "It was a very big scare-the-hell-out-of-me situation," she told Cocks.

A short time after this, Childs gave up on Toni and the Movers and went to England, where she worked for Island Music. The company's heavy involvement with African and West Indian rhythms and musical forms deeply influenced Childs, and when she returned to California to sign a recording contract with A & M Records in 1985 she knew that the album she would create for them would incorporate these influences. On the same day that she signed with A & M, however, she moved in with musician David Ricketts, of the duo David and David. He would become Union 's associate producer, and helped Childs write many of the album's songs; further, the ups and downs of Child's sixteen-month love affair with him would serve as the basic theme of the album.

Union took three years to complete, partially because Childs and Ricketts searched in countries such as Zambia and Swaziland to obtain what Marianne Meyer termed in Rolling Stone "the perfect atmospheric washes and ethnic accents." As Meyer reported, A & M "was understandably nervous about their new signing's traveling the globe in search of something she couldn't quite describe," but Childs and Ricketts found two African choirs to use on Union, and the album's critical and popular success have more than made up for the difficulties of its production. Union has launched two hits, "Don't Walk Away," lauded as "electrifying" by Seventeen, and "Stop Your Fussin'," which People described as a "slinky Caribbean samba." Other songs on the album that have drawn praise are "Let the Rain Come Down," in which, according to Pond, "Childs sounds downright triumphant, buoyed by her faith in the renewal that comes with time and distance and a cleansing rain"; and "Walk and Talk Like Angels," which People called "as warm, dry and stirring as a desert breeze." Overall, concluded Pond, " Union is an album about the precarious dynamic between men and women.... And ... the album is suffused with a sense of peace and restfulness." Childs intends to record a second album, this time working with Indian and Indonesian rhythms.

Her follow-up album House of Hope yielded a large hit in Australia with "I've Got To Go Now", but it did not sell well in the US and she was dropped from the A&M label. According to Soundscan, House of Hope has sold 203,000 units in the US since its release in 1991.The title track was featured on the Thelma and Louise soundtrack, and instrumental excerpts from "Heaven's Gate" have been used in American television shows. The album covered some rather dark ground — such as domestic abuse in "I've Got To Go Now", world troubles in "House of Hope", incest and sexual abuse in the harrowing "Daddy's Song", addiction in "Where's The Light" and "Put This Fire Out", and death in "Heaven's Gate", "Dead Are Dancing", and "Three Days".

Following her departure from A&M, Childs was signed by DGC Records, a subsidiary of Geffen Records. She then released her third album, The Woman's Boat, in 1994. The album's emphasis on femininity and womanhood was framed by the opening track "Womb" and the closing track "Death". Cameos on the album from Peter Gabriel, Robert Fripp, and Zap Mama echoed the world beat of her earlier albums. The Woman's Boat featured more programming and computer-based textures than the previous two albums, notably "Welcome To The World" and the single "Lay Down Your Pain", and it contains some darker tracks such as "Predator" and "I Just Want Affection", mixed with mellow highlights "Long Time Coming" and "I Met A Man" (featuring Peter Gabriel). Accordingly to Soundscan, The Woman's Boat has sold 66,000 units in the US since its release in 1994.

In 1995, Childs was featured on the soundtrack to the film Boys On The Side singing a cover of Al Green's "Take Me To The River", although the song was not included on the soundtrack album and has never been commercially released.

In 1996, The Very Best Of Toni Childs was released, becoming the fifth biggest-selling album of 1996 in Australia on the back of the re-release of her cover of Jimmy Cliff's "Many Rivers to Cross", which she recorded in 1989. The "Best of" collection also became her third platinum-selling top-10 album in New Zealand. She retired from touring in 1997 after developing Graves' disease and starting the "Dream a Dolphin" charity.
Eve Ensler, the founder of V-Day, met Childs in early 2003 when Childs was performing in a production of Ensler's The Vagina Monologues in Kauai, Hawaii. Ensler was already a fan of Childs' music, which she claims had a profound impact on her and had been a lifeline.Ensler asked Childs to write an anthem for her documentary Until The Violence Stops. Childs wrote and released a song entitled "Because You're Beautiful", which was awarded the 2004 Emmy Award for Outstanding Music & Lyrics.

She has recorded an album entitled Keep the Faith, which has seen her once again team up with David Ricketts who collaborated with her on her critically acclaimed debut album twenty years earlier. The album drew heavily from material Childs wrote in the mid 1990s and she has stated that Keep The Faith is "an apt title given personal and world events".It consisted of eleven new songs and the track "Because You're Beautiful". Originally available direct from the artist, Keep The Faith is distributed on general release in the United States by 429 Records (part of the Savoy group of record companies) as of January 2009. It is also available in New Zealand, distributed by MGM Distribution Pty Ltd. The album was released in Australia in August 2008, featuring first single "One Life". Childs performed a concert tour of the country in September 2008, and again there (with Jackson Browne) in February/March 2009.

View the full website biography of Toni Childs.