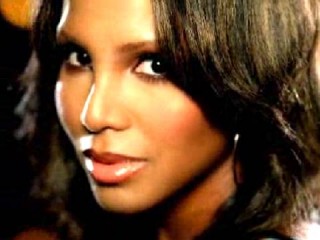 Toni Braxton
Date of birth : 1968-10-07
Date of death : -
Birthplace : Severn, Maryland
Nationality : American
Category : Arts and Entertainment
Last modified : 2010-10-07
Toni Braxton Born October 7, 1968, in Severn, MD; daughter of Michael (a utility company employee and minister) and Evelyn (a cosmetology instructor) Braxton. Married Keri Lewis (a musician); children: Denim Kole, Diezel Ky. Education: Attended community college, business school, and Bowie State University.


Career
Singer. Also worked as a secretary and court reporter.
Life's Work
Toni Braxton's first effort at recording picked up where a generation of R&B divas had left off years before--launching her into instant stardom. Showcasing a rich contralto much lauded by critics, the Maryland native's namesake 1993 debut, Toni Braxton, won several industry awards and made her a household name almost overnight. One key to Braxton's success was the faith a famed producer team known for their hitmaking abilities had placed in her talents. Her collaboration under the wings of Kenneth "Babyface" Edmonds and Antonio "L.A." Reid was a virtual assurance that her debut album, Toni Braxton, would go gold; it reached platinum instead. Critics deemed the singer the next Anita Baker or Whitney Houston, but Braxton, the daughter of a minister, dismissed the comparison. "I'm just a new singer who has been blessed to work with renowned producers," Braxton told Amy Linden in Essence in 1993 as her star began to rise.
Braxton grew up in Severn, Maryland, in a relatively prosperous household. Her father worked for a utility company, but was also a minister and deeply religious man; Braxton and her younger siblings-- four sisters and a brother—belonged to several faiths during their childhood as the Braxton parents searched for a harmonious spiritual fit. For a long stretch of her childhood, the Braxton family belonged to the Apostolic Church, a strict creed that dictated dresses for all female believers and no secular music. Braxton's mother, however, was an amateur opera singer, and gave her daughters singing lessons that they put to use in their father's church choir. Braxton also studied piano and composed her own songs.
When Braxton entered her teen years, the family became adherents of the United Methodist Church, a less conservative faith, and her father rescinded some of the strict rules. She was finally allowed to buy her first pair of pants--some Levi's--in the eighth grade, and she could listen to non-religious music such as Chaka Khan and Stevie Wonder, two particular favorites. (She still had to sneak out of the house to watch Soul Train, though.) By the time she entered high school, Braxton had made up her mind she wanted to become a singer--a decision, she has admitted, that was partly the result of attending predominantly white schools much of her life. "I always wanted to fit in, but they [classmates] never accepted me," Braxton told Joy Duckett Cain in Essence. "So I said, 'One day, I'll show them.'"
While still a teen, Braxton talked her parents into letting her sing in a band, but one late-night performance caused her to come home past her curfew and she was forced to quit. After graduation from high school, Braxton enrolled in community college, then business school, and also worked as a secretary and court reporter. She decided on a back-up career as a music teacher, but had also formed a singing group with her sisters by the late 1980s. They entered talent contests and recorded one single, "The Good Life," as The Braxtons, she told Ebony writer Muriel L. Whetstone, the sales were so abysmal that she was certain no one outside the Braxton family had bought it.
Nevertheless, "The Good Life" got the attention of the famed Atlanta producers/label executives Edmonds and Reid. Braxton's voice lured them in particular, but they were wary of bringing another all-female group into the LaFace Records family since they had just signed TLC. (The Braxton sisters would later record their own album and serve as Braxton's back-up singers on the road.) Signing just Braxton in 1991, Edmonds--who performs under the name "Babyface"--recorded a duet with her, "Give U My Heart," for the soundtrack to the 1992 movie Boomerang; another Braxton single, "Love Shoulda Brought You Home," also appeared on the release. The latter--a heartfelt admonishment to a straying man--had originally been offered to Anita Baker, who passed on it. Each song enjoyed success on the charts while Braxton was at work co-writing and recording several new songs with Edmonds and Reid for a full-length debut album of her own.
The self-titled album, Toni Braxton, appeared in 1993, became an immediate hit, and would eventually sell over nine million copies. As Essence's Gordon Chambers explained, at the time of Braxton's debut, R&B and dance was dominated by "tough, sexed-up .. .adolescence bubble-gum pop," in dramatic contrast to the sound and sentiments that came out of Braxton. "Her bluesy, hard-hitting, timeless R&B ballads about lies, deceit, and love gone wrong hark back to Billie Holiday," Chambers said. Reviewing Toni Braxton for the Village Voice, James Hunter also found much to praise. "That Braxton doesn't try to stretch her voice up toward the sacred jazz galaxies or demonstrate wild concert virtuosity on this debut doesn't make her music seem more calculated or any less soulful," Hunter said. "It brings home the real."
Braxton's Grammy-winning record included several introspective, brooding cuts, such as "Another Sad Love Song"--which would win the 1993 Grammy for best female R&B vocal performance--and "Best Friend." The latter track she wrote about a real-life experience that occurred a few years before when her best friend immediately took up with a recently-exited beau. Success was indeed the best revenge, and it was indeed sweet. "After I released [it], I heard through acquaintances that this ex-boyfriend wanted publishing rights," Braxton laughingly told Time writer Christopher John Farley.
"The things I sing about, women can identify with," Braxton explained to the magazine. "Although they're sad love songs, I always try to portray it like everything's going to be OK; I'm still strong." Furthermore, Braxton's lush voice limits her, in a way, from taking on the typical lightweight pop songs. In discussing the fact that her music seemed rather atypical of the offerings from other young, attractive African-American female recording artists--with their thumpy beats and lyrics that often celebrate sex--Braxton told Linden in Essence, "My voice is a lot older than I am. So, even though I might have enjoyed doing one of those hip-hop songs, I don't know if I could have, because of my mature sound."
Such smart-girl vibes in Braxton's music earned her legions of fans and made her a major star. With Secrets, released in the spring of 1996, Braxton took her time recording--"I can't record in the morning because I sound like Barry White," Braxton told Essence's Cain--and she and the LaFace team came up with a decidedly new, more upbeat sound. Farley found the transition a successful one. "The rhythms are forceful, dynamic, danceable," he wrote in Time. "These are the kinds of songs you can expect to hear booming out of car windows for the rest of the summer." The album, which met all expectations, featured a Grammy Award-winning number one single, "You're Making Me High," and earned a second Grammy for best pop female vocal performance for the much played "Unbreak My Heart." Additionally, the album won two American Music Awards for Braxton who also contributed a song to another hit soundtrack that year, Waiting to Exhale.
Braxton took a respite from the recording studio in 1998 to appear on Broadway in the lead role of Belle in Beauty and the Beast but returned at the turn of the millennium with a new album, Heat, in 2000. The album, like her earlier work, was an instant success, earning this chanteuse an additional Grammy for best female R&B performance for "He Wasn't Man Enough." Subsequent albums have included Snowflakes, More Than a Woman, Ultimate Toni Braxton, and Platinum & Gold Collection.
Braxton married Keri Lewis, the keyboardist for the group Mint Condition, on April 21, 2001. they have two children, Denim Cole and Diezel Ky. Braxton rejects the "diva" tag, and many of her qualities evoke a down-to-earth personality. She claims to love junk food, enjoys an occasional cigar, and never exercises. She is also known for her frugality. "Before I got signed, I read anything I could about the music business," Braxton told Chambers in Essence. The sad tales of the soul artists who became famous in the sixties and received little or no money because of bad contracts taught Braxton a valuable lesson. "So I made a point to know what was going on with me contractually.... I love what I'm doing, but I don't want to labor in vain," she added.
Awards
Braxton received three Grammy Awards for her 1993 debut Toni Braxton, including Best New Artist and Best Female R&B Vocal Performance with "Another Sad Love Song"; for her 1996 LP Secrets, Braxton won another Best Female R&B Vocal Performance (for "You're Makin Me High") as well as Best Female Pop Vocal Performance (for "Unbreak My Heart"); won Best Female R&B Vocal Performance of 2000 (for "He Wasn't Man Enough), Braxton has also received platinum certification from the Recording Industry Association of America for both records; she has also been presented with NAACP Image Award, several Soul Train Music Awards, and American Music Awards.
Works
Selective Discography
* Selected works Toni Braxton, LaFace, 1993.
* Secrets, LaFace, 1996.
* Heat, LaFace, 2000.
* Snowflakes, BMG Special Products, 2001.
* More Than a Woman, Arista, 2002.
* Ultimate Toni Braxton, LaFace, 2003.
* Platinum & Gold Collection, LaFace, 2004.
* Also recorded a 1990 single, "The Good Life," as a member of The Braxtons; as solo artist, contributed tracks to the soundtracks for Boomerang, 1992, and Waiting to Exhale, 1996.
View the full website biography of Toni Braxton.