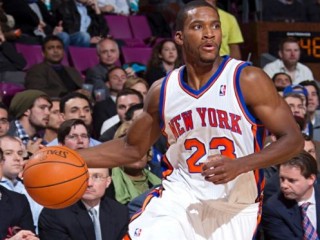 Toney Douglas
Date of birth : 1986-03-16
Date of death : -
Birthplace : Jonesboro, Georgia
Nationality : American
Category : Sports
Last modified : 2011-04-21

Toney Douglas is an American professional basketball player who plays for the New York Knicks of the National Basketball Association (NBA). Born in Jonesboro, Georgia, he attended Jonesboro High School, where he was a starter and top player on the basketball team for three years.

Selected by L.A. Lakers in first round (29th overall) of 2009 NBA Draft…Traded by L.A. Lakers for 2011 second-round draft choice and cash consideration on Jun. 25, 2009…Signed to contract on Jul. 9, 2009.

Career history
2009–present New York Knicks

2009-10: In rookie campaign, earned regular rotation spot and logged quality minutes throughout season's final weeks...Appeared in 56 games (12 starts) with 8.6 points, 2.0 assists and .458 shooting (179-391) over 19.4 minutes...Went 68-175 (.389) from Downtown, breaking Nate Robinson's club rookie mark for three-pointers made (58 in 2005-06)...Shot .809 (55-68) from the line...Season Highs: Points: 26* (Mar. 21 vs. Houston); Assists: 8* (Mar. 13 at Dallas); Rebounds: 7* (Mar. 17 at Boston)...Among NBA rookies, ranked 14th in scoring (8.6), 10th in assists (2.0) and sixth in three-point shooting (.389)...Led Knicks in scoring three times, assists six times...Recorded 21 double-digit scoring games with seven 20-plus efforts...Did not miss a game due to injury; DNP (CD) 26 times...Start-Bench: As a starter (12 games, Knicks 5-7), Toney averaged 14.5 points (174) and 3.8 assists (45) with .478 shooting (64-134) over 31.2 minutes (374)...Off the bench, had 7.0 points (307) and 1.5 assists (67) with 115-257 shooting (.447) over 16.2 minutes (713) in 44 games...Late Push: Appeared in 36 of season's first 62 games (Oct. 28-Mar. 6) with 5.8 points (210) on 82-177 shooting (.463) over 13.1 minutes (471)...Then saw action in each of year's final 20 games (Mar. 8-Apr. 14), including 10 starts, with 13.6 points (271) on 97-214 shooting (.453) over 30.8 minutes (616)...Double-figure points in 15 of final 20 games...Key Games: Had 21 points (9-14 FGA) in loss to Jazz, Nov. 9, missing on potential game-tying jumper in final seconds...Made first pro start with team-high 23 points in loss to Hawks, Nov. 11...Off the bench for 19 points (all in the second half) in loss at Memphis, Mar. 12...Key figure in 34-point win at Dallas, Mar. 13, with 21 points (8-10 FGA, 4-4 from Downtown) and season-high eight assists with no turnovers...Logged season-high 41 minutes in start vs. Celtics, Mar. 17 (11 points, season-high seven rebounds)...Key figure in comeback win over Sixers, Mar. 19, with 22 points, including 14 in Knicks' game-ending 25-12 run...Season-high 26 points in loss to Rockets, Mar. 21, going 6-10 from Downtown to tie Nate Robinson's club single-game rookie mark for three-pointers...Scored 16 points in win over Nuggets, Mar. 23, including game's biggest shot: clutch jumper with :27.8 left to give NY 107-104 lead.

COLLEGE:

Overall four-year college averages of 16.8 points and 2.6 assists with .442 shooting over 130 games (126 starts)...Played last three seasons at Florida State after transferring from Auburn...Career .802 free throw shooter and went 240-639 (.376) career from Downtown...As a senior, was named third team All-America by The Associated Press and The Sporting News, along with All-ACC First Team and ACC Defensive Player of the Year honors, scoring career-high 21.5 points...As a junior, was named to All-ACC Third Team and to All-ACC Defensive Team...As a freshman at Auburn, named to Freshman All-America Third Team and All-SEC Freshman Team....Poured in a career-high 38 points vs. Nicholls State on Nov. 24, 2004 in just his third career college game...Ended college career as Florida State's fifth-leading all-time scorer (1,655 points), fifth on Seminoles' list in three-pointers (178) and fifth in free throw percentage (.806)...Two-time winner of Charlie Ward Award as Seminoles' top defensive player (2008 and 2009).

PERSONAL:

Full name: Toney Bernard Douglas...Majored in business at Florida State...Brother, Harry, was a starting wide receiver for Louisville (2004-07) is currently with the NFL's Atlanta Falcons (they are the sixth pair of brothers to play in the NBA and NFL)...Toney and Harry starred in the backcourt together in high school for three years...2004 Parade Magazine All-American and McDonald's All-America nominee following senior year at Jonesboro (GA) HS...Earned three-time All-State First Team high school honors from The Atlanta Constitution.


View the full website biography of Toney Douglas.