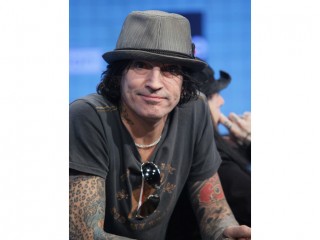 Tommy Lee (musician)
Date of birth : 1962-10-03
Date of death : -
Birthplace : Athens, Greece
Nationality : American
Category : Arts and Entertainment
Last modified : 2011-03-22
Thomas Lee Bass, best known as Tommy Lee, is an American musician, and founding member of glam metal band Mötley Crüe. As well as being the band's long-term drummer, Lee founded rap-metal band Methods of Mayhem, and has pursued solo musical projects. He has been married to model Elaine Starchuk and actresses Heather Locklear and Pamela Anderson.

The son of an American and a Greek national, Tommy Lee was raised in California and received his first drum set at age four. He quit high school to pursue a rock career, first performing with the band Suite 19.

Tommy Lee formed Mötley Crüe with Nikki Sixx (bass), Mick Mars (guitar) and Vince Neil (vocals). The band got its start by touring with KISS in the early 1980s. Mötley Crüe was soon enjoying its own brand of notoriety thanks to Lee's headline-making behavior both on and off stage. The band had a fanatical fan base and released several top-selling albums, including 1987's Girls, Girls, Girls and 1989's Dr. Feelgood. Their string of hit singles, including "Shout at the Devil" and "Theater of Pain," established Mötley Crüe as the biggest rock band of the 1980s.

Though Tommy Lee is a critically acclaimed musician, the heavily tattooed drummer often received more attention for his personal life, particularly his turbulent marriages to model/actresses Heather Locklear and Pamela Anderson. His rocky relationship with Anderson was often fueled by the media, who eagerly covered their sex tape scandal and Lee's stint in prison after Anderson accused him of hitting her in front of their children, Brandon and Dylan. Though the couple divorced while he was in prison, they briefly reconciled after his release before separating again.

In 1999 while still behind bars, Tommy Lee left Mötley Crüe and later formed the band Methods of Mayhem. The partnership was short-lived, however, and in 2002 he released his debut solo album, Never a Dull Moment. He briefly reunited with Mötley Crüe in 2005 for a greatest hits album and tour before continuing his solo efforts.

In 2005, Lee starred in a mildly successful reality television show, Tommy Lee Goes to College, where he was up to his usual antics only this time in a university setting. He also published his memoir, Tommyland, in 2004.

More recently, Lee has returned to reality television with rapper Ludacris for Battleground Earth on the Planet Green network in 2008. The two are in competition with each other while tackling "the toxic forces destroying Mother Earth," according to the show's website. The offbeat show has them handling such challenges as creating an eco-friendly funeral and features a range of special guests, including Gene Simmons, Meat Loaf, P. Diddy, and Jane Fonda.

That same year, Lee reunited with the rest of Mötley Crüe to record and release their latest studio album, Saints of Los Angeles (2008). He also toured with the band to support the album. The following year, Lee and the rest of Mötley Crüe hit the road again for Crüefest 2, which also featured such supporting acts as Godsmack, Drowning Pool, and Charm City Devils.



View the full website biography of Tommy Lee (musician).