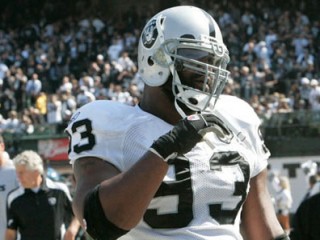 Tommy Kelly
Date of birth : 1980-12-27
Date of death : -
Birthplace : Jackson, Mississippi
Nationality : American
Category : Sports
Last modified : 2011-01-08
Tommy Kelly is an American football player who currently plays defensive tackle for the Oakland Raiders.

PRO: Versatile, stellar defensive lineman has seen action in 65 games with 53 starts in five seasons…Led the team in sacks as a rookie…Career totals include 17.5 sacks for losses of 133 yards, six forced fumbles, one fumble recovery and six passes defensed.

2008: One of six Raiders to start all 16 games…Ranked third on the team with 4.5 sacks for losses totaling 26 yards…Accumulated 55 tackles (31 solo)…Added eight quarterback hurries…(9/8) vs. DEN: Had three solo tackles and an assist…(9/14) @ KC: Had one solo tackle and an assist…(9/21) @ BUF: Recorded three tackles…

2007: Played in seven games, starting six before suffering season-ending injury…Recorded one sack and one pass defensed…Missed the final nine games of the season after being placed on Injured Reserve with a right knee injury…(9/9) vs. DET: Made two solo tackles…(9/16) @ DEN: Recorded six solo tackles and an assist

2006: Started all 16 games at both DT and DE, logged 3.5 sacks, forced one fumble and defensed three passes…(9/11) vs. SD: Recorded three tackles…(9/17) @ BAL: Recorded one tackle…(10/1) vs. CLE: Recorded one tackle…(10/8) @ SF: Registered four tackles…(10/15) @ DEN: Started at defensive tackle, led team with seven tackles, defensed one pass…(10/22) vs. AZ: Tallied three tackles…(10/29) vs. PIT: Collected six tackles and two sacks

2005: Played in all 16 games with 12 starts, eight at DE and four at DT…Recorded 46 tackles, including 36 solo stops, along with 4.5 sacks for 39 yards in losses, three forced fumbles and a pass defensed…Tied a club single-game record with a career-high three sacks in Week 9 @ KC (11/6)…Began the season playing primarily at end and moving inside on passing downs, but saw increased time at DT late in the year…Also saw action on special teams…(9/8) @ NE: Recorded one solo tackle...(9/18) vs. KC: Registered three solo tackles…(9/25) @ PHI: Played at DE and recorded one solo tackle…(10/2) vs. DAL: Contributed four solo tackles…(10/16) vs. SD: Tallied three solo tackles…(10/30) @ TEN: Lined up at DE and DT, registering four tackles (one)…

2004: Played in 10 games, starting three at DT…Led team with four sacks for 35 yards in losses…Three of his sacks came in the first three games of his career…Also batted down two passes, forced two fumbles and recovered another...Inactive for the first six games of the season…(10/24) vs. NO: Made his professional debut at DT and made one tackle and a 2-yard sack…(10/31) @ SD: Made two tackles and had an 8-yard sack…(11/7) @ CAR: Made three tackles…Recorded his third sack in as many games, dropping Carolina QB for a 15-yard loss and forcing a fumble…(11/21) vs. SD: Made first career start at DE and recorded three tackles and one pass defensed…Also played on special teams…(11/28) @ DEN: Recorded two tackles and one pass defensed…Also played on special teams…

COLLEGE:
Played in 22 games for Mississippi State, earning 16 starts along the defensive line following his transfer from junior college…Made 82 tackles while at MSU, including 15 for loss (minus-37 yards), two of which were sacks (minus-12 yards)…As senior, made move from DT to DE…Started nine of the 11 games in which he played during his junior campaign…Had 32 tackles, including seven for loss (minus-19 yards), one of which was a sack (minus-7 yards)…Credited with one forced fumble…Made one tackle at Memphis in the Bulldogs 29-17 victory at the Liberty Bowl…Had five tackles, including one for loss (minus-4 yards) in State's game vs. Kentucky…Played in all 11 games, starting seven, as a sophomore…Totaled 50 tackles on the year, including eight for loss (minus-18 yards), one of which was a sack…Played one year at Hinds (Miss.) Community College…Interdisciplinary Studies major.

PERSONAL:

Played just one year of football at Provine (Jackson, Miss.) High School… Two-way standout, playing both TE and DE…Selected to play in the Mississippi/Alabama High School All-Star Game following his senior season…During his only full season playing high school football, he made 102 total tackles, including 11 sacks.


View the full website biography of Tommy Kelly.