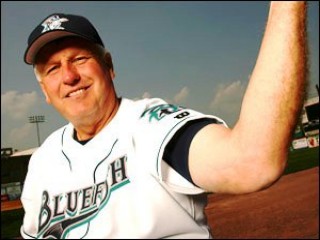 Tommy John
Date of birth : 1943-05-22
Date of death : -
Birthplace : Terre Haute, Indiana, U.S.
Nationality : American
Category : Sports
Last modified : 2011-10-26
Thomas Edward John Jr. is a retired left-handed major league baseball pitcher, most notable for the revolutionary surgery performed on a damaged tendon in his pitching arm. Tommy John was originally signed by the Cleveland Indians, getting his major league start in 1963. Of his 26-year major league career, he is best remembered for his seasons with the Los Angeles Dodgers in the 1970s.

He made appearances in the Major League Baseball All-Star Game in 1968, 1978, 1979, and 1980. In the 1974 season, Tommy John permanently damaged the ulnar collateral ligament in his pitching arm and a revolutionary surgical operation was performed. This operation, now known as Tommy John surgery, replaced the elbow tendon of his pitching arm with a tendon from his right wrist.

The surgery was performed by Dr. Frank Jobe on September 25, 1974, and although it seemed unlikely he would ever be able to pitch again, he spent the entire 1975 season in recovery and returned to the Dodgers in 1976. John went on to pitch until 1989, winning 164 games after his surgery-one fewer game than all-time great Sandy Koufax won in his career.

View the full website biography of Tommy John.