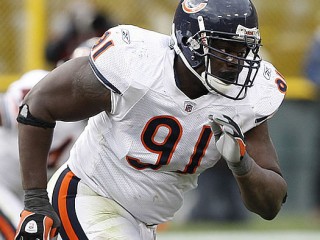 Tommie Harris
Date of birth : 1983-04-29
Date of death : -
Birthplace : Killeen, Texas, U.S.
Nationality : American
Category : Sports
Last modified : 2011-01-06
Tommie Harris, Jr. is an American football defensive tackle for the Chicago Bears of the National Football League.

NFL Career:

Three-time Pro Bowler has tallied 268 tackles (148 solo), 27.0 sacks, 6 forced fumbles, 5 fumble recoveries and 36 TFLs in his six-year career... Became first defensive tackle in franchise history to be selected to the Pro Bowl in three consecutive years (2005-07) and the first defensive lineman honored in three consecutive years since Doug Atkins (7, 1958-1964)... Has started 84-of-89 career games played in six seasons... Selection for the 2006 Pro Bowl after just his second season made him the quickest Bears DT to be named an all-star since Wally Chambers played in the 1974 Pro Bowl as a rookie... Became Bears first rookie defender since Mike Brown in 2000 to start all 16 games... Was Chicago's first rookie D-lineman to open his career as a starter since 1999 (Russell Davis) and first rookie DT to do so since 1975 (Roger Stillwell).

HONORS AND AWARDS:
2007 - Pro Bowl; Ed Block Courage Award.
2006 - Pro Bowl; All-NFC (Pro Football Weekly); NFC Defensive Player of the Week (9/17 and 10/1).
2005 - Pro Bowl; All-NFC (Pro Football Weekly); All-Pro second team (AP).
2004 - Brian Piccolo Award.

2009 SEASON: Started all 15 games he played in, tying for the team lead with 10 TFLs... Tallied 27 tackles (9 solo), 2.5 sacks and a fumble recovery... Collected his first career INT... Over the final 8 games of the season, notched 2.5 sacks, 7 TFLs and recovered a fumble.

2008 - Finished second on the team with 13 QB hits, tied for second with 5.0 sacks and tied for third with 9 TFLs... Started 13-of-14 games played, posting 33 tackles (18 solo) and 1 fumble recovery... Ranked sixth in the NFL in stuffs (5.0) over the final eight games of the season... Equaled a career high with 2.0 sacks at STL (11/23), the fifth multi-sack game of his career... Notched a career-high 3 TFLs vs. GB (12/22).

2007 - En route to his third straight Pro Bowl selection, notched 43 tackles, career-high 8.0 sacks, 7 QB hits, 2 forced fumbles and 2 TFLs... Ranked second on the Bears in sacks, third in QB hits, tied for third in forced fumbles and finished fourth on the defensive line in tackles...His 8.0 sacks ranked second among NFL defensive tackles... Appeared in all 16 games for the third time in his career, starting 13 times... Matched career high with 2.0 sacks vs. KC (9/16) and at PHI (10/21), matching a career high with 8 tackles vs. KC (9/16).

2006 - Selected as a starter for the 2007 Pro Bowl despite being placed on injured reserve in Week 15 (12/12) after recording a career-high 5.0 sacks... At the time of injury, was 2nd on the team with 7 QB hits and 3rd in sacks and tied for 5th in NFL in sacks among defensive tackles... Tied for third on defensive line and tied for 10th on team with 48 tackles including 2 TFLs with 1 forced fumble and a fumble recovery... Had streak of 38 consecutive starts snapped on 10/29 vs. SF when playing as a reserve, while his streak of 43 consecutive games played came to an end after missing the 12/11 contest at STL due to a hamstring injury... Placed on Injured Reserve (12/12).

2005 - Ranked 3rd on D-line and 8th on Bears with 59 tackles including 3 sacks, 7 TFLs, 2 forced fumbles and 2 fumble recoveries... One of 4 Bears defenders to start every game.
2004 - Enjoyed productive rookie campaign, earning starting spot in training camp and starting all 16 games... Compiled 58 tackles and 3.5 sacks to rank 3rd on Bears' D-line in both categories and added 6 TFLs and 1 forced fumble... Tied for 9th in NFL for most sacks by a rookie and tied for 2nd for sacks by a rookie DT.

College:

Two-time first-team All-American and 3-time all-Big 12 DT during his 3-year career at Oklahoma (2001-03), starting 37 of 38 career games played while recording 94 tackles (49 solos), 9 sacks, 33 TFLs, 4 PBUs, 2 fumble recoveries and 1 forced fumble... Concluded career as consensus first-team All-American, winner of the 2003 Lombardi Award as the nation's top interior lineman and finalist for the Bednarik Award (top defensive player), Nagurski Award (Defensive Player-of-the-Year) and Walter Camp Player of the Year Award... All-Big 12 first-teamer started the final 13 games as a junior, helping OU to the BCS National Championship game in the Sugar Bowl with 37 tackles including 10 TFLs and 5 sacks on the season... As a sophomore, the first-team All-American and consensus all-Big 12 first-team member was a finalist for the Lombardi and Bednarik Awards while battling through a nagging groin strain to post 25 tackles, 2 sacks, 6 TFLs, 16 QB pressures, 2 PBUs, 1 fumble recovery and start all 12 games... Burst onto scene as a true freshman, chosen as a first-team All-American, a consensus all-Big 12 first-team pick and Freshman Defensive Player-of-the-Year... Majored in university studies.

Personal

Earned All-American accolades after posting 70 solo tackles and 9 sacks as a senior at Ellison H.S. in Killeen, Texas... Named first-team All-American by USA Today... Honored as a Prep Star Dream Team member and added Tom Lemming's Super Team and Super Prep's National Top 100 honors... Selected to play in the inaugural National High School Football All-Star Game and also attended the Nike Camp where he was selected MVP... Cousin of Detroit Lions G Stockar McDougle and Philadelphia Eagles DE Jerome McDougle... Son of Janie and Tommie Harris, Sr... Completed trip to Liberia in 2005 with former NFL players Lee Roy and Dewey Selmon in May to build a school for an orphanage in a war-torn region of that country.


View the full website biography of Tommie Harris.