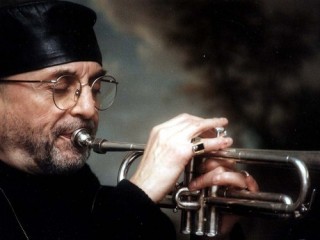 Tomasz Stanko
Date of birth : 1942-07-11
Date of death : -
Birthplace : Rzeszow, Poland
Nationality : Polish
Category : Arts and Entertainment
Last modified : 2012-02-13
Tomasz Stańko is a Polish trumpeter, composer and improviser. Often recording for ECM, Stańko is strongly associated with free jazz and the avant-garde.

Tomasz Stanko is Poland's greatest jazz trumpeter, band leader, and composer, whose pioneering work in free jazz shows both European and American influences. The Times of London writer Alyn Shipton called him "Europe's most consistently inventive jazz trumpeter."

Tomasz Stanko was born on July 11, 1942, in Rzeszów, Poland. His father, a violinist as well as a lawyer, introduced him to music at an early age with lessons in classical violin and piano. Stanko found his true calling when he began to study the trumpet in 1959 at a Kraków music school. Jazz was new to Poland at the time; Poland's communist government had even outlawed the form until shortly before Stako began to play. "Jazz," he explained to George Varga in the San Diego Union-Tribune, "was outlawed because it was synonymous with the Western and American style of life." Even after playing jazz became legal, it still retained a subversive aura, although an attractive one, because, as Stanko has explained, it represented freedom for both listeners and performers.

Jazz recordings were hard to come by in Poland when Stanko was discovering the form, so his first exposure to jazz was the music he heard on American radio broadcasts. He later cited the American jazz musician Chet Baker as his earliest influence, followed closely by Miles Davis. In 1962, when he was 21, Stanko helped form a group called Jazz Darings with Adam Makowicz. At first the band played hard bop, but when Makowicz left and Janusz Manuak replaced him, the group turned to free jazz--an unstructured style pioneered in part by American musician Ornette Coleman. The Jazz Darings became one of the first European free jazz groups and established Stako as a pioneer in his own right. Stanko won the Polish Jazz Musician of the Year Award in this same year.

From 1963 through 1967 Stanko worked in a group with Krzysztof Komeda, Poland's most famous film composer and jazz musician (known for scoring many of the films of Roman Polanski, including Rosemary's Baby). In later years Stanko would call Komeda his mentor and one of his greatest influences, as he told Rob Adams in the Glasgow Herald, "I took so much from him, his lyricism, his simplicity--he showed me how to play the music's essentials." Komeda's group made waves with its daring free jazz experiments, and became known to American musicians as well. Komeda emigrated to the United States and planned to bring Stanko over to join him after he got established, but he died in 1969 (some sources say 1968) following injuries sustained in a car accident. Instead of following his mentor to the United States, therefore, Stanko stayed in Europe, where he helped perpetuate Komeda's music in both live performances and his own recordings.

During the 1960s Stanko also worked with Andrzej Trazaskowski (from 1965 to 1969), and with the Alex von Schlippenbach-led Globe Unity Orchestra, which played in Europe's best-known jazz clubs. In 1968, Stanko formed and led a quintet that played in jazz festivals throughout Europe and was acclaimed for its Music for K, a tribute to Komeda. During this time, Stako also recorded with the Studio Jazzowe Polskiego Radia orchestra, with the Don Cherry Eternal Rhythm Orchestra, and in a group led by Michal Urbaniak.

After his quintet disbanded in 1973 Stanko formed a quartet the following year. He also played and recorded with other groups, including ensembles led by Edward Vesala. Stanko teamed up with his old colleague Makowicz in 1974, when they both played in Urbaniak's group. In 1975, they formed the Tomasz Stanko-Adam Makowicz Unit, a group that also included Tomasz Szukalski and Czeslaw Bartkowski. The group toured Germany and cut two albums in the mid-1970s.

In 1978 the quartet disbanded, and Stanko began his career as a soloist, at first playing live concerts, and then recording. In 1980 he made a solo recording in India, at the Taj Mahal, and at the Karla Caves temple. He continued to play in other bands through the 1980s, including in a group led by Edward Vesala called Heavy Life, and in the Slawomir Kulpowicz-led In/formation. In 1981, Stanko teamed with influential American bassist Gary Peacock to cut an album. He appeared on numerous other recordings in the early 1980s, including a 1983 release as a member of the Edward Vesala Trio, and as a guest soloist with the NDR big band in 1984. In addition to playing with these groups, Stanko also performed in a trio consisting of himself, Jack DeJohnette, and Rufus Reid in 1983, and cut an album with the Cecil Taylor-led Orchestra of Two Continents in 1984.

In the early to mid-1980s, Stanko played with an ensemble that also featured Slawomir Kulpowicz. In 1985, Stanko formed Freelectronic, a group that played at the Camden Jazz Festival in 1985, and in 1987 was featured on a live album made at the Montreux Jazz Festival. As the 1980s drew to a close, Stanko again teamed with the pioneering pianist Cecil Taylor to play with the European Orchestra.
The 1990s saw Stanko still going strong, playing with numerous groups, cutting an album in 1991 with a group consisting of himself, reed player Vlatko Kucan, double-bass player Jay Oliver, and American expatriate drummer Billy Elgart. In 1991, 1994, and 1995, Stanko recorded several albums with Nicolas Simion. In 1993 he formed two more quartets, and as the 1990s drew to a close, founded two other groups, one of which specialized in the music of his old collaborator Krzysztof Komeda.

During the 1990s Stanko also signed with the German ECM record label and continued to record solo albums, including Litania, a Komeda tribute album. Released in 1997, it included work composed by Komeda for various film projects that had never been recorded as standalone musical compositions. In 2000 ECM released Stanko's From the Green Hill in the United States, a work composed by Stanko but heavily influenced by Komeda. Soul of Things, released in 2002, was a suite of untitled improvisations.

In 2002, at the age of 60, Stanko was awarded the first European Jazz Prize. In the same year the Tomasz Stako Quartet took its first concert tour of the United States. Starting at a small jazz venue in Philadelphia, Stanko looked forward to introducing American audiences to his work. As he told Tim Blangger in the Morning Call, "I am so excited ... [t]he United States is the source of this music and the audiences are also the best, very educated." In addition to his extensive work as a performer on stage and in the studio, Stanko has followed in the footsteps of his mentor, Komeda, in composing musical scores for both films and theater productions.
View the full website biography of Tomasz Stanko.