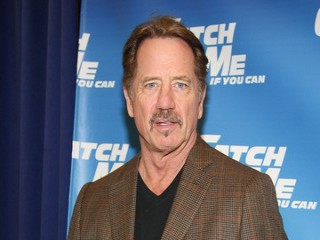 Tom Wopat
Date of birth : 1951-09-09
Date of death : -
Birthplace : Lodi, Wisconsin, U.S.
Nationality : American
Category : Arts and Entertainment
Last modified : 2011-04-29

Tom Wopat is an American actor and singer. He first achieved fame as Luke Duke in the long-running 1979 television series The Dukes of Hazzard, along with John Schneider. He also played Jeff, one of Cybill Shepherd's ex-husbands in the TV series Cybill.

Overwhelmingly known as "The Smart Cousin" Luke Duke, on the '70s TV show The Dukes of Hazard, Tom Wopat has also worked hard at establishing himself in the musical theater community. Born on a small dairy farm in Lodi, WI, Wopat began singing and dancing in school musicals when he was 12 years old. Upon graduating high school, he enrolled at the University of Wisconsin in Madison to study music, and balanced his time between productions of West Side Story, Jesus Christ, Superstar, and South Pacific, while performing in a local rock band. Upon moving to New York City in 1977, he immersed himself in Broadway and off-Broadway productions, leading to bigger and better opportunities including an audition in California for a Georgia-based action-adventure TV show. The show ran for seven seasons allowing Wopat plenty of time both on camera and behind it (the actor also directed five shows in the later seasons).

After the Duke boys closed up shop, he split his time between fronting the country-rock act the North Hollywood All-Stars and performing in musicals. In 1987 he decided to live a dual life, spending half the year in Los Angeles working in TV and on stage, and half the year in Nashville writing and releasing country albums. The late '90s found Wopat acting on the critically acclaimed TV show Cybil, appearing on-stage in a touring production of Annie Get Your Gun, and in 2000 he released the standards album The Still of the Night on Angel Records.


View the full website biography of Tom Wopat.