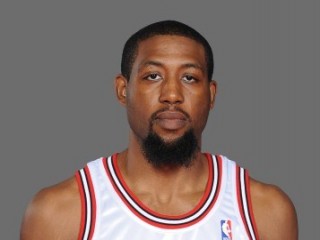 John Salmons
Date of birth : 1979-12-12
Date of death : -
Birthplace : Philadelphia, Pennsylvania
Nationality : American
Category : Sports
Last modified : 2011-04-11

John Salmons is an American professional basketball player for the Milwaukee Bucks of the NBA. He played college basketball at the University of Miami.

Career history:

Philadelphia 76ers (2002-2006)
Sacramento Kings (2006–2009)
Chicago Bulls (2009-2010)
Milwaukee Bucks (2010-present)

Selected by San Antonio out of the University of Miami with the 26th overall pick in NBA Draft 2002 … traded by San Antonio with Mark Bryant and Randy Holcomb to Philadelphia in exchange for Speedy Claxton on 6/26/02 ... signed as a free agent with Sacramento on 7/24/06 ... traded to Chicago along with Brad Miller in exchange for Drew Gooden, Andres Nocioni, Michael Ruffin and Cedric Simmons on 2/18/09 ... traded to Milwaukee from Chicago along with second round draft picks in 2011 and 2012 and the option to switch first round picks (11-30) in the 2010 NBA Draft in exchange for Joe Alexander and Hakim Warrick on 2/18/10 ... re-signed to a multi-year contract by the Milwaukee Bucks on 7/8/10.

CAREER 2009-10:

Split the season with Chicago (51 games) and Milwaukee (30 games - 28 starts) and averaged 15.4 points (19.9 with Milwaukee), 3.3 rebounds and 2.8 assists ... shot 44.1 percent from the field (46.7 while with Milwaukee) and 38.2 percent from three (38.5 with Milwaukee) ... led Milwaukee in scoring in 16 of his 30 games with the team ... scored in double-figures in 27 of his 30 games with the Bucks ... dished a season-high nine dimes against Boston on 12/12 ... scored 12 points and snagged a season-high eight rebounds against Chicago on 1/15 ... scored a season-best 32 points with a season-high tying eight rebounds and four assists at Atlanta on 2/28 ... logged 53 minutes and scored 27 points with seven rebounds and five assists at Sacramento on 3/19 ... matched his season-high of 32 points against Atlanta on 3/22 ... finished with 28 points, seven assists and five rebounds at Cleveland on 3/31 ... scored 28 points at Charlotte on 4/2 ... scored 21 points and sank a season-best 10 free throws on a season-high 10 attempts ... appeared in his 600th career game on 4/12 against Atlanta.

COLLEGE:

Averaged 10.4 ppg, 5.5 rpg, 3.5 apg, 1.6 spg and 30.8 mpg in 124 games for the University of Miami … for his career, shot 46.6 percent from the field, 32.1 from three and 80.5 from the line … he led the Hurricanes to an 86-39 (.688) record during his career, marking the most victories over a four-year period in school history … started 107 consecutive games, the second-longest streak in Hurricane history (Kevin Norris, 108) … tied teammate Elton Tyler for first on Miami's games played list … was the first Miami player to surpass 1,000 career points (1,287), 600 rebounds (687), 400 assists (433), and 150 steals (192) … left school ranked 17th in scoring and third in assists and steals … recorded at least 50 steals in three straight seasons (1999-02), the only UM player with that distinction … awarded the Big East Sportsmanship Award, earned Second-Team All-Big East honors and was a Second-Team All-District 6 selection as a senior (2001-02) … finished with 195 assists, the second-best single-season total in Miami annals … finished one rebound shy of the first triple-double in team history with 15 points, nine rebounds, and 10 assists vs. Charlotte on 12/22/01.

PERSONAL:

Full name is John Rashad Salmons … nickname is "Buck" … son of Sandra and John Salmons … stepfather is Douglas Lillie … he and his wife, Taniesha, have a son, Josiah … majored in criminology/sociology at Miami … would like to become a fashion designer after his playing career … hosted the opening of the Chicago Bulls Reading and Learning Center at the Douglas Park Fieldhouse in the Lawndale community … participated in reading sessions and computer games with the children … helped refurbish the Center for Fathers and Families as part of the Kings annual Cesar Chavez Day of Giving … helped organize a surprise holiday party at the Wind Youth Center in Sacramento in December 2007, donating Christmas gifts and signing autographs for children in attendance … was the Kings player representative during the NBA Player's Association meetings hosted in the Bahamas during the 2006-07 offseason … participated in the Kings Read to Achieve program, visited local schools and mentored youth on the importance of literacy and the benefits of reading … joined teammates to help build frameworks for new homes which were donated to victims of Hurricane Katrina … donated time and labor to assist refurbishment of the Washington Neighborhood Center, as part of the Cesar Chavez Day of Service in March 2007 … served as the Honorary Commissioner for three seasons of the Sixers Neighborhood Basketball League (SNBL) … led Plymouth-Whitemarsh High School to the 1997 Pennsylvania state basketball championship … had his No. 45 prep jersey retired by his alma mater in 2002 … his favorite meal is spaghetti and meat sauce … lists "The Usual Suspects" as his favorite film … cites The Bible as his favorite book.



View the full website biography of John Salmons.