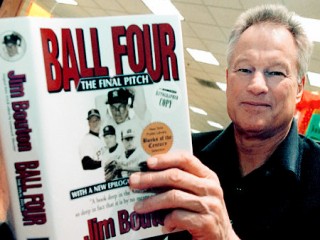 Jim Bouton
Date of birth : 1939-03-08
Date of death : -
Birthplace : Newark, New Jersey, U.S.
Nationality : American
Category : Sports
Last modified : 2011-07-19
Jim Bouton is a former American Major League Baseball pitcher. He is also the author of the controversial baseball book Ball Four, which was a combination diary of his 1969 season and memoir of his years with the New York Yankees, Seattle Pilots, and Houston Astros.

Teams:

New York Yankees (1962–1968)
Seattle Pilots (1969)
Houston Astros (1969–1970)
Atlanta Braves (1978)

Career highlights and awards:

All-Star selection (1963)
World Series champion (1962)

James Alan Bouton in 1969 he played for the Seattle Pilots. In 1970 his book "Ball Four" detailed the inside story of the sometimes unruly life of professional baseball players. The book caused a sensation, and Bouton was severely criticized by baseball commissioner Bowie Kuhn. In 1978 Bouton made a brief comeback with the Atlanta Braves. He has written books and screenplays and appeared in movies and on television, and is credited with developing Big League Chew, bubble gum that resembles chewing tobacco. In 1998 Bouton was invited to play in the Old Timers' Game, professional baseball's longstanding grudge apparently behind him.

Bouton had an acting role in the 1973 detective thriller The Long Goodbye, an updated version of the Raymond Chandler novel.

Writings

Ball Four has been through numerous significantly revised editions, the most recent being Ball Four: The Final Pitch, Bulldog Publishing. (April 2001).
I'm Glad You Didn't Take It Personally
I Managed Good, But Boy Did They Play Bad -- edited and annotated by Bouton, compiled by Neil Offen.
Foul Ball, Bulldog Publishing. (June 2003).
Strike Zone, Signet Books. (March 1995), (with Eliot Asinof).

View the full website biography of Jim Bouton.