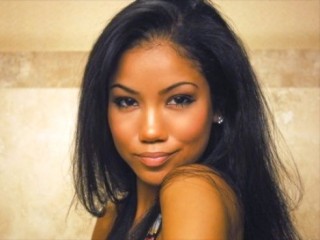 Jhene Aiko
Date of birth : 1988-03-16
Date of death : -
Birthplace : Los Angeles, California, Unites States
Nationality : American
Category : Arts and Entertainment
Last modified : 2011-07-13
Jhené Aiko is an American Pop/R&B singer and songwriter. She was formerly signed to T.U.G./Epic Records, but left to continue her education.

Born Jhené Aiko Efuru Chilombo on March 16,1988 to a Asian and Black mother and a Native American and Black father. Jhene has 2 sisters,Miyoko and Jamila aka Mila J. Miyoko can be seen in IMx's "Beautiful" video as the lead girl and in Nick Cannon's "Feeling Freaky" video. Mila J can be heard in IMx's song Clap Ya Hands Pt.1. Both of them were in a group called GYRL with their close friend Paulette. They have a song on the B.A.P.S soundtrack. Jhene also has 2 brothers, Miyagi and Jahi. Jahi is in a group named Final 4. Jhene is also the cousin to B2K's Lil Fizz. Jhene's album should be instores June or July 2003. Jhene can be seen on the Scream 3 Tour this summer. Jhene's first single is No L.O.V.E. To see Jhene before her debut, she can be seen in B2K's Uh Huh and Why I Love You videos. Jhene can also be seen in IMx's Ain't No Need and PYT's Same Ol' Same Ol' video.

Jhené has appeared in numerous music videos including O'Ryan's debut video, Take It Slow, B2K's debut video Uh Huh and Why I Love You, P.Y.T.'s Same Ol' Same Ol' (Remix) featuring Sarai, Play's M.A.S.T.E.R. (Part 2) featuring Lil Fizz video and Morgan Smith's 2004 video Blow Ya Whistle. Jhené also has songs featured on the soundtracks of Barbershop, The Master of Disguise, You Got Served, The Proud Family and Byou.

Jhené also released a mixtape on March 16, 2011 entitled sailing soul(s).

View the full website biography of Jhene Aiko.