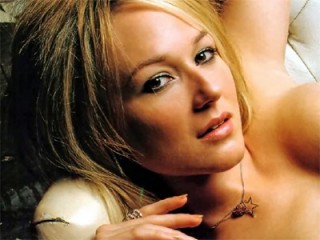 Jewel
Date of birth : 1974-05-23
Date of death : -
Birthplace : Payson, Utah
Nationality : American
Category : Arts and Entertainment
Last modified : 2011-01-24
Jewel Kilcher, professionally known as Jewel, is an American singer-songwriter, guitarist, actress, and poet. She has received four Grammy Award Nominations. She has sold over 27 million albums worldwide.

A popular recording artist, Jewel grew up in Alaska. She began her musical career at the age of six, joining her parents, singer-songwriters Atz Kilcher and Nedra Carroll, on stage. After her parents divorced, Jewel continued to tour with her father for several years.

When Jewel was 15, she made a major change in her life. She starting performing as a solo act and won a vocal scholarship to Interlochen, a private school in Michigan dedicated to the arts. While there, she began writing songs and took up the guitar. Jewel later moved to San Diego, California, to live with her mother. But she eventually branched out on her own, ending up living in a van for a time as she tried to make as a performer.

With her impressive vocal range and poetic lyrics, Jewel found success playing at coffeehouses in the San Diego area. Her first steady gig was at the Innerchange in Pacific Beach. While performing there, she was discovered by record company representatives as well as a music manager. Most of them were impressive with her raw talent, and she signed a deal with Atlantic Records in 1994.

The next year, Jewel's first album Pieces of You was released, but it wasn't until 1996 that the album really took off. In the meanwhile, she toured constantly to promote her music. Jewel even served as the opening act for two musical legends: Bob Dylan and Neil Young. Her persistence began to pay off as her single "Who Will Save Your Soul" became a huge hit, climbing as high as number 11 on Billboard's Top 100 chart. Two other songs from the album "You Were Meant for Me" and "Foolish Games" were also well-received. With its folk and pop sensibility, Pieces of You went on to sell around 11 million copies. Many listeners were captivated by the heartfelt emotions Jewel conveyed in her songs.

Released in 1998, Spirit was Jewel's second album, which it showcased her talents as a folk music performer and was filled with ballads and simple instrumentation. The songs "Hands" and "Standing Still" did especially well with listeners. That same year Jewel had a collection of her poetry, A Night Without Armor, published, which quickly became a best seller.

With 2001's This Way, Jewel returned with a lighter, more pop sound. But she really reinvented herself for 2003's 0304, making a foray into dance music, much to the surprise to her long-time fans. The album debuted at the number two spot on the Billboard 200 albums chart and featured the hit single "Intuition." Not only did Jewel sound different, she looked different too, wearing sexier, edgier clothing in her music videos and on stage.

In 2006, however, Jewel returned to her roots with the personal, folk-influenced album, Goodbye Alice in Wonderland (2006). The album was met with mild success.

The next year, in November 2007, Jewel again decided to make a musical transformation. She signed to Valory Records, where she began work on her first country album. Perfectly Clear hit retail stores in June 2008 and debuted at No. 1 on the Billboard Country Album Chart. The album included the hit "Stronger Woman," which made it into the Top 20 on the Billboard Hot Country Songs charts.


In early 2009, Jewel announced that she was working on new album. Lullaby, a collection of lullabies for listeners of all ages, is slated for release in May of 2009. The album's first single, a remake of the Judy Garland classic "Somewhere Over the Rainbow," was released on iTunes in March. During her musical career, she has sold more than 25 million albums.

In addition to her music, Jewel has also taken on several acting roles. She made her debut in Ang Lee's Civil War drama Rides with the Devil (1999), starring Tobey Maguire and Skeet Ulrich. On television, Jewel has appeared on such shows as The Lyons Den, CSI: Crime Scene Investigation and Las Vegas.

Jewel has also been devoting some of her time to helping others. She established Higher Ground for Humanity, a charitable foundation that handles projects in many different countries. Some of the organizations efforts include helping to provide clear drinking water to communities around the world. In 2008, Jewel organized an auction of celebrity's hand-written lyrics to benefit the project.

Jewel is currently married to rodeo star Ty Murray. The couple shares a ranch in Stephenville, Texas.


View the full website biography of Jewel.