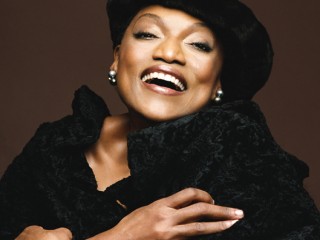 Jessye Norman
Date of birth : 1945-09-15
Date of death : -
Birthplace : Augusta, Georgia, U.S.
Nationality : American
Category : Arts and Entertainment
Last modified : 2010-07-12
Jessye Norman, born September 15, 1945 in Augusta, Georgia, United States is an American singer.


The repertoire of American singer Jessye Norman encompassed an uncommonly wide range, from Monteverdi to Boulez. Her rich soprano voice, however, was sometimes plagued by problems of voice production.

Jessye Norman was born on September 15, 1945, in Augusta, Georgia. Her father, an insurance broker, and her mother, a schoolteacher, encouraged her musically, so she was singing in church choirs from the age of four. Apart from her great love of singing, her childhood was by all accounts typical. Her first step toward a singing career, taken at the suggestion of her high school chorus teacher, was to enter the Marion Anderson vocal competition in Philadelphia at age 16. Though she did not win the competition, as a result of her singing she did gain a full scholarship to Howard University in Washington, D.C. There she studied voice with Carolyn Grant. After graduating from Howard she continued her singing studies with Alice Duschak at Peabody Conservatory in Baltimore and with Pierre Bernac and Elizabeth Mannion at the University of Michigan in Ann Arbor.

Norman fell in love with opera the first time she heard a Metropolitan Opera radio broadcast. "I was nine and didn't know what was going on, but I just loved it" she told Charles Michner of Vanity Fair magazine. "After that I listened religiously."

To finance her graduate studies, Norman entered the 1968 International Music Competition of the German Broadcasting Corporation in Munich and took first prize. She learned of her honor while on a U.S. State Department musical tour of the Caribbean and Latin America. This prestigious award accorded her immediate wide recognition and engagements throughout Germany leading to a December 1969 debut with the venerable and prestigious Deutsche Oper in Berlin as Elizabeth in Wagner's Tannhäuser. She signed a three-year contract shortly thereafter, and enjoyed rapid success in Europe.

From her student days Norman had been selective about her repertoire, heeding her own instincts and interests more than the advice of her teachers or requests of her management. This tendency put her at odds with the Deutsche Opera and compelled her to seek out musical works on her own that she felt were more suitable to her vocal skills. Her search took her to Italy where, in the spring of 1970, she sang in a lesser-known Handel oratorio, Deborah, at the Teatro Communale in Florence. In April of 1972 she made her debut at Milan's famous opera house, La Scala, in the title role of Verdi's Aida. Her first well-publicized American performance took place that summer in a concert performance of the same role at the Hollywood Bowl. Later in 1972 she further established herself in the United States with an all-Wagner concert at the Tanglewood Festival in Lennox, Massachusetts, and a recital tour of the country. That September she made her London debut at the Royal Opera House, Covent Garden, as Cassandra in Berlioz's Les Troyens.

During the years 1973-1975 she performed throughout the Western world--in Spain, Holland, Germany, Scotland, Italy, England, France, and Argentina, as well as the United States, often performing works outside the standard repertoire, including Franck's oratorio Les Béatitudes and Schoenberg's song cycle, Die Gurrelieder.

In 1975 Norman moved to London and had no staged opera appearances for the next five years. While she gave as the reason for her withdrawal the need to fully develop her voice, others felt that this was a period of concern for her weight and thus her stage image. She told John Gruen of the New York Times, "As for my voice, it cannot be categorized--and I like it that way, because I sing things that would be considered in the dramatic, mezzo or spinto range. I like so many different kinds of music that I've never allowed myself the limitations of one particular range." She remained internationally active as a recitalist and soloist in works such as Mendelssohn's Elijah.

In October of 1980 Norman returned to the operatic stage in the title role of Richard Strauss's Ariadne auf Naxos at the Hamburger Staatsoper in Hamburg, Germany. In 1982 she appeared in her American stage debut with the Philadelphia Opera as Dido in Purcell's Dido and Aneas and as Jocasta in Stravinsky's Oedipus Rex. Her belated debut at the Metropolitan Opera took place in September of 1983, the opening night of its 100th anniversary season, again as Cassandra. She was invited to sing at the January 21, 1985, inauguration of President Reagan, an invitation that she debated as an African American, as a Democrat, and as a nuclear disarmament activist. But she did accept and sang the folk song "Simple Gifts."

Although she was concerned about her stage image, Norman often managed to convert her size to a positive advantage by choosing physically more static roles that called for stately and dignified bearing.

Among the numerous honors bestowed upon Norman were the following: Musical America's musician of the year, 1982; honorary doctorates from Howard University (1982), Boston Conservatory (1984), and University of the South (1984); and Commandeur de l'Ordre des Arts et des Lettres from the French government, 1984. She also received awards for her recordings of R. Strauss, Four Last Songs; R. Schumann, Frauenlieben und Leben; Schoenberg, Die Gurrelieder; and Negro spirituals.

New York Times writer Allen Hughes wrote that Norman "has one of the most opulent voices before the public today, and, as discriminating listeners are aware, her performances are backed by extraordinary preparation, both musical and otherwise." Her performances sparked endless ovations from audiences all over the world. In 1985 it was reported that a Tokyo audience applauded for 47 minutes, and the next year an audience in Salzburg Austria applauded for 55 minutes. "Ms Norman's voice seems to draw from a vast ocean of sound.... Yet ... what made the soprano's performance particularly remarkable was the effortlessness with which she could hover over long, soft notes.... And there is also the quality of sound that she produces: even the loudest passages are cushioned by a velvety seductive timbre," wrote Michael Kimmelman.

Norman's work in the 1990s included singing at the opening of the Metropolitan Opera's production of Ariadne auf Naxosin 1993, taking part at a gala for the New York Philharmonic in 1995, and appearing at concerts throughout the world.

Norman once described the reverent approach that she took to her work in the New York Times: "To galvanize myself into a performance, I must be left totally alone. I must have solitude in order to concentrate--which I consider a form of prayer. I work very much from the text. The words must be understood, felt and communicated...If you look carefully at the words and absorb them you are halfway home already. The rest is honesty--honesty of feeling, honesty of involvement. If a performer is truly committed, then the audience will respond accordingly. Of course, love is the thing that propels us all. It's what carries us along--that's the fuel!"

In March of 1997, Jessye Norman was honored by New York's Associated Black Charities at the 11th Annual Black History Makers Awards Dinner for her contributions to the arts and to African American culture. She received a Kennedy Center Honor from President Bill Clinton on December 7, 1997. In 1999 she collaborated with choreographer-dancer Bill T. Jones in a project called "How! Do! We! Do!" at the Lincoln Center in New York City. This was described in American Visions as, "At once extraterrestrial, rooted in terra firma and divine ... a fusion of music, poetry and dance [that] provided both artists with an extraordinary opportunity, in the words of poet Frank O'Hara, 'to do something grand.'"

In 2000 Norman released an album of the songs of Michel Legrand, called I Was Born in Love with You, with Legrand on piano, Ron Carter on bass, and Grady Tate on drums. Patrick O'Connor said of Norman in New Statesman, "Norman has constantly changed direction, embracing microphone technique for Duke Ellington and Michel Legrand, and last year giving the world premiere of Judith Weir's ... cycle, commissioned by Norman, [which] exploited the singer's voice at its best, concentrating on the middle range, with just a couple of excursions high and low, as if to prove that she still has the power." In February and March of 2001 Norman was featured at Carnegie Hall in a three-part concert series; she was accompanied by James Levine. The concerts were a notable arts event and the 80-page program booklet included a watercolor portrait of Norman specially commissioned by David Hockney.

On March 11, 2002, Jessye Norman was heard performing a somber rendition of "America the Beautiful" at a memorial service unveiling two monumental columns of light at the site of the former World Trade Center, as a memorial for the victims of the September 11, 2001, terrorist attacks on New York City.


AWARDS

Grammy Award, 1980, 1982, 1985; Musician of the Year, Musical America, 1982; honorary doctorates: Howard University (1982), Boston Conservatory (1984), and University of the South (1984); Commandeur de l'Ordre des Arts et des Lettres, French government, 1984; Kennedy Center Honor, 1997.

View the full website biography of Jessye Norman.