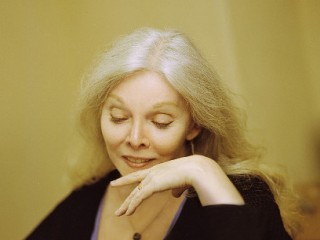 Jessica Williams
Date of birth : 1948-03-17
Date of death : -
Birthplace : Baltimore, Maryland,U.S.
Nationality : American
Category : Arts and Entertainment
Last modified : 2012-03-15
Jessica Jennifer Williams is an American pianist and composer who has deep roots in jazz. She has been called "one of the top jazz pianists of today."

Trained as a classical pianist, Jessica Williams developed her love of jazz from two of her earliest influences, Thelonious Monk and John Coltrane. While studying at the Peabody Conservatory of Music, Williams began playing gigs around the Baltimore area and later moved to Philadelphia to play with Philly Joe Jones. After making her recording debut in 1976 with Portal of Antrim, Williams moved to the West Coast, where she continues to make her home. In a recording career that has spanned more than 25 years, she has released more than two dozen well received albums. After decades of playing in small, smoky jazz clubs, her talent now delights audiences on concert stages around the world. "I feel very at home in concert halls and this is where my music can flourish," she told Philip Clark of Jazz Review in October of 1999. "There are no distractions such as alcohol and all the audience's attention is on me. In return all my attention is on the instrument and making music.... So it should be. Jazz is a great art form."

Williams was born on March 17, 1948, in Baltimore, Maryland, and began playing the piano at her grandmother's house when she was four. Three years later she began taking lessons and at the age of nine enrolled at the prestigious Peabody Prepatory School of Music in Baltimore. By the time she began taking formal studies, Williams had already been strongly influenced by some of the legends of jazz music. Especially important were Dave Brubek's "Take Five" and Miles Davis's "Kind of Blue," along with the work of John Coltrane and Thelonious Monk. "The first jazz musician I heard was Dave Brubek," Williams recalled in Jazz Review. "His music was really approachable and I understood it. I was playing in five [time] at the age of 12, before I could play in four! He's kept the music concise and pure and I don't think that he has been given all the credit he deserves."

As a teenager Williams studied piano, music theory, composition, and ear training at the Peabody Conservatory of Music. She also began playing with jazz groups around the city and at the age of 17 moved to Philadelphia to begin her career as a professional musician. There she played with drummer and band leader Philly Joe Jones and gained invaluable experience in performing and improvising. She was also influenced by the contemporary currents in jazz music that reshaped the genre in the late 1960s and early 1970s, especially in the work of Miles Davis. "Defining genius is dangerous, but I think that it is simply seeing the writing on the wall and acting on it," she told Jazz Review. "Miles spent his whole career doing that and had a whole different way of looking at the universe. When Miles made Bit**es Brew [1969] he felt that the world was changing and he wanted to change with it. I don't think it was conscious, he just felt it."

Williams began her recording career in 1976 with Portal of Antrim. She moved to San Francisco the following year, where she became the pianist-in-residence at the Keystone Korner club. She continued to build her resumé with a series of well received albums and concert dates. Critics were impressed with her ability to incorporate a range of styles into her music; as one reviewer in The Rolling Stone Jazz and Blues Album Guide noted, Williams was a "dazzling purveyor of technique, with an energy that seemed to pour out of her" on her early recordings. After 1979's Orgonomic Music, Williams released three more albums in the 1980s: Rivers of Memory (1980), Update (1982), and Nothin' but the Truth (1986). In contrast, her recorded output during the 1990s was prolific. Beginning with 1990's And Then, There's This, Williams released 20 additional albums during the decade, ranging from the live albums Encounters (1994) and Victoria Concert(1996) to her work with a trio on Momentum (1994) and Inventions (1995) to an album recorded with a sextet on Joy (1995).

Williams's recorded work put her among the best-known musicians on the contemporary jazz scene, but the pace left her exhausted. By the end of the 1990s she decided to take a more active role in the direction of her career by establishing her own website and selling her albums on the internet through her Red and Blue label. Two of the first albums offered directly to her fans were It's Jessica's Time(1999) and Some Ballads, Some Blues (1999). The experience renewed her enthusiasm for making music and changed the way she approached her recording career. As she admitted to Fred Jung in an interview for All About Jazz online in November of 1999, "I got so tired after twenty-five years of trying to be hip and fast and this and that, I was starting to feel like a gunslinger and I just let myself do exactly what I wanted. I didn't have any record producers to try and please. I didn't have any market niches to try to fill and that's why it just is what it is. It's pure, without makeup."

After more than 20 years as a recording artist, Williams earned some of the best notices of her career for Some Ballads, Some Blues. Lawrence Brazier of JazzNow wrote that "She can incorporate a multitude of styles in one number. She can swing like John Henry wielding his hammer, do Monk and Bill Evans, build tension and release, get ecstatic and rapturous, rhapsodic, yet." Fred Jung of Jazz Weekly agreed, calling the album "the most important work of Jessica Williams's substantial career." Williams also earned plaudits for 1999's Blue Fire; as Don Williamson of 52nd Street Jazz wrote, "Jessica Williams, operating for the most part on the periphery of publicized attention within the jazz scene, remains a pearl to be discovered and savored if only enthusiasts of innovative yet swinging jazz piano would make the dive. Blue Fire lets them do that."

In 2002 Williams received more critical acclaim for This Side Up. "All of her recordings have been well received and betray a fresh virtuosity that is at once erudite and familiar," wrote C. Michael Bailey of All About Jazz, adding, "This Side Up is mostly a collection of originals that are perfectly conceived and expressed." John Barrett of the Jazz USA online simply declared, "Find this treasure, and listen often." The recipient of a Guggenheim Fellowship in 1995, Williams also earned awards from the National Endowment for the Arts in 1988 and 1992. Yet the personal reward of being a musician remained the most important aspect of her career. As she described her vision of her career to Marianne Messina of the San Jose Mercury News, "It's not just to play piano; it's beyond that. It's somehow to facilitate some sort of action that brings together: It's not about me, it's about us."

She is a three-time Grammy Award Nominee and holds a Fellowship from the John Simon Guggenheim Foundation for composition.She appeared at the 2004 and 2006 "Mary Lou Williams Women in Jazz Festivals" at the John F. Kennedy Center for the Performing Arts in Washington, D.C.

Selected discography:
-Portal of Antrim , Adelphi, 1976.
-Orgonomic Music , Clean Cuts, 1979.
-Rivers of Memory , Clean Cuts, 1980.
-Update , Clean Cuts, 1982.
- Nothin' But the Truth , Black Hawk, 1986.
-And Then, There's This , Timeless, 1990.
-Live at Maybeck Recital Hall, Volume 21 , Concord Jazz, 1992.
-Arrival , Jazz Focus, 1993.
-Next Step , HEP, 1993.
-A Song That I Heard , HEP, 1994.
-Encounters , Jazz Focus, 1994.
-In the Pocket , HEP, 1994.
-Momentum , Jazz Focus, 1994.
-Queen of Fools , Hot, 1994.
-Intuition , Jazz Focus, 1995.
-Inventions , Jazz Focus, 1995.
-Joy , Jazz Focus, 1995.
-Gratitude , Candid, 1996.
-Jessica's Blues , Jazz Focus, 1996.
-Victoria Concert , Jazz Focus, 1996.
- Encounters, Volume 2 , Jazz Focus, 1998.
-Joyful Sorrow: A Solo Tribute to Bill Evans , Black Hawk, 1998.
-Ain't Misbehavin' , Candid, 1999.
-Blue Fire , Jazz Focus, 1999.
-In the Key of Monk , Jazz Focus, 1999.
-It's Jessica's Time , Red and Blue, 1999.
-Some Ballads, Some Blues , Red and Blue/Jazz Focus, 1999.
-Jazz in the Afternoon , Artists Only, 2000.
-This Side Up , Red and Blue, 2002.
View the full website biography of Jessica Williams.