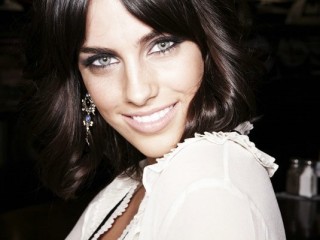 Jessica Lowndes
Date of birth : -
Date of death : -
Birthplace : Vancouver, British Columbia, Canada
Nationality : Canadian
Category : Arts and Entertainment
Last modified : 2011-09-02
Jessica Lowndes was born in Vancouver, British Columbia, Canada in 1988. She studied at the Pacific Academy in Surrey. Jessica is an actress and an aspiring Singer. She has written 4 known songs: "Never Lonely", "Break", "Fly Away" and "Goodbye". This last one was heard in an episode of the series "Moonlight" (2007). Nowadays, you can see Jessica playing the role of Adrianna Tate-Duncan on the TV series "90210" (2008), where she plays a teenage former-junkie pregnant high school student/actress. Lowndes was discovered in 2005 by the producers of the series "Masters of Horror" (2005), in which she made an appearance as a guest star in 1 episode. The role of Adrianna was meant to be a recurring guest role, but due to the fact that her character was a huge hit with fans, the producers decided to include her as a regular.

Jessica Lowndes is a super hot Canadian actress and aspiring singer. She made her theatrical film debut in the 2008 horror film The Haunting of Molly Hartley and had a leading role in the horror movie Autopsy.

She has made guest appearances on several TV series including Masters of Horror, Kyle XY, and Greek. She currently plays Adrianna on the revamped 90210, a teenage girl who suffers a serious drug addiction and then becomes pregnant.

As far as her music career goes, Jessica wrote and performed the song "Goodbye" for TV show "Moonlight." She is also featured on UK rapper Ironik's single "Falling In Love" released in October 2010. She's written over 40 songs and recorded a number of them that she hopes will appear on an upcoming album. But she has not signed a record deal so she could work with lots of different producers. She plans to have her first single out later in 2011.

View the full website biography of Jessica Lowndes.