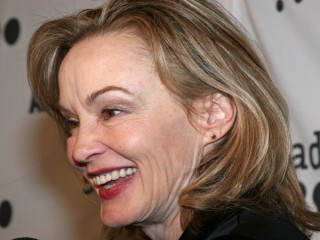 Jessica Lange
Date of birth : 1949-04-20
Date of death : -
Birthplace : Cloquet, Minnesota, United States
Nationality : American
Category : Arts and Entertainment
Last modified : 2011-09-05
Jessica Lange is an American screen and stage actress. Most recently, she debuted also as a photographer.

The actress may be most notable for her performance of Frances Farmer (ranked #85 on Premiere magazine's 100 Greatest Performances of All Time in 2006)in Frances, and Tootsie. Both from 1982, for which she was nominated on Oscars in two categories at the same time, becoming the first such female since Teresa Wright in 1942. Her other significant roles featured Patsy Cline in Sweet Dreams (1985), Carly Marshall in Blue Sky (1994), Blanche DuBois in A Streetcar Named Desire (1995), Irma Applewood in Normal (2003), and Edith Ewing Bouvier Beale in Grey Gardens (2009). Amongs other, she has won two Academy Awards (for Tootsie and Blue Sky), four Golden Globes, and lately an Emmy Award.

Lange published in 2008 her own collection of black-and-white pictures, simply entitled 50 Photographs (powerHouse Books). Since 1982, Lange has lived with the Pulitzer Prize-winner, Sam Shepard.

was born in Cloquet, Minnesota, USA, where her father worked as a traveling salesman. She obtained a scholarship to study art at the University of Minnesota, but instead went to Paris to study drama. She moved to New York, working as a model, until producer Dino De Laurentiis cast her as the female lead in King Kong (1976). The film attracted much unfavorable comment and, as a result, Lange was off the screen for three years. She was given a small but showy part in Bob Fosse's All That Jazz (1979), before giving a memorable performance in Bob Rafelson's The Postman Always Rings Twice (1981), as an adulterous waitress. The following year, she won rave reviews for her exceptional portrayal of actress Frances Farmer in Frances (1982) and a Best Supporting Actress Academy Award for her work in Sydney Pollack's Tootsie (1982) (as a beautiful soap-opera actress). She was also outstanding as country singer Patsy Cline in Karel Reisz's Sweet Dreams (1985) and as a lawyer who defends her father and discovers his past in Music Box (1989). Other important films include Martin Scorsese's Cape Fear (1991) (as a frightened housewife) and Tony Richardson's Blue Sky (1994), for which she won a Best Actress Academy Award as the mentally unbalanced wife of a military officer. She made her Broadway debut in 1992, playing "Blanche" in Tennessee Williams "A Streetcar Named Desire".

As a winner of two Academy Awards (from overall six nominations) and four Golden Globe Awards (out of eleven nominations in total), she has also earned an Emmy Award, a Boston Society of Film Critics award, a Kansas City Film Critics Circle award, a Los Angeles Film Critics Association award, a National Society of Film Critics award, a New York Film Critics Circle Award, an award at the Moscow International Film Festival, a Theater World Award, and a Crystal Award. In addition, the artist was nominated for two Satellite Awards, two Screen Actors Guild Awards, another two Emmys, a BAFTA Award, a Chicago Film Critics Association award, and a PRISM Award.

View the full website biography of Jessica Lange.