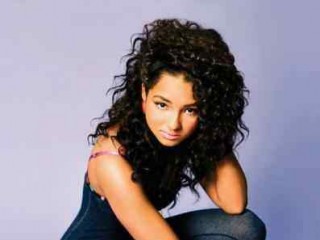 Jessica Jarrell
Date of birth : -
Date of death : -
Birthplace : Los Angeles, California
Nationality : American
Category : Arts and Entertainment
Last modified : 2011-04-21

Jessica Jarrell aka JJ is a 14-year-old Pop / R & B singer, based in Los Angeles, California Her debut single titled "Armageddon" is transmitted to the radio, which in May 2009.

Jessica Jarrell was born to sing although it took awhile before anyone noticed. She started modeling when she was four-years-old and was featured in print campaigns for major brands like K-Mart, American Girl and Mattel. At age 11, her friends dragged her to the auditions for their school's Christmas play. "We went for fun so I auditioned for one solo part and ended up getting two," she recalls. "My mom was shocked. She came to rehearsals and cried when she heard me." After performing in front of her whole school, Jessica was hooked on the rush of being on stage. "To be honest, I always loved to sing, I was just too shy to sing anywhere other than in the shower!"

Family friend Terrance Korran had ties to different recording studios in Los Angeles so she started laying down some tracks and writing her own lyrics. It was from those sessions that she was introduced to veteran producer/writer Toby Gad ("Big Girls Don't Cry" and "If I Were A Boy"). Toby was immediately drawn to her personality and vocal prowess. "We were only supposed to do three songs together," Jessica explains. "But we got into a groove and Toby decided that he wanted to record a whole album."

Jessica co-wrote most of the album with Toby, hooked up with David Sonenberg from DAS Communications (The Fugees, Black Eyed Peas, and Fergie) and in short order was signed to KITE Nyc Records/Mercury Records by President David Massey (Kite Records is a JV between Toby Gad and DAS Communications) and she hasn't looked back since.

Her first professional engagement was performing at the White House for the Obama family at the White House Easter Egg Roll. "She killed it," says Sonenberg. "Performing onstage, by herself, to 6 thousand people, directly after Fergie did her show, was incredible and inspiring. Jessica showed no fear and totally charmed everyone at the White House on that miraculous day."

"Jessica has such an amazing voice and a really old soul for someone still in high school," says Toby Gad. "It's impressive to listen to the lyrics on the album because the songs come from such a young and innocent place but feel very mature at the same time." Each song tells a story of Jessica's experiences with her friends at school and of course their crushes on boys. "I'd go into my sessions with Toby with a story on my mind," says Jessica. "We'd talk about it and the lyrics would just come rushing out of us."

Her first single, "Armageddon," is an infectious dance track that'll make you want to go wild.

Other songs, like the sweet "Almost Love" came to Jessica out of daydreams. "I was sitting in a diner and heard the lyrics forming in my head," she says. The breathtaking ballad "Key to My Heart" happened even more organically. "Toby sat at the piano and told me to start singing. I got nervous and told him 'You put me on the spot,''' she remembers. "He sang that back to me and I sang back to him, 'I don't know what to say but I'll try anyway . . . words are spinning in my head. . .'" From there the song lyrics flowed together and Jessica's nervous creative energy basically wrote the entire song.

Jessica's family keeps her head on straight. They make sure that she stays grounded despite her whirlwind lifestyle. Everything is still brand new and exciting. Her trip to New York City to meet with Toby for the first time was also her first trip to the Big Apple. Jessica has been warned, however, that the second she takes any of this for granted, it'll be all over. "I'm really close with mom and grandma. They're really happy for me because they see how bad I want this," she says. But my mom told me the minute I start acting like a diva – I'm done." There's nothing to worry about – this "old soul" has her head on straight and is learning and growing with the music she is writing. "I hope everyone can have fun listening to it," she says. "But I hope everyone will learn something because they can relate to what I'm singing about too!"

Overboard Ft. Justin Bieber:


View the full website biography of Jessica Jarrell.