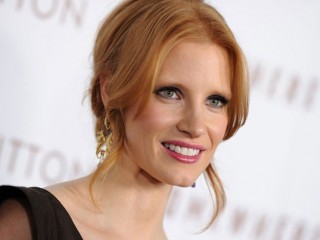 Jessica Chastain
Date of birth : 1981-03-29
Date of death : -
Birthplace : Northern California, U.S.
Nationality : American
Category : Arts and Entertainment
Last modified : 2011-05-25
Jessica Chastain, born March 29, 1981 is an American film and television actress.

Jessica M. Howard was born on March 29, 1981 in California, and spent her formative years in the San Francisco Bay area. She started dancing at age nine, and by 13, she was performing in Shakespearean productions using her mother's maiden name. Chastain majored in drama at the prestigious Juilliard School in New York City where, during her last year, she signed a contract with television producer John Wells to appear on some of his shows, including "ER" (NBC, 1994-2009). Chastain padded her resume with a guest role on the mystery series, "Veronica Mars" (UPN, 2005-07) featuring Kristen Bell as a college student who moonlights as a private detective, and a recurring role on the series, "Law & Order: Trial by Jury" (NBC, 2005-06), as an assistant district attorney. In 2008, Chastain starred in the drama, "Jolene," based on E.L. Doctorow's tale, Jolene: A Life, from his 2004 "Sweet Land Stories" collection. The movie centered on the cross-country adventures of its red-haired heroine - beginning at age 15 - over the course of a decade. It also starred Dermot Mulroney, Chazz Palminteri and Rupert Friend.

Chastain was suddenly on Hollywood's radar after landing plum roles in big-budget films, particularly in the 2010 dramatic thriller, "The Debt," opposite an A-list cast that included Helen Mirren, Tom Wilkinson, and Sam Worthington. Chastain delivered a solid performance as one of a trio of Mossad agents who were hunting down a Nazi war criminal in 1965 East Berlin, and living with the consequences of their actions 30 years later. To prepare for the role, Chastain relied heavily on her dance background, took fight-training classes, and learned how to speak German. Chastain also took on the lead role in "Wilde Salome" (2010), based on Oscar Wilde's 1891 tragic play. The film starred Al Pacino, who also directed it.

In 2011, the talented actress starred in Terence Malick's highly anticipated drama, 'The Tree of Life', which told the story of a Midwestern family in the 1950s as seen through the journey of the eldest son (played as an adult by Sean Penn) from childhood to his disillusioned adult years as he tries to reconcile with his father (Brad Pitt). As the wife of Pitt's character, Chastain brought a subtle yet powerful depth of character to the role. That same year, she had a featured role in the drama, "The Help," based on Kathryn Stockett's 2009 novel about the interactions between the rich white women and the black women who served them in 1960s Mississippi.

View the full website biography of Jessica Chastain.