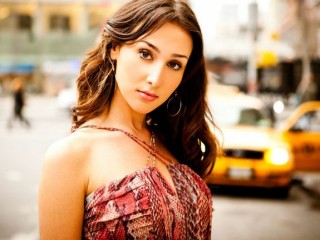 Jessica Ashley
Date of birth : -
Date of death : -
Birthplace : New York, US
Nationality : American
Category : Arts and Entertainment
Last modified : 2012-06-25
Jessica Ashley (born 1993) is a young artist coming from New York City. She begun working with New York based entertainment attorney Johnny Woluewich back in 2008, after she posted on her YouTube channel several videos with cover songs from artists such as Alicia Keys, Whitney Houston, Mariah Carey, etc.

Her site quickly became a fan favorite, garnering hundreds of thousands of hits.

Over the past year, Jessica has been busy putting together an EP and her debut album. She has collaborated with some of the most successful producers and songwriters in the music industry today, including Sean Garret (Beyonce, Nikki Minaj), Sham & Motesart (Willow Smith, Leona Lewis), Willie Baker (Pink, Brandy), Nikola Bedingfield (Sister and frequent collaborator of Daniel and Natasha Bedingfield). Jessica has also used the year to spotlight her talents as a songwriter, penning the song "Limbo", a featured single on multi-platinum recording artist, JoJo's upcoming Interscope release "Jumping Trains."

Jessica has also continued posting Youtube videos. One of her recent videos features her and Motown recording artist, Ginette Claudette, traveling throughout New York City performing Alicia Keys' "Unthinkable" for unsuspecting New Yorkers and tourists, as part of this summer's much publicized "Play me I'm Yours" public art exhibit.

Jessica has been selected to attend the exclusive Clive Davis Department of Recorded Music at NYU (Whose recent alumni include Lady GaGa, J-Records recording artist, Elle Varner, and Motown recording artist, Tina Parol). Superstar producer, Swizz Beats, recently hand-picked Jessica to personally mentor, as part of of her participation in the Clive Davis program.

In June 2012 Jessica's release her EP Prelude. The EP contains five songs co-written and co-produced by Jessica, Alan Nglish (Cee-Lo, Taio Cruz), Ginny Blackmore (Christina Aguliara, Adam Lambert), Curtis Richardson (J-Lo, Rhianna), Al West (J-Lo, R Kelly) and The Writing Camp (Chris Brown, Jordin Sparks). Award winner director, Arie Ohayon, will be directing videos for songs on the EP.


View the full website biography of Jessica Ashley.