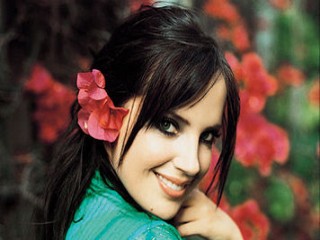 Jessica Andrews
Date of birth : 1983-12-29
Date of death : -
Birthplace : Huntingdon, Tennessee
Nationality : American
Category : Arts and Entertainment
Last modified : 2010-12-14
Jessica Andrews was born on Dec. 29, 1983, in Huntingdon, Tenn. She credits a fourth grade talent show with pointing the way to her current career path: "I was supposed to dance, but my sister told me I should sing. She heard me singing Dolly Parton's 'I Will Always Love You' and talked me into doing it. Can you believe, I won? So I started thinking, 'Maybe this is what I should be doing.'"

From then on Andrews sang every chance she could -- at fairs and carnivals around her hometown, and even the smallest, most casual family gatherings. It wasn't long before word of her precocious talent spread. Soon, friends of producer Byron Gallimore (Tim McGraw, Faith Hill, Jo Dee Messina) insisted he make the two-hour drive from Nashville to Huntingdon to see if Andrews was as accomplished as everyone said. His first impression? "I was overwhelmed by Jessica's vocals -- the tone, the control, the range," he remembers. "I knew I had to be a part of her music."

The two immediately began considering songs and getting acquainted in the studio. Once they had a lead on the kind of material Andrews was looking for, Gallimore invited DreamWorks Records Nashville head James Stroud to a showcase in Paris, Tenn. Stroud offered Andrews a deal on the spot.

While she was working on her debut album Heart Shaped World, Andrews was invited to participate in The Prince of Egypt - Nashville. Her contribution to the soundtrack, "I Will Be There for You," was also the first single from Heart Shaped World. She was the only artist to premiere on the Prince of Egypt - Nashville soundtrack, which found the teenager with the likes of Vince Gill, Reba McEntire, Randy Travis and Wynonna. She also toured with Faith Hill to support her own album.

Heart Shaped World helped Andrews earn her first industry award as the Academy of Country Music's top new female vocalist in May 2000. In 2001, Andrews released her second album Who I Am. She earned her first No. 1 single with the title track, and received her first CMA nomination for horizon award. The album Now followed in 2003, with the moderate hit "There's More To Me Than You."

View the full website biography of Jessica Andrews.