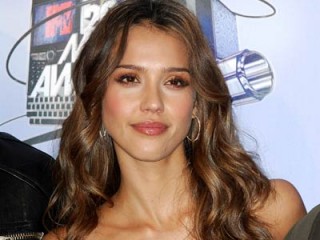 Jessica Alba
Date of birth : 1981-04-28
Date of death : -
Birthplace : Pomona, California, U.S.
Nationality : American
Category : Arts and Entertainment
Last modified : 2014-02-02
Jessica Marie Alba is an American television and film actress.
She began her television and movie appearances at age 13 in Camp Nowhere and The Secret World of Alex Mack (1994). Alba rose to prominence as the lead actress in the television series Dark Angel (2000–2002). Alba later appeared in various films including Honey (2003), Sin City (2005), Fantastic Four (2005), Into the Blue (2005), Fantastic Four: Rise of the Silver Surfer and Good Luck Chuck both in 2007.

Jessica Alba was born in Pomona, California, to Catherine and Mark Alba. As a child, Jessica moved around a lot, as her father had a career in the US Air Force, though they eventually settled in California again when Jessica was nine years old.

As a child, Jessica Alba was often ill, suffering from two collapsed lungs, pneumonia, a ruptured appendix and a tonsillar cyst. At the age of 16, she graduated from high school and attended the Atlantic Theater Company, having expressed an interest in acting since the age of five. At the Company, she acted alongside William H Macy and his wife, Felicity Huffman. The school was developed by Macy and the playwright and film director David Mamet.

CAREER:

When she was 11 years old, Jessica Alba asked her mother to take her to an acting competition in Beverley Hills. She won the main prize and won free acting lessons. The lessons served their purpose and Alba was signed up with an agent nine months later.

Alba's first film appearance was intended to be a small role in the 1994 film Camp Nowhere, which starred Christopher Lloyd and Jonathan Jackson. She ended up in one of the major roles, after another actress dropped out.

Also in 1994, Jessica Alba landed a role in the popular Nickelodeon youth TV series The Secret World of Alex Mack, which also starred Larisa Oleynik. In the TV series Flipper, Jessica Alba played the role of Maya for the first two series. Before being recruited to the show, Alba was already a certified scuba diver.

Jessica Alba also appeared as Melissa Hauer in an episode of Brooklyn South, as well as landing a role in two episodes of Beverley Hills 90210. She then featured as Layla in Love Boat: The Next Wave. 1999 saw Jessica Alba perform in the Randy Quaid comedy P.U.N.K.S.

In 1999, Jessica Alba's Hollywood status was raised, with a role in Drew Barrymore's romantic comedy Never Been Kissed, which also starred David Arquette and Molly Shannon. That same year, she also starred in Idle Hands, a comedy-horror with Seth Green and Devon Sawa.

It was the Oscar-winning director James Cameron that gave Jessica Alba her big break, when he chose her to star in the sci-fi television series Dark Angel. She earned herself a Golden Globe nomination for her performance. This was followed up with a role in the critically acclaimed Sin City. The film was directed by Frank Miller and Robert Rodriguez and featured an all-star line up, including Elijah Wood, Mickey Rourke, Bruce Willis, Clive Owen, Benicio del Toro and Josh Hartnett.

In 2007, Jessica Alba appeared in another comic book adaptation, Fantastic Four: Rise of the Silver Surfer, which also starred Laurence Fishburne.

In Honey, Jessica Alba played a dance-choreographer, alongside Mekhi Phifer and Missy Elliot. Good Luck Chuck was a romantic comedy in which she co-starred with Dane Cook.

Alba then starred in the 2008 horror movie The Eye, a remake of the Hong Kong original. Her performance received a mixed response, as did the film itself, with many people preferring the original version. Her other major performance of that year also failed to set to the movie world alight: a performance in The Love Guru, with Mike Myers and Justin Timberlake.

She then went on to work on The Killer Inside Me, along with Casey Affleck and Kate Hudson, as well as Valentine's Day, released in 2010 and also starring Julia Roberts, Jennifer Garner and Anne Hathaway.

In August 2010, it was announced that Alba would appear in Spy Kids 4. The film was released a year later.

In January 2012, Alba and business partner Chris Gavigan launched The Honest Company, a collection of toxin-free household goods, diapers, and body care products. In March 2012, Alba announced that she will be releasing a book, The Honest Life, based on her experiences creating a natural, non-toxic life for her family. The book, slated for release in early 2013, will be published by Rodale.

Her next projects include comedy A.C.O.D. and animated film Escape from Planet Earth. Alba will also reprise her role as Santana in Machete's sequel Machete Kills and as Nancy Callahan in Sin City: A Dame to Kill For, sequel to 2005's Sin City. Filming for Sin City started in October 2012 with a release date set for August 2014.

PERSONAL:

Jessica Alba was in a three-year relationship with the Dark Angel co-star Michael Weatherly. After meeting the actor Cash Warren on the set of Fantastic Four, she married him in May 2008. Cash and Jessica had a child together on June 2008; a daughter named Honor Marie Warren. In 2011 the couple welcomes their second daughter Haven Garner Warren.


View the full website biography of Jessica Alba.