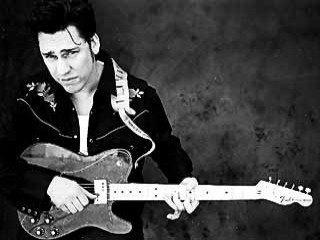 Jesse Dayton
Date of birth : -
Date of death : -
Birthplace : Austin, Texas
Nationality : American
Category : Arts and Entertainment
Last modified : 2011-01-23
Jesse Dayton Austin, Texas-based honky tonk and rockabilly artist best known for his guitar contributions to albums by country legends including Johnny Cash, Waylon Jennings, and Willie Nelson.

Jesse Dayton grew up on the hardcore honky tonk of Jones, Hank Williams, Sr., and Lefty Frizzell, but also blues artists such as Lightnin' Hopkins and Mance Lipscomb. During the late '80s and early '90s Dayton fronted two rockabilly bands, the Roadkings and the Alamo Jets, playing around the state in honky tonks and dives. After beginning a solo career, he played support slots at shows by Willie Nelson, Merle Haggard, and Waylon Jennings, and even appeared as the bandleader in a Pam Tillis video. Signed to Justice Records in 1995, he released Raisin' Cain that same year and also appeared on the Willie Nelson tribute record, Twisted Willie. Dayton's songs also appeared in the FOX-TV series Melrose Place and in the film Curse of the Starving Class. In fall 2000, Dayton issued Tall Texas Tales. Hey Nashvegas followed in 2001, and Country Soul Brother in 2004. That same year Dayton received an interesting phone call while en route to a gig. It was Rob Zombie calling, and he wanted to know if Jesse would write some songs for a movie he was working on. The result was Rob Zombie Presents...Banjo & Sullivan: The Ultimate Collection 1972-1978, released in June 2005 to coincide with Devil's Rejects, Zombie's sequel to his 2003 cinematic debut House of a 1000 Corpses. In the film's elaborate, imaginative backstory, Roy Sullivan and Adam "Fingers" Banjo were honky-tonk musicians who met their gory end at the hands of the homicidal gang known as the Devil's Rejects. Zombie commissioned Dayton to write and perform a series of songs as Banjo & Sullivan, and the result were tongue-in-cheek, but well-done honky-tonk numbers like "Dick Soup", "Lord Don't Let Me Die in a Cheap Motel," and "I'm at Home Getting Hammered [While She's Out Getting Nailed]." The album even included a cover of "Freebird".


View the full website biography of Jesse Dayton.