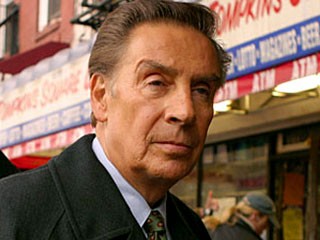 Jerry Orbach
Date of birth : 1935-10-20
Date of death : 2004-12-28
Birthplace : Bronx, New York, United States
Nationality : American
Category : Arts and Entertainment
Last modified : 2011-08-23
Jerry Orbach was an American actor and singer. He was well known for his starring role as Detective Lennie Briscoe in the Law & Order television series and as the voice of Lumière in Disney's Beauty and the Beast. As well, Orbach was a noted musical theatre star. His prominent roles included originating the character of El Gallo in The Fantasticks, the longest-running musical play in history; Chuck Baxter in the original production of Promises, Promises (for which he won a Tony Award); Julian Marsh in 42nd Street; and Billy Flynn in the original production of Chicago.

Born in 1935, Jerome Bernard Orbach was a native of the Bronx borough of New York City. His father was a restaurant manager, but had once been a vaudeville performer; Orbach's mother had been a radio singer at one time, and it was from her that he first learned to sing. Though he had no formal training, Orbach won a singing contest when he was still in elementary school, and gravitated toward the performing arts even more in his teens, though by then his family had departed New York City and settled in Waukegan, Illinois. After graduating from Waukegan High School in 1952, Orbach spent a year at the University of Illinois and another two at Northwestern University just north of Chicago, a school known for its excellent drama department. When he could no longer afford the tuition, he dropped out and headed to New York City. Not long after arriving in 1955, he landed his first Off-Broadway role in The Threepenny Opera, the Kurt Weill-Bertolt Brecht musical. He eventually took its lead role, where his rendition of the show's signature tune, "Mack the Knife," firmly established him as a new musical star on the New York scene.

Orbach's career on Broadway grew by leaps and bounds during the following decade. Early on, he became known as an able-bodied leading man who could sing, dance, and act. His handsome, rugged looks and effortless baritone helped him land top roles, such as El Gallo, the narrator in the original Off-Broadway cast of The Fantasticks in 1960, for which Orbach delivered the show's most memorable number, "Try to Remember"; he also appeared in a 1965 production of Guys and Dolls as Sky Masterson, and won a 1969 Tony Award for best actor thanks to Promises, Promises. Other notable Broadway parts for Orbach included Billy Flynn in the original cast of Chicago in 1975, and five years later he was also in the original cast of 42nd Street when, in a legendary Broadway moment, it was announced at the end of opening night that the show's director, Gower Champion, had died. Not even the cast knew, and producer David Merrick's announcement left the entire house dumbstruck; it was Or-bach who signaled that the curtain needed to come down.

Mid-career, Orbach moved into serious Hollywood film roles thanks to his portrayal of a character based on New York organized-crime figure Joey Gallo in a 1971 project, The Gang That Couldn't Shoot Straight, which also starred a young Robert DeNiro. In an odd twist, Orbach and his wife befriended Gallo, who lived in their New York City apartment for a time before he was slain, probably by fellow mobsters, in 1972. Orbach played a cop in 1981's acclaimed Prince of the City, and showed a softer side as Jennifer Grey's dad in Dirty Dancing, the 1987 box-office smash. An even younger audience became familiar with Orbach's baritone when he was chosen as the voice of the candlestick Lumiere in the animated Disney story, Beauty and the Beast.
In 1992, Orbach joined the hit television drama series Law & Order in its third season. The show, set amongst the professional realm of New York City detectives and prosecutors, featured a strong cast and compelling storylines, and Orbach's Det. Briscoe a battle-scarred, wisecracking former alcoholic was a favorite with viewers, especially real-life police officers. Orbach said that for the first time in his career he was readily recognized on the street, and sometimes police squad cars would pull over and offer him a lift if they saw him trying to hail a cab.

Unbeknownst to his fans, Orbach had been battling prostate cancer for several years. Declining health forced him to step away from Law & Order after its 2003-04 season, though he still appeared on a spinoff, Law & Order: Trial by Jury.

He died on December 28, 2004, at age 69 while undergoing treatment at New York City's Memorial Sloan-Kettering Cancer Center.

He is survived by his wife, Elaine; his sons Anthony and Christopher from his first marriage, two grandchildren, and his mother, Emily. The day after his death, all lights on Broadway were dimmed in his honor. Dick Wolf, Law & Order 's producer, pointed out to Entertainment Weekly that as Briscoe, Orbach "was the longest-running character on the longest-running drama series on television. But that was merely the capstone on one of the landmark careers in American show business."

View the full website biography of Jerry Orbach.