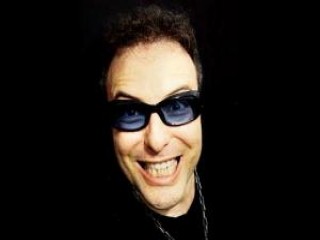 Jello Biafra
Date of birth : 1958-07-17
Date of death : -
Birthplace : Boulder, Colorado, U.S.
Nationality : American
Category : Famous Figures
Last modified : 2011-10-06
Jello Biafra is an American musician, spoken word artist and leading figure of the Green Party of the United States. Biafra first gained attention as the lead singer and songwriter for San Francisco punk rock band Dead Kennedys. After his time with the band concluded, he took over the influential independent record label Alternative Tentacles, which he had co-founded in 1979 with Dead Kennedys bandmate East Bay Ray. Although now focused primarily on spoken word, he has continued as a musician in numerous collaborations.

He grew up in Boulder, Colorado and in 1977 went to California to attend college in Santa Cruz. After a short time he left school and got swept up in the punk music scene; in San Francisco he helped form Dead Kennedys in 1978 with East Bay Ray (guitar), Klaus Flouride (bass) and Ted (drums). The band's surprisingly accomplished musicianship helped make them one of the best-known American punk bands of the era, and Biafra's mix of political-prankster lyrics and stage theatrics, delivered in a high-pitched, nasal whine, made him a poster boy for the early punk movement. Songs that once stirred controversy are now considered classics: from "California Über Alles," a stab at then-governor Jerry Brown, to "Holiday in Cambodia," a sarcastic political rant that years later was wanted for a TV commercial for Dockers pants (Biafra turned down the offer and got sued by former bandmates for not promoting the band). The height of Dead Kennedys controversy came in 1986, when Biafra was arrested and charged with the distribution of "harmful matter," thanks to a poster enclosed in their album Frankenchrist (Penis Landscape, by Swiss painter H.R. Giger). After nearly two years the case was dismissed because of a hung jury, the band was dissolved and Jello Biafra had a new career as a free speech activist and spoken word performer. He also turned his attention to running his band's own record label, Alternative Tentacles, originally founded in 1979 but owned by Biafra since the mid-1980s. Still politically active, he ran in the New York state presidential primary in 2000 as the Green Party candidate.

View the full website biography of Jello Biafra.