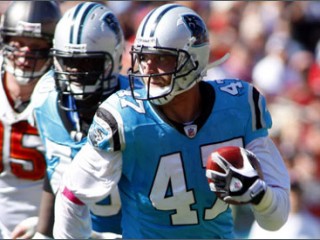 Jeff King
Date of birth : 1983-02-19
Date of death : -
Birthplace : Pulaski, Virginia
Nationality : American
Category : Sports
Last modified : 2010-11-18
Jeff W. King is an American football tight end in the National Football League with the Carolina Panthers.
Selected by Carolina in the fifth round (155th overall) of the 2006 NFL Draft (4/30/06).

CAREER
2009
Played in 16 games with 15 starts...Posted 25 receptions for 200 yards and three touchdowns...Returned three kickoffs for 37 yards...Helped Panthers average 156.1 rushing yards per game and set team records with 2,498 rushing yards, 525 rushing attempts and 123 rushing first downs...Vs. Washington (10/11): Hauled in two catches for 30 yards with a 17-yard touchdown...At Tampa Bay (10/18): Snagged two receptions for eight yards, including a six-yard touchdown...At New York Giants (12/27): Scored two-yard touchdown on only catch.

2008
Played in 16 games with 15 starts...Posted 21 receptions for 195 yards and one touchdown...Served primarily in blocking capacity in team's record setting running game...Vs. Chicago (9/14): Made 23-yard reception to the Bears one-yard line with 4:43 remaining in game that set up game-winning touchdown run in 20-17 victory...Vs. Arizona (10/26): Caught three passes for a season-high 41 yards, including a 31-yarder in the third quarter that led to Carolina's first touchdown...Vs. Detroit (11/16): Scored on a 15-yard catch...Helped clear running lanes for team's 264-yard rushing effort that included two 100-yard rushers...Vs. Tampa Bay (12/8): Blocking contributed to Panthers record-setting 299-yard rushing performance...At New Orleans (12/28): Part of offense that produced a season-high 478 yards, including 234 rushing...NFC Divisional Playoffs Vs. Arizona (1/10): Started at tight end in first postseason appearance.

2007
Started all 16 games for Carolina...Posted 46 receptions for 406 yards and two touchdowns...Became the first Panthers tight end since Wesley Walls with 43 receptions and 452 receiving yards in 2001 to exceed 40 catches and 400 receiving yards in a season... Ranked seventh among NFC tight ends in catches...Member of offense that produced 1,824 rushing yards, the second-highest single-season total in team history behind the 2,091 yards in 2003...Helped the Panthers rush for at least 114 yards in six of the team's seven wins and at least 100 yards in eight-of-16 games...Contributed to offensive front that only allowed 33 sacks while providing protection for four different quarterbacks...At Atlanta (9/23): Caught a five-yard touchdown from quarterback Jake Delhomme...Vs. Indianapolis (10/28): Registered a single-game best 10 catches for 82 yards...Equaled the team single-game record for most receptions by a tight end, previously accomplished by Walls at San Francisco (10/07/01)...Vs. San Francisco (12/2): Scored on a one-yard catch from quarterback Vinny Testaverde.

2006
Played in 12 games and was inactive for four contests...Posted one catch for a one-yard touchdown...Saw action as a reserve tight end and on special teams...One of three rookie draft choices to score a touchdown for the Panthers, joining DeAngelo Williams and Richard Marshall...At Atlanta (12/24): Caught first touchdown pass of his career on a one-yard toss from quarterback Chris Weinke.

COLLEGE
Played in 53 games with 28 starts for Virginia Tech...Totaled 58 receptions for 724 yards and 11 touchdowns...Set a school record for touchdown catches by a tight end with 11, bettering the previous mark of eight...Blocked three kicks on special teams...2005 (Sr.): Second-team All-ACC selection...Started all 13 games...Recorded a career-high 26 catches for 292 yards and six touchdowns, a school single-season record for tight ends...Became the first player in school history to catch a touchdown pass in four consecutive games...Blocked a field goal against Georgia Tech that the Hokies returned for a touchdown...2004 (Jr.): Second-team All-ACC choice...Started all 13 games...Posted 25 receptions for 304 yards and four touchdowns...2003 (So.): Played in 13 games with two starts...Registered six catches for 109 yards and one touchdown...Blocked a field goal against Rutgers...2002 (Fr.): Appeared in all 14 games...Made one reception, a 19-yard touchdown against Arkansas State...Blocked a field goal against Western Michigan...2001: Redshirted as a true freshman.

PERSONAL
Attended Pulaski (Va.) County HS...Graduated from Virginia Tech with a bachelor's degree in finance and master's degree in education...Played in 16 games for the Virginia Tech basketball team as a junior.

View the full website biography of Jeff King.