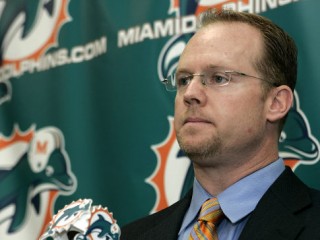 Jeff Ireland
Date of birth : -
Date of death : -
Birthplace : Abilene, Texas
Nationality : American
Category : Famous Figures
Last modified : 2010-10-22
Jeff Ireland was named as the Dolphins' General Manager on January 2, 2008. He joined the club after a seven-year stint (2001-07) with the Dallas Cowboys, including his last three seasons there as the team's Vice President of College and Pro Scouting.

In his role with the Dolphins, Ireland is not only responsible for overseeing and coordinating the college and pro personnel departments, but also helps manage the team's salary cap and player contracts. He supervises all scouting efforts that relate to the college draft, free agency, the Canadian Football League, and personnel of the other 31 NFL teams. Ireland works hand in hand with Executive Vice President of Football Operations Bill Parcells and Head Coach Tony Sparano in implementing a personnel plan to build the Dolphins into a championship caliber team.

In Ireland's two seasons in Miami, he already has seen some of the acquisitions play a key role in the development of the team. In 2009, quarterback Chad Henne, seeing his first significant playing time, won seven of his 13 starts. Fellow sophomores Jake Long and Dan Carpenter won Pro Bowl honors, while another second year player, Davone Bess, led the team in receptions. Rookies also made an immediate impact last year, as cornerbacks Vontae Davis and Sean Smith excelled in their NFL debuts and wide receiver Brian Hartline also made important contributions offensively. Ireland continued to strengthen the team during the 2010 off-season, landing perhaps the two most coveted players available, wide receiver Brandon Marshall and linebacker Karlos Dansby, while significantly upgrading the team's defense through the college draft.

Inheriting a 1-15 team in 2008, Ireland's first season in Miami, he worked with Parcells and Sparano to overhaul the team's roster. Their efforts resulted in an 11-5 mark, the AFC East title and a playoff berth, a turnaround unprecedented in NFL annals.

Ireland replaced almost half of the roster, bringing on board 27 new faces, including nine new starters. One of those newcomers, quarterback Chad Pennington, went on to win the NFL Comeback Player of the Year award and finished tied for second in voting for the league's Most Valuable Player award.

Also among the new faces Ireland brought on board in 2008 were 11 rookies who made the team, including eight draft choices, three of whom were in the opening day starting lineup. Long, the team's first pick of the draft, went on to earn Pro Bowl honors at the conclusion of the season. Ireland added rookie talent beyond the draft, as Bess had the second-highest single-season reception total in the last 40 years among undrafted college free agents in their rookie season, while rookie free agent kicker Dan Carpenter led the Dolphins in scoring.

In 2007, Ireland's last season in Dallas, the Cowboys went 13-3 and won the NFC East title. Of the 53 players on the active roster, 38 had been acquired over the three years (2005-07) Ireland served as the team's Vice President of Scouting. Seven of those players made the Pro Bowl during that time, including DeMarcus Ware (Ireland's first pick as the team's lead scout), fellow 2005 fourth round selections Chris Canty and Marion Barber, 2007 draft choice Nick Folk and two free agent acquisitions that season, Leonard Davis and Ken Hamlin. In addition, since Ireland arrived in Dallas, seven other Cowboys made their Pro Bowl debuts.

Ireland began his tenure with the Cowboys as the team's national scout in 2001, evaluating all of the top collegiate prospects in the country. In his four years in that role, his skill as a talent evaluator helped lead to the drafting of four Pro Bowl performers, Roy Williams (who was selected five straight years), Terence Newman, Andre Gurode and Jason Witten.

Prior to joining the Cowboys, Ireland spent four years in Kansas City as an area scout helping the Chiefs draft players like Dante Hall in the fifth round and Greg Wesley in the third round. Ireland started his NFL career evaluating talent as an area scout for the National Football Scouting Combine from 1994-1996.

Before becoming a full-time talent evaluator, Ireland helped coach special teams at the University of North Texas from 1992-1993. He was a four-year starter as a placekicker at Baylor University from 1988-1991, finishing his collegiate career third on Baylor's all time scoring list with 213 points. His 45 career field goals, which included a 58-yard effort against Rice in 1991, established a school record for field goals made. Following his senior season he was selected as the South team's kicker in the 1992 Senior Bowl.

Ireland, an Abilene, Texas native, is the stepson of Kansas City Chiefs Hall of Fame linebacker/center E.J. Holub and the grandson of former Philadelphia Eagles player and longtime Chicago Bears personnel executive Jim Parmer. Jeff and his wife, Rachel, have three daughters, Annie and twins Haley and Hannah, and a son, Riley.
View the full website biography of Jeff Ireland.