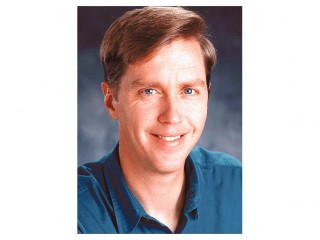 Jeff Hawkins
Date of birth : 1957-07-01
Date of death : -
Birthplace : Huntington, New York,U.S.
Nationality : American
Category : Science and Technology
Last modified : 2011-10-03
Jeff Hawkins is the co-founder of Palm Computing and Handspring, inventor of the Palm Pilot personal digital assistant and the first Treo smart phones, and a pioneer of now-ubiquitous handheld computing. Working for Tandy's GRiD Systems in the early 1980s he helped develop GRiDTask, a high-level programming language, and he later developed the GRiDPad, a now-primitive but then-groundbreaking personal computer with a pen interface, designed for industrial markets. By the mid-1980s he was working on the early design of handwriting recognition software that eventually was marketed as Graffiti.

In 1992 he founded Palm with Donna Dubinsky, and in a joint venture with Casio and Radio Shack, Palm introduced the Zoomer Personal Digital Assistant the following year. In 1995, while still working on the project that would become the Palm Pilot, the company, desperate for funding, was acquired by US Robotics. The following year two faster, more advanced descendants of the Zoomer, the Palm 1000 and 5000, were introduced to general acclaim and success.

With Dubinsky, Hawkins left Palm in 1998 to establish Handspring. Their new company survived the popping of the internet bubble in 2000, and the Treo Communicator was introduced in 2001 - the first phone to include a Palm OS and a keyboard, allowing users to connect with wireless email and internet access in addiction to making phone calls. The improved, more lightweight and agile Treo 600 was introduced in 2003, the same year that Handspring was purchased by Palm.

Fascinated all his life by how the human brain works, Hawkins founded the Redwood Center for Theoretical Neuroscience in 2002, which promotes and conducts research on memory, cognition, and "what's going on between [people's] ears". His 2004 book, On Intelligence: How a New Understanding of the Brain Will Lead to the Creation of Truly Intelligent Machines, examines memory and prediction, how memories are formed and how humans predict the future based on their memories of the past. In 2005, with Dubinsky and Dileep George, he co-founded Numenta, a business envisioned to develop and maximize the next generation of hierarchical temporal memory (HTM) cortical learning algorithms as a new computing platform.




View the full website biography of Jeff Hawkins.