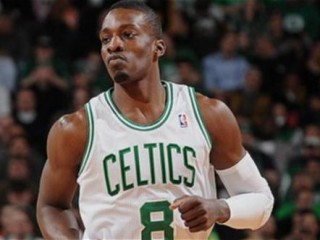 Jeff Green
Date of birth : 1986-08-28
Date of death : -
Birthplace : Cheverly, Maryland
Nationality : American
Category : Sports
Last modified : 2011-04-14

Jeff Green is an American professional basketball player with the Boston Celtics of the National Basketball Association.

Green attended Georgetown University until following his junior year, when he entered the 2007 NBA Draft. He was selected fifth overall by the Boston Celtics, and was subsequently traded to the now defunct Seattle SuperSonics in a trade including Ray Allen. The SuperSonics moved to Oklahoma following his rookie year and became the Oklahoma City Thunder. On February 24, 2011, Green was traded along with Nenad Krstić and a future first round draft pick to the Boston Celtics for Kendrick Perkins and Nate Robinson.

Career history:

2007–2011 Seattle SuperSonics / Oklahoma City Thunder
2011–present Boston Celtics

CAREER:

2009-10:
Tallied 11 double-doubles on the season including vs. Denver on 4/7 (11 points and 10 rebounds)…Registered back-to-back 20+ point scoring efforts for the first time this season at Toronto (3/19) and at Indiana (3/21)… Scored 20+ points 13 times, including contests at Utah (4/6)…Converted two three point field goals in final two minutes during team's win at Boston (3/31)…Thunder went 9-1 on the year when converting three or more three point field goals…Recorded a season-high 27 points vs. New Jersey (3/12). In 40 minutes converted three of four three-point attempts and 11-16 FGs overall... Posted back-to-back double-doubles for the first time this season at New York (2/20) and at Minnesota (2/21)… Matched season-high with 14 rebounds to go along with 17 points for 9th double-double 2/21 at Minnesota… Recorded seventh double-double of the season with 15 points and team-high 11 rebounds at Atlanta (1/18)… Recorded 24 points on 9-19 FG's vs. hicago (1/27)… Tallied team-high 21 points on 9-16 FG's to go along with team-high (tying) eight rebounds at HOU (12/19)… With 15 points and 11 rebounds, recorded 5th double-double of the season vs. Dallas (12/16)…Posted a then season-high with 26 points 12/13 vs. Cleveland. It was his 4th 20+ point scoring effort of the season and OKC's first loss in such contests (3-1 record)… Posted career-high four steals in OKC game at UTA on 11/24…Recorded 3rd double-double with 19 points and season-high 14 rebounds vs. Washington (11/20). His 14 rebounds at the time were the most recorded by any OKC player at that point in the season…Posted double-double in OKC win at San Antonio (11/14)…In season opener vs. Sacramento (10/28), led team with eight defensive rebounds and four made 3-point FG's.

2008-09:
Appeared in 78 games (78 starts)...20 or more points 25 times…30-plus points once…10-plus rebounds 12 times…11 double-doubles…Career-high 15 rebounds at Golden State on 2/21…Career-high five 3-point field goals vs. Memphis on 1/28…Tied career-high three steals at Portland on 4/13…Missed four games due to injury...Participated in rookie-sophomore challenge during All-Star weekend.

COLLEGE:
Named Most Outstanding Player of the NCAA East Regional to top off Big East Player of the Year and Big East Tournament MVP honors…Serving as Hoyas' Co-Captain, Green led Georgetown in scoring (14.3 ppg) and was second in both rebounding (6.4 rpg) and assists (3.2 apg)…Scored a career-high 30 points vs. Notre Dame…Blocked a career-high eight shots vs. Villanova…Tied career highs with 12 rebounds vs. Boston College and seven assists vs. Pittsburgh…Shot 51.3 percent (196-382) from the field…2005-06 (Sophomore season): Led team in scoring (11.9 ppg) and assists (3.3 apg), while ranking second in rebounding (6.5 rpg)…Earned Second Team All-Big East honors…Posted a 21-point, 10-rebound effort against West Virginia…Notched 19 points, eight rebounds and six assists in an NCAA Tournament win over Ohio State…2004-05 (Freshman season): Named Big East Co-Rookie of the Year…Basketball Times' National Freshman of the Year…Led Georgetown in rebounding (6.6 rpg) and ranked second in scoring (13.1 ppg)… Garnered Big East Rookie of the Week honors five times…Shot 50.2 percent (146-291) from the field and recorded five double-doubles.

PERSONAL:

Lists Georgetown's John Thompson III as his most influential coach.
Says playing three years at Georgetown was an unbelievable experience.
Most memorable college moments were winning the 2007 Big East Championship and making it to the Final Four.
His mother, Felicia, attended every home game during his Georgetown career.
The Georgetown student section welcomed her to the arena with a "Jeff Green's mom" chant, and she would wave back to them.



View the full website biography of Jeff Green.