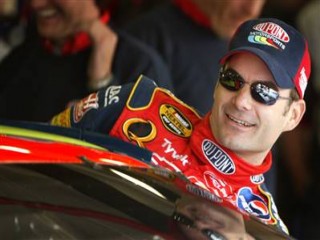 Jeff Gordon
Date of birth : 1971-08-04
Date of death : -
Birthplace : Vallejo, California
Nationality : American
Category : Sports
Last modified : 2010-07-27
Superstardom in the racing world can be a tricky thing. Just ask Jeff Gordon. He transformed the demographics of his sport and shredded the record book in his twenties only to become the most-booed man in NASCAR. That didn't bother him—he received the same treatment as a kid. Jeff is still viewed with a disapproving eye because of who he is, where he comes from and all he represents. Driving smart and winning regularly is all he has ever done—and all he can do. If Jeff finds that elusive love in his thirties, so be it. If not, he's okay with that, too.

GROWING UP

Jeffrey Michael Gordon was born on August 4, 1971, in Vallejo, California. His parents, Carol and Will, were divorced soon after, and his mom took custody of Jeff and his older sister, Kim. Whereas Kim tended to toe the line, Jeff was always moving, always pushing the limits. TV, reading, board games—none of these things interested him. Jeff was a handful for a single mother, and remained so even after Carol remarried. Jeff's stepfather was John Bickford, a man who worked at the same medical supply company as Jeff's mom.

As fast as Jeff raced through the world, the world seemed to slow down for him when he needed it to. Though small for his age, he was an agile child with tremendous balance and coordination who processed information quickly. By the time Jeff's playmates were acquainting themselves with Big Wheels and tricycles, he already had the training wheels off his bike. Jeff hooked up with a group of older bike-riding boys and careened around their neighborhood, copying their stunts. Soon he was attempting things they wanted no part of.

Jeff's stepfather happened to be a racing buff. He not only possessed a passion for it, but as owner of a small company that customized wheel chairs, he also had a little engineering know-how. It was John who modified Jeff's two-wheeler when his feet couldn't reach the pedals, and it was John who encouraged his four-year-old step-son to enter BMX races (during which he acted as "crew chief").

Jeff often competed against boys twice his age and size, and still won his share of races. Carol became concerned that he would be injured in the frequent pile-ups at these events, and her husband agreed. So what did John do? He bought Jeff a car.

Jeff began racing quarter-midgets around the age of five. These events actually had fewer injuries than BMX, and because Jeff was so much lighter than the other drivers—many of whom were teens—he could coax an extra mph or two out of his engine. But while he took home plenty of Fast Time ribbons in the qualifiers, he usually left the track without a trophy, since the more experienced kids knew how to keep him in back of the lead pack.

Carol could see Jeff's frustration and asked John to buy her a quarter-midget. Mother and son spent their spare time practicing, as Carol did everything she could to block Jeff. He soon learned how to "read" quarter-midgets and developed a repertoire of slick passing moves. Jeff was now able to stomp on the gas pedal and keep it floored throughout a race, rarely having to slow down.

This translated into regular victories in the weekend events, as Jeff developed a reputation as the kid to beat. Not only did he drive very aggressively, he had a sixth sense for the functioning of his own vehicle and could convey these observations to John, who would then make the required adjustments.

In 1978, the year Jeff turned seven, he recorded the fastest time in every qualifier he entered, won 35 races, and set speed records at five different California tracks. A year later, he joined the national quarter-midget circuit and took the checkered flag 52 times, including the Grand National Championship in Denver. It was getting to where other top drivers would pull out of events when they heard the kid was running. No teenager wants to lose to an eight-year-old. To keep the races competitive, many promoters began offering second- and third-place trophies—a practice unknown at this level before Jeff's arrival. In 1980, he continued his dominance. He would fly to weekend races while John drove his cars from track to track, and then fly home in time for school on Monday.

In 1981, John decided Jeff was ready for go-karts, which are much bigger and faster than quarter-midgets, and run on larger tracks. The other racers, ranging from 15-year-olds to adults, were extremely unhappy that a child was competing against them. At first they tried to alienate and intimidate Jeff. He would have none of it—he entered 25 races and won them all.

The grind of racing and the lack of a challenge prompted Jeff to look at mastering some other sports. Water skiing fulfilled his need for speed, and after just a few weeks at a training school, his coaches told Carol and John that their boy was as good as some pros.

Jeff's heart was still in racing, but the next level up—sprint cars—required him to have an actual driver's license, which was still many years away. He remained a dominant driver on the quarter-midget and karting circuits, but began hanging around with his sprint car competitors, who he usually faced in the same programs. Jeff latched on to Steve Kinser and became a huge fan. Kinser was the top sprint driver of the 1980s.

When Jeff turned 13, John had a sprint car built to accommodate his small build. These vehicles, which feature 700 horsepower engines, can reach speeds of 100 mph. The idea was for Jeff to practice on deserted roads until he was allowed to enter events. Jeff, who quickly mastered his car, didn't feel like waiting until he turned 16 to start racing. John began scanning the rule books of various organizations for loopholes.

His research revealed that the All-Star sprint series in Florida did not have a minimum-age requirement. In February of 1985, John and Jeff obtained entry to an event in Jacksonville and drove cross-country for the race. Series officials blanched when they saw how young—and how tiny—Jeff was. John convinced them that his step-son was ready and that, by their own rules, they could not bar him from competing. Ironically, Jeff's first sprint car race was wiped from the books by a thunderstorm. It was just as well, because the 13-year-old was totally overwhelmed on the track. Jeff, however, adjusted quickly and began challenging for the lead in the All-Star events. He finished as high as second and attracted the attention of ESPN, which produced a short feature on him.

ON THE RISE

Because he was underage, Jeff was only allowed to run at a handful of tracks in Florida and the Midwest. In 1986, the family decided to purchase a home in Pittsboro, outside of Indianapolis. They struggled to make ends meet, surviving on Carol's paycheck, Jeff's prize money, and jobs John picked up working on other cars. Jeff enrolled at Tri-West High School and raced locally on weekends. He adopted Bloomington Speedway as his home track and became one of the venue's most consistent winners.

Still starved for competition, Jeff took every opportunity he could afford to test his skill against top drivers. In 1988, he was invited to enter events in Australia and New Zealand. He won 14 of the 15 sprint races in which he competed. By this time, Jeff had gotten his driver's license, so the next rung on the ladder was to join USAC's sprint circuit. He competed in events all over the country, and also raced midgets (a notch below the sprints), winning regularly on both circuits. Jeff was named USAC's Midget Rookie of the Year in 1989 and captured the national championship in 1990.

Jeff was now ready to take the final step in his racing career, which meant he had to choose one category and stick with it. He was already well known in every corner of the racing world, and sponsors were lined up to support him. Jeff's options included open-wheel (or IndyCar) racing and stock-car racing—the two most lucrative categories. He was leaning toward the NASCAR option, but decided to visit Buck Baker's driving school in North Carolina before making up his mind. After a couple of spins around the track, he was in love. Nothing he had ever driven was so big and powerful, yet so smooth.

As luck would have it, NASCAR owner Hugh Connerty was at Baker's the same day. He managed a team sponsored by Outback Steakhouse and had a good young crew chief named Ray Evernham. Believing the pairing of Jeff and Evernham could make some magic, Connerty signed Jeff for the remainder of the '90 season. The teenager ran in four Busch Series races and did well enough to attract the attention of Bill Davis, an owner higher up the food chain.

Davis offered to sponsor Jeff, who predicted he would win Busch Rookie of the Year in 1991 and claim the championship in 1992. Jeff made good on the first half of his prediction, turning in nine Top 10 finishes and edging David Green for top newcomer honors. The following year, he finished fourth in the rankings—not bad for a kid just 21. Meanwhile, he and Evernham, whom Davis had also hired, were forming the kind of close bond driver and crew chief need to win.

Jeff looked ready to move up to Winston Cup competition, and Davis probably would have taken him there. But when an offer came from Rick Hendrick—whose company had 200 employees and millions to spend on cars and drivers—Jeff made a tough choice and parted ways with Davis. The decision became a bit easier when Evernham was included as part of the package, too.

Hendrick had first noticed Jeff in March of '92 at the Atlanta 300. Seeing how loose he was driving against a field of seasoned competitors, he predicted the young star would crash. Instead, Jeff outmaneuvered Dale Earnhardt and Harry Gant to take the checkered flag. Seven months later, he was driving in his first Winston Cup event, the Hooters 500. He finished 31st.

Jeff and his crew chief found themselves at the pinnacle of their sport as the 1993 season began. Jeff's car, sponsored by DuPont Automotive Finishes, featured an awesome array of colors. His #24 team was soon known to NASCAR fans as the Rainbow Warriors. As part of his corporate image makeover, Jeff also lost his mullet and pornstar mustache.

The Rainbow Warriors were the #3 team for Hendrick MotorSports, behind Terry Labonte and Ken Schrader. Within the HMS concept, it fell to these veterans to bring Jeff up to speed. The same responsibility—tutoring young Hendrick drivers—would also be Jeff's some day. Labonte, the 1984 Winston Cup champion, knew everything there was to know about winning at this level. Schrader, a veteran who possessed a legendary work ethic, was able to supply Jeff with the inside dope on just about everyone in the sport.

At Daytona, Jeff amazed spectators when he took his 125-mile qualifying race. It had been almost 30 years since a rookie had won this event. The victory was so unexpected—even by Jeff—that he had no idea how to get from the finish line to Victory Lane. It was both the most embarrassing and thrilling day of his young career. During the celebration, Jeff received the customary winner's kiss from Miss Winston. Her name was Brooke Sealey, and she and Jeff began a romance that lasted all season. Because of rules about dating drivers, they had to keep it hidden. They were later married.

Jeff proved that his qualifying win was no fluke when he blew off the starting line to lead the first lap of the Daytona 500. No rookie had ever done this before. Jeff stayed among the leaders all day but slipped back to fifth when the real racing kicked in during the final laps. It was clear that he still had much to learn. Jeff's best finish in '93 was second (both in the Coca Cola 600 and the Miller 400), and he won one pole. He ended up 14th in the driver standings, which was good enough for Rookie of the Year honors.

The 1994 season got off to a fast start at the Busch Clash, an all-star race between the previous year's pole winners. Jeff showed how much he had learned when he patiently remained behind Earnhardt and Brett Bodine. At just the right moment. Jeff blew past them for the victory. At the Daytona 500, he ran strong again, finishing fourth. Jeff's first official Winston Cup victory came at the Coca-Cola 600 in Charlotte, when Evernham outfoxed the pit crews of Rusty Wallace and Dale Jarrett by two-tiring Jeff's car to win by four seconds. Jeff had recently moved his family to western North Carolina, so it was like winning in his own backyard.

Jeff's next triumph came in his old backyard—Indianapolis—at the inaugural Brickyard 400. Again, Evernham's decision-making in the final stages proved the key. Believing that Jeff had more tread left on his tires than Ernie Irvan, he instructed his driver to race side-by-side with the veteran instead of letting him draft. With four laps left, Irvan's tire exploded and Jeff cruised to the checkered flag.

Jeff finished eighth in the Winston Cup point standings for the '94 season, as Earnhardt grabbed the driving championship for the second straight year. Vecause the two stars looked, spoke, acted and drove so differently, it was only natural for NASCAR fans to choose sides. This sparked a rivalry that lasted throughout the 1990s, though primarily in the minds of the fans. NASCAR marketers didn't mind, of course. The more emotional their fans got, the more stuff they bought to demonstrate their support.

What Jeff did for NASCAR with his clean-scrubbed image and Speed Racer good looks was draw in fans who had never paid much attention to stock-car racing. As his legion of supporters grew, he kept on doing and saying the right things. In time he transcended his sport to become an athlete of national prominence with pop-star appeal. His high profile also enhanced Earnhardt's folk-hero status.

The 1995 season gave this dynamic an incredible boost, as Jeff established a seemingly insurmountable lead in the standings, only to see Earnhardt come roaring back in the final weeks. With one race left, Jeff clung to a 34-point lead. When he finished far enough ahead of Earnhardt, he claimed his first championship. At the NASCAR awards banquet in New York, he offered a heartfelt toast to the Intimidator.

In 1996, it was not Earnhardt pushing Jeff, but rather HMS teammate Labonte. The veteran only won two races that year, but turned in Top 10 finishes in all but four of his starts. Jeff took a remarkable 10 races but still lost out by 37 points. Jeff believed wholeheartedly that he was NASCAR's top driver—and so did just about everyone else in the sport. Over the winter, he began focusing on winning stock-car racing's ultimate test.

The 1997 Daytona 500 was also the big brass ring for Earnhardt, who had come close but never won the race. He seized an early lead and was running strong when he came out of a turn to high and nicked the wall. Earnhardt swerved left and bumped into Jeff, who maintained control of his car. Unfortunately for the Intimidator, the two cars behind him plowed into his rear bumper and he was knocked out of the race.

Moments later, the new leader, Bill Elliott, looked in his rearview mirror and saw three Hendrick cars stacked behind him. Jeff and teammates Labonte and Ricky Craven were setting Elliott up, and there was not a thing he could do about it. Jeff, who was drafting behind Elliott, was also being pushed by his teammates, enabling him to conserve fuel and rubber. He waited until all three cars had an opportunity to pass Elliott. With six laps left, they built an insurmountable lead. It was the ultimate expression of Hendrick's team concept.

Jeff scored three more victories early in '97. He traded paint with Rusty Wallace at the Food City 500 to win by an eyelash and survived a spinout to edge Bobby Hamilton in the Goody's 500. He also won at the archaic track at Darlington for his third major of the year, earning a $1 million bonus from Winston. Jeff took the checkered flag in 10 races for the second straight year and held off Dale Jarrett and Mark Martin to claim the championship. Only 29 points separated the three stars—the closest finish in NASCAR history.

MAKING HIS MARK

Jeff failed to defend in the Daytona 500 in 1998, but that was about all he lost that season. He won 13 times, including a streak of five races in a row, plus he notched his second Brickyard 400. He blew away the competition to capture his third driving championship at the age of 27. No driver under 30 had ever won more than two.

Jeff opened the 1999 season with the finest performance of his career at the Daytona 500. No one was looking to help him this day, so it required some fancy driving just to stay in the hunt. With 10 laps to go, Jeff zig-zagged down onto the apron to pass the leader Wallace, and then held off Earnhardt the rest of the way. As Jeff headed toward Victory Lane, the Intimidator cracked into his fender and waved. It was the ultimate salute from NASCAR's most legendary driver. Jeff won six more races in '99 to pace the circuit once again, but he wound up sixth in the driver standings.

That September saw the break-up of NASCAR's most successful one-two punch, as Evernham left HMS to become an owner. Jeff hated to see him go, but Evernham had nothing left to prove in the pits. Other Rainbow Warrior defections followed. Brian Whitesell stepped into the role of crew chief but was replaced for 2000 by Robbie Loomis, formerly the crew chief at Petty Enterprises.

The jury was out on the Gordon-Loomis partnership heading into the new year. Was Evernham as irreplaceable as some thought? Those who believed this to be true felt Jeff's mediocre 2000 campaign confirmed their view. He won just three races and slid to ninth in the standings. Whereas Jeff had let Evernham do the talking for the team, he was now expected to be the front man. Loomis also had become used to doing things a certain way, and often they did not communicate well.

Loomis ultimately became the target of abuse from Jeff's fans. In a sport where only a chainlink fence separates the talent from the ticket buyers, the new crew chief was a marked man. Fortunately, the team began to mesh in the second half, recording Top 10 finishes in all but one of their last 11 races.

Jeff knew what the critics were saying and vowed to rebound in 2001. As he pointed out prior to the season, a team that has won in the past knows what it takes to win again. Perhaps more important, he and Loomis were now on the same wavelength. Jeff started the year strong and finished stronger, distancing himself from Ricky Rudd and Dale Jarrett half-way through the year with his third victory at the Brickyard 400 and fourth at Watkins Glen. He won the championship by a mile, making him, at age 30, the only driver besides Earnhardt and Richard Petty to take the title four or more times. Petty only had two titles at age 30, while Earnhardt had just one.

The 2002 season failed to produce a fifth title, but there was no lack of headlines for Jeff. After finishing ninth at Daytona, rumors began to circulate that there were problems between NASCAR's dream couple, the Gordons. Prior to the March race at Darlington, Brooke filed for divorce, citing marital misconduct. Rumors ran wild after this, causing more distractions for Jeff and his team than they liked to admit. Jeff filed a counter claim of his own, denying marital misconduct. Meanwhile, having vacated the Florida mansion he and Brooke had occupied since the 1990s, he was crashing on couches or sleeping in his motor home most of the season.

Through it all, Jeff finished races high enough to stay on the fringes of the point chase, but he could not find Victory Lane. By the end of August he had gone 31 races in a row without a win —his longest drought since he was a rookie. Finally, he won at Bristol and then again a week later at Darlington. He ended off the season with one more victory, at Kansas City, but Tony Stewart took the championship, with Jeff finishing a respectable fourth.

The '02 season was an eye-opener for students of NASCAR. Among the top names that year were young guns Matt Kenseth, Kurt Busch, Ryan Newman and Jeff's teammate, Jimmie Johnson. A decade earlier, the prospects of a 20-something driver getting a Winston Cup ride were implausible; a kid winning races impossible. Jeff had altered this perception with his accomplishments in the mid-1990s, while also incurring the wrath of the sport's traditionalists. Now in his 30s, he was still a target for abuse from these people—the death of Dale Earnhardt only increasing their venom. Interestingly, there were no scalding criticisms of the new young guys. Apparently, that would remain Jeff's burden.

Jeff continued to drive well in 2003, winning the Virginia 500 early in the year and recording eight Top 5 finishes through the Brickyard 400. He hit a bad patch in August and early September, which dropped him out of contention for the driving title. But he rebounded to score seven Top 5s in his final nine starts—including back-to-back victories at the Subway 500 and MBNA 500. The late-season surge brought him up to fourth, behind champion Kenseth, his teammate Johnson, and Dale Earnhardt, Jr.

Though plagued on occasion by engine trouble, Jeff had another excellent season in 2004, highlighted by a win in Daytona at the Pepsi 400 and his fourth victory at the Brickyard 400. Johnson also had a nice year, and the two HMS drivers were odds-on favorites to capture the Chase for the Nextel Cup, the new season-ending 10-race shootout to decide the NASCAR champion. Jeff was all for the new format because it encouraged drivers to be competitive right until the last lap of the last race.

In October, the Hendrick organization was shaken to its core when 10 employees perished in a plane crash. The victims, on their way to the race in Martinsville, included Rick Hendrick's son, Ricky, who had enjoyed a brief career as a driver and was a good friend of Jeff's.

Jeff dedicated the rest of the year to Ricky's memory and came within a hair of winning his fifth championship. He finished third in the final three races, and only a lucky pit stop by eventual champion Kurt Busch kept him from becoming #1. Ironically, had the old points system remained in place, Jeff would have captured the title. Still, '04 was his second-best season in terms of prize money, as he banked $6.4 million.

Jeff opened the 2005 season with what he considered to be his most powerful car ever. The sport was buzzing about it, too—and wondering whether the Hendrick entries would be able to end a long streak of dominance by DEI (Dale Earnhardt Inc.) vehicles in superspeedway races. The first test would be at Daytona, where Dale Jr. was set to defend his '04 win.

The early part of the race belonged to Tony Stewart, who ran strong all day. Jeff stayed close to the lead, but as the race reached its conclusion, it was Earnhardt who had the crowd on its feet. He worked his way through the pack and blew past Stewart on Lap 195. Junior's fans were smelling another victory when Jeff made his move and passed him. Johnson was in the mix, too, when debris on the track brought out the caution flag on Lap 198.

The race was extended from 200 to 203 laps, with a green-white-checker restart. Jeff jumped out in front Earnhardt, who positioned himself to pass low. Johnson stayed high, running interference for Jeff's right flank. Everyone did their job, as Dale Jr., never saw any daylight and Johnson fended off a furious challenge from Stewart. Jeff's last bit of business was to head off Busch, whose last gasp effort nearly won him the race. It was a thrilling finish to three-plus hours of classic racing.

The win was Jeff's third at Daytona and the 70th of his career. It also reestablished him for the moment, at least, as the ace of his own team. Johnson would have something to say about in the upcoming seasons, however. As for Jeff, what began as a promising 2005 season ended unthinkably, as he struggled with consistency all year and found himself on the outside looking in when the Chase for the Cup began. Jeff was on the cusp heading into the final qualifying race at Richmond when he creased the wall and fell short of the points needed to drive for the championship.

Although out of contention for the Nextel Cup championship, Jeff finished the year strong. He won for the seventh time at Martinsville and was the top-ranked driver (#11) outside the Chase. It marked the first time since 1993 that he had not finished in the Top 10. The success coincided with a change at the top of the #24 team. Loomis resigned as Jeff's crew chief and was replaced by Steve Letarte, who had been a Rainbow Warrior for many years.

Jeff got back on track in 2006. His first win came at the Infineon road course. The day before he set a qualifying record and also proposed to 35-year-old Belgian model Ingrid Vandebosch. They had been dating for about a year.

Jeff won a second race in 2006 and drove consistently, especially in the latter part of the season. In all, he recorded 14 Top 5 finishes. His "comeback" was achieved on NASCAR's 1.5-mile tracks. Indeed, his second win that year came at the Chicagoland Speedway—the first there for Hendrick Motorsports. Jeff finished the year ranked #6. Johnson, meanwhile, won his first Cup championship.

Jeff's climb toward the top continued in 2007. He enjoyed his finest season since the 2001 championship campaign, winning six times and finishing second behind Johnson in the standings. It was a season full of highlights. Among the most memorable was his win at Phoenix, which tied Dale Earnhardt for sixth place on NASCAR's all-time victory list. During Jeff's victory lap, he held a black #3 banner out the window of his car. In May at Darlington, Jeff held off Denny Hamlin despite an overheated engine to win for the seventh time at that track.

Jeff won two races during the Chase. His first, at Talladega, was a thriller. He trailed the leaders all day until the final lap, when he took the lead and the checkered flag. It was his 12th superspeedway win. One week later, Jeff crossed the finish line first with just a few drops of fuel in his tank at the Bank of America 500.

After the final Chase race, Jeff had amassed more championship points than any other driver. Because of the format, however, he finished a close second to Johnson. It marked the first time in history that the NASCAR points leader was not declared the champion.

The #24 team could not keep the momentum going in 2008. Jeff failed to win a race for the first time in 15 years, but he managed to finish seventh overall. His fans had a scary moment during the UAW Dodge 400 in Las Vegas when he spun out and hit the corner of an inside wall with tremendous force with four laps left in the race. Jeff later said it was one of the hardest crashes of his life. He later led an outcry from the drivers to install steel-and-foam SAFER barriers on the inside track walls.

Jeff's 2009 got off to an encouraging start when he bested Stewart at the end of the Gatorade Duel in Daytona. That earned him the third position for the Daytona 500. Jeff ran well but had to overcome tire problems that pushed him back to a 13th-place finish. He placed highly in the ensuing races and actually took the points leadership during the spring.

Jeff ended a 47-event winless streak at the Samsung 500 in April when he held of Johnson at the finish. Jeff had never won at the Texas Motor Speedway. With his win, there was just one track left on the NASCAR circuit where he had not visited Victory Lane, the Homestead-Miami Speedway. Jeff continued to battle Johnson and Stewart for the points lead as they raced into July and August.

At this point in his career, Jeff has seen the ups and downs, the triumphs and tragedies, and the ins and outs of life as an elite stock-car driver. He has millions of fans and even some of his old detractors have come around to his side. Indeed, he is no longer the slick, young Speed Racer clone that irked traditionalists. To the contrary, he has earned "grizzled veteran" status and is now firmly ensconced in NASCAR culture.

The question of where Jeff fits into the big picture has actually become an interesting one. As the sport's old guard drives gently into that good night, and the kids whack it out for under-30 honors, Jeff is kind of by himself in the middle. It's not a bad place to be when you're taking aim at records and chasing legends. And who knows, he may soon be the grand old man of stock-car racing—at an age when some of the all-time greats were just figuring it all out.

JEFF THE DRIVER

Jeff is perhaps the only Sprint Cup driver who is a legitimate threat to win on any type of course or track. He has perfected the bump-and-run on short tracks, is a master at restrictor-plate racing on the superspeedways, and can turn the worst track conditions to his favor. His open-wheel experience gives him a huge edge at events like Watkins Glen.

Jeff's greatest asset is the speed with which he can process and combine visual information with the incredible feel he has for the vehicle he is driving. Time slows down for Jeff, much as it did for athletes like Wayne Gretzky and Michael Jordan. What he does with that extra millisecond—melding mind and machine—makes him a truly unique driver

In his twenties, Jeff was content to rely on his innate abilities and totally trusted Ray Evernham and Rick Hendrick to handle all of the little things. In his thirties, Jeff has assumed more of a leadership role, becoming involved in everything from the details of set-up to the logistics of his public appearances.

Jeff has put the numbing effects of fame and a failed marriage in perspective, and he is now taking a great big bite out of life. Marriage seems to agree with him the second time around, and as a new father, he has gained important perspective on life on and off the track. Some say being a more complete person will ultimately hurt Jeff as a driver, but that would be unlike him. His goal is to be mentioned in the same breath as the all-time greats … and to continue earning back the love that eluded him for so many years.
View the full website biography of Jeff Gordon.