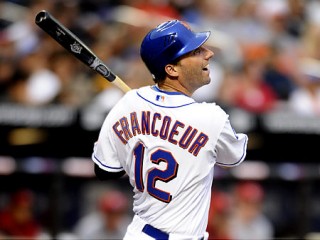 Jeff Francoeur
Date of birth : 1984-01-08
Date of death : -
Birthplace : Atlanta, Georgia, U.S.
Nationality : American
Category : Sports
Last modified : 2010-10-28
GROWING UP

Jeffrey Braden Francoeur was born in Atlanta, Georgia on January 8, 1984. Both of his parents, Karen and Dave, worked in the education field. Jeff attended his first Braves game in 1986. He does not remember witnessing history, but he was in the stands when Bob Horner clubbed four homers.

The hometown Braves became a powerhouse during Jeff's childhood. When they made it to the World Series in 1991, the second grader was spellbound. The team played less than a half-hour from his home, and he hated to miss a game. The same was true of his buddy (and future Atlanta teammate), Brian McCann. The two lived near each other and were both excellent athletes.

The Francoeurs were a tight-knit family. Karen and Dave were loving and supportive. They could see that Jeff was a natural athlete and encouraged him to pursue sports. The youngster also enjoyed spending time with his grandparents. Melvin Koch, his mom's dad, was known to him as "Pops."

Jeff loved baseball, but it wasn't his only passion. He was one of those kids who was good at every sport he played. Blessed with the build of a linebacker, Jeff also possessed the speed of a sprinter and the quickness of a point guard. There was never much of a question about what he would end up doing for a living; it was just a matter of which sport he would choose.

Jeff's infatuation with the Braves intensified as he got older. By the age of 11, he was dreaming of starring for the club one day. He had John Smoltz's poster on a wall in his bedroom.

Jeff had narrowed his favorite sports down to two by the time he entered Parkview High School. On the football field, he starred at quarterback and safety for the Panthers. Jeff made All-State as a defensive back and helped Parkview win the state championship in his junior and senior seasons. It was as a baseball player, however, that he attracted the biggest headlines.

As a junior in 2001, Jeff batted an even .500 with 20 homers. He led the Panthers to a 32-4 record and the Georgia 5-A championship. Parkview ended the year ranked #9 nationally. Playing centerfielder and closing games as a reliever, Jeff was honored as a second team All-American.

For Parkview's 2002 opener, scouts from 20 major league teams arrived up to three hours early. They were there to watch Jeff take batting practice. The Panthers rose to #3 in the nation that season. Jeff hit .487 with 16 homers—and wrapped up his high school career with a .443 average and 55 long balls.

In the state championship, he twice broke late-inning ties with dramatic home runs and finished off each game on the mound. In the final game, Jeff put his team ahead with with a home run in the sixth and then came to the plate again in the same inning with the bases loaded. His grand slam blew the contest open and clinched the title for the Panthers.

ON THE RISE

Jeff had several attractive options after the season. He was offered a two-sport scholarship by Clemson. Jeff accepted with the understanding that college would be a fall-back position in case he was not happy with the outcome of the baseball draft. As it turned out, the draft could not have gone better. He was selected 23rd by the Braves in the first round.

Jeff was assigned to the team's advanced Rookie League outfit in Danville, Virginia. There he played 38 games and hit .327 with eight homers and 31 RBIs. His teammates with that club included James Jurries, Jonathan Schuerholz, Kyle Davies and Anthony Lerew.

The big-league Braves, meanwhile, were in the middle of an amazing streak, having won 14 consecutive division titles. With depth up and down their minor league system, they were very deliberate in moving Jeff through the system. His next stop was Class-A Rome of the South Atlantic League, where he spent the entire 2003 season.

On May 16, Jeff had his first four-hit game as a pro, against Lake County. He equaled that feat two weeks later against Asheville. For the year, he batted .281 with 14 homers and 68 RBIs. He anchored a lineup that included McCann, who was also drafted by Atlanta in 2002.

In 2004, Jeff split his time between Class-A Myrtle Beach and Class-AA Greenville. The 20-year-old made a name for himself with his impressive range of skills. For Myrtle Beach, he hit .293 with 15 homers in 88 games and was named Baseball America's top prospect in the Carolina League. Jeff's hope for a September call-up to Atlanta was derailed on July 8, when he was hit in the face by a pitch while squaring around to bunt. He was back a month later, and the Braves immediately promoted him to Greenville. He batted only .196 for the Drive, though he did smack three homers in 18 games.

While Jeff never made it to the big club in '04, he did manage to get a taste of major league ball that year. He went to Cooperstown to play in the annual Hall of Fame Game. Jeff homered off Minnesota's Bobby Korecky in his first at-bat against a major league pitcher and sent notice to the Braves that he wouldn't be in the minors for long.

Jeff started 2005 in Atlanta's major league camp at Walt Disney World. He batted .250 in five games—and later admitted he never thought he had a chance to start the campaign in the bigs. That was partly because Braves featured Raul Mondesi, Brian Jordan, Andruw Jones, and Ryan Langerhans in the outfield. The team planned to keep Jeff at its Mississippi affiliate all year long. He accepted the assignment without complaint.

Jeff did it all in his first few months in the minors. In 84 games, he batted .275 with 28 doubles, two triples, 13 homers and 62 RBIs. He also stole 13 bases and showed off his strong arm with 10 outfield assists.

Back in Atlanta, the Braves were struggling to field a healthy lineup. Injuries had decimated the batting order as well as the pitching staff. With the club ailing, Jeff was rushed to big leagues on July 7. He made his debut that day in the second game of a doubleheader against the Chicago Cubs. In the eighth, Jeff walked to plate with a couple of runners on. He promptly launched a three-run homer off of Glendon Rusch. In turn, he became just the ninth player in Braves history to go deep in his first big league game.

MAKING HIS MARK

Jeff quickly became the leader of the "Baby Braves," a group 17 rookies—including McCann—who joined Atlanta when the rosters expanded in September. The Braves had risen back to the top of the National League East, and their young guns helped them stay there.

For Jeff, the hits kept coming during his rookie season. Two days after his homer against the Cubs, he enjoyed his first multi-hit game. Jeff registered his first three-hit game—to go with his third home run—on July 20 against the Cincinnati Reds. He hit in 12 straight beginning in late July, batting .438 during that stretch. The national media took notice, and Jeff found himself on the cover of Sports Illustrated, hailed as "The Natural.''

Sparked by Jeff's contributions on the field and his competitive spirit off of it, the Braves began another remarkable run that ended with yet another division title. Jeff finished the year second among NL rookies with a .300 batting average, 14 homers, and 45 RBIs.

His success was particularly meaningful to his mom. Karen's mother had passed away before Jeff reached the majors. Now her dad, Melvin, had something to smile about. He lived in a nursing home and made sure the TV or radio was tuned into every Braves game.

Jeff rolled into spring training in 2006 after competing for the U.S. in the World Baseball Championships. He swung the bat well all spring but slumped at the start of the season. Pitchers were discovering Jeff's most glaring weakness—he was up there hacking no matter what. Not surprisingly, he began seeing fewer and fewer strikes.

Jeff was not the only Brave to start the campaing slowly. Atlanta lost 22 of 28 games in June, including a 10-game winless streak—its longest since finishing in last place in 1990. At mid-season, Jeff had moved his average above the .250 mark and was on pace for a 30-homer, 100-RBI season. His biggest moment came against the Reds, when he homered in extra-innings for the win. Hours earlier, Melvin had succumbed to a painful illness. Teammates mobbed Jeff at home plate. He said afterward that the home run was for "Pops."

Despite Jeff's heorics, Atlanta]s long run of division titles came to end in 2006. The team finished 79–83 and far out of the playoffs. Chipper Jones missed a third of the year, and the team never identified a competent closer. Jeff was not exactly thrilled to have the Braves' title streak end on his watch, but he finished with respectable numbers—29 homers, 103 RBIs and a .260 average. More than half of the runners he drove home came with two outs.

Jeff was solid in the field as well. Opponents learned not to test his arm. Jeff's discipline at the plate remained his main problem. He walked just 23 times in nearly 700 at-bats.

In 2007, the Braves pulled off a neat trick. They turned things around at the same time they initiated a rebuilding program. A strong April and September enabled Atlanta to finish with 84 victories, but the team spent the four months in between searching for consistency. Adnruw Jones and Edgar Renteria played their final seasons in Atlanta uniforms, while Mark Teixeira, Yunel Escobar and Kelly Johnson joined Jeff as new faces on the Braves. A healthy Chipper Jones provided the glue with one of his best seasons as a major leaguer.

Jeff made important strides during his second full season in the majors. He became more selective at the plate and raised his on-base percentage by 45 points. The trade-off was a slight reduction in power—his homer output dropped to 19. The Braves were willing to overlook this glitch in light of a .293 average and a phenomenal year in the outfield. Jeff gunned down a remarkable 19 runners, just one short of Andruw Jones's team record. He won a Gold Glove for his efforts.

After a two-year absence form the playoffs, the Braves headed into 2008 with a lot of question marks. How long would Chipper stay at the top of his game? Was Escobar the real deal at short? Did Smoltz have another big year in him? Who would close games? When would the kids all be ready?

The short answer to all of these questions was a resounding "No." Jeff regressed in 2008, struggling mightily at the plate for most of the first half. In May, he sat out the second game of a doubleheader, ending an impressive 370-game playing streak.

The rest had little effect. In early July, the Atlanta brass optioned him to Class-AA Mississippi, where he was ordered to work with his old batting coach, Phillip Wellman. In retrospect, this might have been a fine idea, but thanks to a rash of injuries suffered by the Braves in the days that followed, the team never found out. Jeff was recalled and continued to struggle all season. He finished with a .239 average, 11 homers and 71 RBIs, striking out 111 times. The Braves didn't fare much better. They ended up fourth in the division with 77 wins.

A new year brought a new, upbeat attitude for Jeff and his teammates. Thanks to some stellar pitching, the Braves turned things around and were playing winning ball again. Jeff, however, still couldn't seem to get out of his own way. Midway through the year he was batting .250 with only five home runs.

Jeff was no longer making chump change. The Braves had upped his salary to $3.3 million. Feeling they weren't getting a good return on their investment, they shipped him to New York for Ryan Church. Church, who had tantalized Mets fans the previous season with some lusty hitting, was also off to a disappointing start.

While Atlanta's end of the trade failed to produce results, the Mets couldn't have been happier with their enthusiastic new right fielder. Though stung by his banishment, Jeff welcomed the chance to rescue a team decimated by injuries—and change the minds of fans who were cursing the Mets for their seeming lack of effort. In the season's final 75 games, Jeff hit at a .311 clip with 10 homers, 20 doubles and 41 RBIs.

Heading into his first full year in orange and blue, Jeff was penciled into the Mets' five-hole, behind fellow righties Jason Bay and David Wright. Rather than tangle with their cannon-armed outfielder in arbitration, they inked him to a $5 million contract for 2010. With Carlos Beltran out with an injury, Jeff faced a bit more pressure to produce. His new deal further intensified the spotlight on him.

The team was dreadful in the early going, but Jeff was on fire, batting close to .400 for much of the month. He cooled off at the end of April, but by then the team had found its rhythm and surprised detractors by beginning May in first place. Jeff contributed with his bat, arm and attitude as New York's prospects for a winning season brightened.

Unfortunately, those prospects dimmed, and many of Jeff's bad habits returned. Overly aggressive at the plate, Jeff saw his production drop and his playing time cut. Angel Pagan was enjoying a breakout season, so when Beltran returned to the lineup, Jeff was often the odd man out. July was a disastrous month, as he hit well below .200.

After several seasons of bitter disappointment, Mets fans aren't making their playoff plans quite yet. On paper, the team doesn't appear to have the horses that the NL powerhouses do. However, with upbeat young stars like Wright, Jose Reyes and Ike Davis, sometimes you're better off just crumpling up the paper and playing the game.

Jeff, meanwhile, has hit a crossroads. His weaknesses have again bubbled to the surface. Can he fix them? Or will all of his massive potential go to waste? One thing is certain—Jeff won't stop working hard to find out.

JEFF THE PLAYER

Jeff can hit for power, but any scout in baseball will tell you he is nowhere near patient enough to be a star. He's too much of a free swinger. Granted, the ball explodes off his bat, but he still offers at too many pitches at his eyes. Jeff improved his plate discipline somewhat in 2007 and then regressed. The Mets liked what they saw in 2009, but they now wonder if Jeff can adopt that approach again.

Despite his lack of discipline, Jeff is still a dangerous hitter. Like Vladimir Guerrero, when he sees a pitch he can drive, he'll attack regardless of its location. If he develops patience, pitchers will have to give him more to hit. This is most crucial in RBI situations, where Jeff already thrives.

On defense, Jeff's athleticism shines through immediately. He gets a good jump on everything hit in his direction, and he has a rifle for an arm. Opponents know not to run on him. He loves to throw out runners at home plate.

On the bases, Jeff has decent speed, though he is not normally a base-stealing threat. He is smart enough, however, to recognize when he can take an extra bag and has the wheels to do it.

As he gets older, Jeff may have to accept a diminished role. Unless he's playing for a team with no chance of winning, it's hard to find a spot for a right fielder who hits below .250 and drives in less than 100 runs. There is no doubting Jeff's desire to win or his upbeat attitude, but those qualities only go so far without solid production.
View the full website biography of Jeff Francoeur.