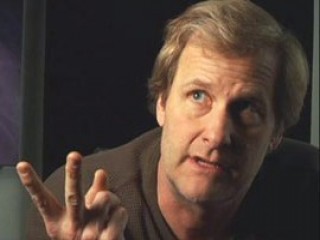 Jeff Foxworthy
Date of birth : 1958-09-06
Date of death : -
Birthplace : Atlanta, Georgia, U.S.
Nationality : American
Category : Arts and Entertainment
Last modified : 2011-08-31
Jeff Foxworthy is an American comedian, television and radio personality and author. He is a member of the Blue Collar Comedy Tour, a comedy troupe which also comprises Larry the Cable Guy, Bill Engvall and Ron White. Known for his "you might be a redneck" one-liners, Foxworthy has released six major-label comedy albums. His first two albums were each certified 3×multi-Platinum by the Recording Industry Association of America. Foxworthy has also written several books based on his redneck jokes, as well as an autobiography entitled No Shirt, No Shoes... No Problem!.

Foxworthy has also made several ventures into television, first in the mid-1990s as the star of a sitcom called, The Jeff Foxworthy Show. He has also appeared alongside Engvall and Larry the Cable Guy in several Blue Collar television specials, most notably Blue Collar TV. Since 2007, he has been the host of the quiz show Are You Smarter Than a 5th Grader? on Fox (2007-09) and syndication (2009-present). Foxworthy hosted a nationally syndicated radio show called The Foxworthy Countdown from April 1999 to December 2009. He has then became a part-time shark on Shark Tank (TV Series).

Foxworthy was born in Atlanta, Georgia, the first child of Jimmy Abstance Foxworthy, an IBM executive, and Carole Linda (Camp) Foxworthy. His grandfather, James Marvin Camp, was a fireman in Hapeville for more than 30 years.

Foxworthy graduated from Hapeville High School. He attended Georgia Tech in Atlanta and graduated in 1979. He worked for five years in mainframe computer maintenance at IBM (where his father also worked). At the urging of IBM co-workers, he entered and won the Great Southeastern Laugh-off, at Atlanta's Punchline comedy club, in 1984.

In 1993, he released You Might Be a Redneck If… which started the "You Might Be a Redneck" fad, topped the comedy album charts, and sold more than 3 million copies.

In 1995, he starred in The Jeff Foxworthy Show, a sitcom created out of his stand-up comedy persona. It aired on ABC, but was cancelled after one season. NBC subsequently picked up the show, but it was again cancelled after one season. Foxworthy later remarked that the network did not understand how to properly market his humor; thinking his routine was "too Southern" for a national network, they based the first season of his sitcom in Bloomington, Indiana. The ABC run of the show can now be seen on Nick at Nite and CMT.

In the early 2000s, Foxworthy had a career resurgence as a result of the "Blue Collar Comedy Tour," in which he and three other comedians (Larry the Cable Guy, Ron White, and Bill Engvall), specializing in common-man comedy, toured the country and performed for record crowds. The tour lasted three full years, constantly being extended after an initial run of 20 shows.

View the full website biography of Jeff Foxworthy.