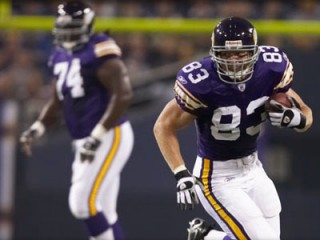 Jeff Dugan
Date of birth : 1981-04-08
Date of death : -
Birthplace : Pittsburgh, Pennsylvania, U.S.
Nationality : American
Category : Sports
Last modified : 2011-01-18
Jeff Dugan is a National Football League fullback for the Minnesota Vikings of the NFL.

GAMES/STARTS (regular season, playoffs) 2004 (14/2, 2/0), 2005 (1/0), 2006 (7/7), 2007 (16/3), 2008 (9/2, 1/1), 2009 (16/3, 2/0). Total- 63/17, 5/1.

• Hauled in career-best 2 TD passes in 2009, scoring in consecutive games at Green Bay and vs. Detroit.
• Joins college teammate MLB E.J. Henderson as the only Maryland Terrapins ever drafted by the Vikings.

OFF THE FIELD
Double-majored, earning bachelor's degrees in business and finance at Maryland...Spent time during past 2 offseasons working on his MBA from Northwestern's Kellogg School of Management, commuting to Chicago for coursework during the week...Visited the Minnesota VA physical therapy clinic and University of Minnesota Amplatz Children's Hospital along with the Vikings Women's Organization...Took part in NFLPA-sponsored education classes in business and finance at the University of Pennsylvania's Wharton School during 2006 offseason...Interested in a career in corporate finance...Married during 2006 offseason, the couple had a daughter, McKenna, in spring 2010.

PRO Enjoyed best season catching the ball in 2009, hauling in a pair of TD passes in consecutive games...Converted 5 straight 3rd-and-1 rushes between 2008 and 2009...Tough-nosed blocker from TE or FB...Had career-long catch on a fake FG play when he caught a shovel pass from holder Chris Kluwe and advanced the ball 27 yards in 2007...Tabbed as the Vikings' starter at FB for the final 7 games of 2006 after season-ending injury to Tony Richardson...Signed contract extension in December 2006...Only the 2nd player from the University of Maryland drafted by the Vikings, joining LB E.J. Henderson…Selected in 7th Round (220th overall) in the 2004 NFL Draft.

2009
Had career-high 2 TD receptions, scoring in consecutive games at Green Bay (11/1) and vs. Detroit (11/15)...Caught season-long 25-yard pass vs. Green Bay (10/5)...Helped Adrian Peterson rush for 1,000+ yards for the 3rd straight season and set a league high and team record with 18 rushing TDs...Played in all 16 regular season games and both playoff contests, starting vs. Green Bay (10/5), vs. Baltimore (10/18) and vs. Detroit (11/15).

2008
Factored into surge in the 2nd half of the season that launched the Vikings into the NFC North title and the Wild Card Playoffs...Was inactive for 6 of opening 7 games of the season but played in 9 of the final 10 with 3 starts...Converted a 1st down in 3rd-and-1 situations on all 4 of his rushing attempts...Caught season-long 9-yard pass vs. NY Giants (12/28) in game that sealed NFC North crown... Started 1st career playoff game vs. Philadelphia (1/4/09) in Wild Card game along with regular season starts at Jacksonville (11/23) and vs. NY Giants (12/28).

2007
Played in all 16 games and started 3...Tied career high with 7 receptions...Carried the ball vs. Green Bay (9/30) and vs. Detroit (12/2), his 1st career carries...Converted a 1st down on both rushing attempts and 3 of his 7 receptions on the season...Caught a career-long 27-yard pass from Vikings P Chris Kluwe to convert a fake FG vs. Detroit (12/2)...Helped Vikings set team record with 2,634 rushing yards and ranked #1 in the NFL in rushing...Versatile player who can line up at FB and TE...Paved the way for Rookie of the Year Adrian Peterson to lead the NFC in rushing, rank 2nd in the NFL and set a Vikings rookie record with 1,341 yards...Peterson's 1,341 yards on the ground were the 2nd-most in Vikings history...Helped Peterson and Chester Taylor set a Vikings record with 2,185 rushing yards as a duo...Helped the Vikings offense jump 10 spots from #23 in the NFL in 2006 to #13 in 2007...Cleared the way for Peterson (6) and Taylor (2) to tie the Vikings record for most 100-yard games in a season with 8...Helped Peterson set an NFL record with 296 rushing yards vs. San Diego (11/4) and set a Vikings team rushing record with 378 yards.

2006
Stepped into starting FB spot after Tony Richardson was lost for the season with arm injury...Started all 7 games he played on the season...Recorded 1st career stats in 2006...Caught 1st career TD on a 3-yard pass from Brad Johnson vs. Arizona (11/26)...Cleared the way for Chester Taylor to post the 4th-highest single-season rushing mark in team history and his career high with 1,214 yards...Helped a pair of runners break the 100-yard mark during the season, paving the way for Taylor to run for 136 yards vs. Arizona (11/26) and Artose Pinner to go for 125 yards at Detroit (12/10)...Pinner amassed his 1st career 100-yard effort against his former Lions teammates...Helped Taylor over the 1,000-yard mark for the season at Chicago (12/3)...Started and played in 1st game at Miami (11/19)...Start at Miami (11/19) was his 1st since 10/31/04 as a rookie...Dressed but did not play vs. Green Bay (11/12)...Inactive for opening 8 games.

2005
Played in lone game of the season at Atlanta (10/2)...Inactive for 15 regular season games.

2004
Played in 14 games, the 3rd-most among Vikings rookies, along with 2 starts…Had a career-high 3 special teams tackles at Green Bay (11/14)…Notched a tackle on special teams vs. Detroit (11/21)…Made 1st career start on Monday Night Football at Philadelphia (9/20)…Also started vs. NY Giants (10/31)…Played in 1st career playoff in Wild Card game at Green Bay (1/9/05)…Played in Divisional Playoff at Philadelphia (1/16/05).

COLLEGE
Started 46 of 49 games after moving into the starting lineup during his freshman season…Finished his career with 55 catches for 649 yards and 3 TDs…Stepped aside in final game of 2001 regular season to allow senior Matt Murphy to start the game.

Rated as top TE prospect in state at Central Catholic High in Pittsburgh...Earned All-League honors at DE and TE...Team captain as senior...Competed in shot put on track and field team.


View the full website biography of Jeff Dugan.