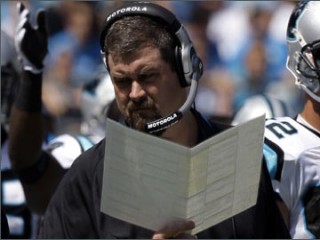 Jeff Davidson
Date of birth : 1967-10-03
Date of death : -
Birthplace : Akron, Ohio
Nationality : American
Category : Sports
Last modified : 2010-11-01
Jeff Davidson is the current American football Offensive coordinator for the Carolina Panthers of the National Football League.

Coaching
Jeff Davidson has made a significant imprint on the Panthers in his three years as offensive coordinator, establishing Carolina as one of the top running teams in the NFL. The Panthers finished third in the league in rushing in consecutive seasons in 2008 and 2009 as Davidson has made running the ball a staple of the offense. However, changes at quarterback have created challenges in the passing game. Only once in Davidson's three years, 2008, has Carolina played the entire season with the same quarterback.

In 2009, the Panthers set team records with 2,498 rushing yards, 525 rushing attempts and 123 rushing first downs, and Carolina's average of 4.76 yards per attempt and 18 rushing touchdowns stand as the second-most in franchise history. The Panthers did not commit any turnovers in a team-record six games and ended the season by not turning the ball over in a team-record four consecutive games.

Carolina's offensive accomplishments in 2008 included setting team records with 30 rushing touchdowns, an average gain of 5.96 yards per play and six games gaining at least 400 yards in addition to rushing for 2,437 yards. Also, the Panthers amassed 5,595 yards, tallied 414 points and scored 47 touchdowns, all of which rank as the second-highest totals in team history.

Change was the constant for Davidson in his first season as Carolina's offensive coordinator in 2007. Four different starting quarterbacks never started more than three consecutive games, but Davidson still coaxed the fourth-best rushing season in team history with 1,824 yards while the Panthers became the first team in 10 years to win at least one game with four different starting quarterbacks.

Davidson joined the Panthers as offensive coordinator after two seasons in Cleveland that followed a successful eight-year stint with New England. With the Patriots, he contributed to five playoff appearances, four division titles, three conference championships and three Super Bowl wins as the tight ends/assistant offensive line coach from 1997-2004.

In those ten years, Davidson experienced challenges of every nature in preparation to be an offensive coordinator. His units in Cleveland were decimated by injuries, while his time in New England was characterized by remarkable stability. Davidson met both with the same resolve.

Davidson joined Cleveland in 2005, and his impact was immediate as he molded a unit that helped the Browns end a 20-year drought without a 1,000-yard rusher. Reuben Droughns easily eclipsed that plateau with 1,232 yards behind an offensive line that included three new starters.

He was promoted to assistant head coach/offensive line coach in 2006, and Davidson's role was expanded after six games when he became Cleveland's offensive coordinator. Despite having to shuffle the offensive line throughout the year because of injuries, he oversaw an offense that featured tight end Kellen Winslow and wide receiver Braylon Edwards, who produced breakthrough seasons with 89 and 61 catches, respectively.

With New England in 2004, Davidson and offensive line coach Dante Scarnecchia worked with a unit that had only three lineup changes all season as the Patriots won Super Bowl XXXIX. The offensive line proved adept at run blocking and pass protection as Corey Dillon rushed for 1,635 yards and Tom Brady was sacked only 26 times, sixth fewest in the NFL. Meanwhile, New England's tight ends, under Davidson's tutelage, accounted for 11 touchdowns and nine pass plays of 20 yards or more.

His time with the Patriots was exemplified by such play from the tight ends as well as the offensive line. As tight ends coach in 1997, Davidson helped Ben Coates emerge as the team leader with 66 receptions and earn a Pro Bowl berth. In 1998, he moved to assist with New England's offensive line for four seasons before adding tight ends to his coaching duties in 2002. The results were immediate as the receiving production for the position more than tripled from the previous year. Then in 2003, the Patriots tight ends again improved their performance by combining for 66 catches and six touchdowns.

Davidson began his NFL coaching career in 1995 as a volunteer assistant with New Orleans. A year later, he was named offensive assistant, responsible for the breakdown of game tapes, opponent scouting and self scouting in addition to a number of on-field coaching responsibilities.

Playing and Personal
Davidson's coaching success is an extension of his playing career. A fifth-round draft choice by Denver in 1990, he moved into the starting lineup in his second season. Davidson started 16 games at left tackle in 1991 and every game at left guard the next year. After signing with New Orleans in 1994, a shoulder injury seven games into the season ended his career. Prior to the NFL, Davidson earned All-Big Ten honors as a senior and was a four-year letterman at Ohio State.

A native of Akron, Ohio, Davidson attended Westerville (Ohio) North HS, where he earned Parade All-American honors as a senior.

History
Offensive lineman Ohio State 1986-89. Pro offensive lineman: Denver Broncos 1990-92, New Orleans Saints 1994. Pro coach: New Orleans Saints 1995-96, New England Patriots 1997-04, Cleveland Browns 2005-06, joined Panthers in 2007.

View the full website biography of Jeff Davidson.