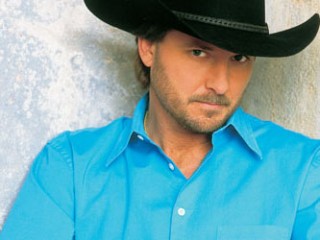 Jeff Carson
Date of birth : 1964-12-16
Date of death : -
Birthplace : Tulsa, Oklahoma
Nationality : American
Category : Famous Figures
Last modified : 2011-01-12
Jeffrey Lee Herndon, known professionally as Jeff Carson, is an American country music artist. Originally a session musician in Branson, Missouri and later a demo singer, he was signed to Curb Records in 1995, releasing his self-titled debut album that year, followed by Butterfly Kisses in 1998 and Real Life in 2002. He has charted fourteen singles on the Billboard country charts, including the Number One hit "Not on Your Love", the Top Ten hits "The Car" and "Holdin' Onto Somethin'" and the Top 20 "Real Life (I Never Was the Same Again)." Carson retired from music in 2009 and became a police officer.

Jeff Carson was one of the new country singers who was able to parlay the mass success of country music in the early '90s to a massive hit with his eponymous first album.

Carson was born Dec. 16, 1964, in Tulsa, Okla., but raised in the small Arkansas town of Gravette. As a child, he sang in church and played harmonica and guitar. While he was in high school, he and his friends formed a band to play their school's talent show, performing the Eagles' "Seven Bridges Road." After they won second place, Carson was convinced to pursue a musical career. Following his high-school graduation, he entered a talent contest at an entertainment complex called Ozark Mountain Music in Rogers, Ark. Although he didn't come in first, the winner asked Carson to play in his house band. For the next four years, he played with the outfit, until they finally disbanded.

Carson moved to Branson, Mo, where he played bass in local bands and started writing his own songs. In Branson, he met and married his wife, Kim Cooper, who encouraged him to move to Nashville. Kim had a friend who played at the Opryland Hotel and his group Texana needed a bassist -- hence, Carson moved to Music City in 1989. After some persuasion, he convinced the hotel to book him as a solo act. Around the same time, he signed a songwriting deal with Little Big Town Music and began singing on demo tapes for a variety of companies. Eventually, publisher-producer Chuck Howard heard Carson's original material and signed a publishing and development deal with him.

By 1994, Carson had signed with Curb Records. His self-titled debut album was released in early 1995; the first single, "Yeah Buddy," went nowhere, but the second single, "Not on Your Love," rocketed to No. 1. It was followed by the Top 10 hits "The Car" and "Holdin' On to Somethin'." Future singles were unsuccessful until "Real Life (I Never Was the Same Again)" revived his career, peaking at No. 14 in 2001.


View the full website biography of Jeff Carson.