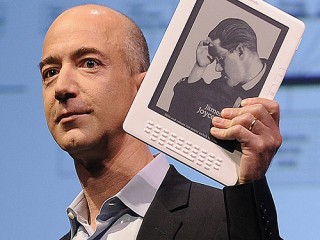 Jeff Bezos
Date of birth : 1964-01-12
Date of death : -
Birthplace : Albuquerque, New Mexico, U.S.A.
Nationality : American
Category : Famous Figures
Last modified : 2011-01-12
Jeffrey Preston "Jeff" Bezos is the founder, president, chief executive officer and chairman of the board of Amazon.com. Bezos, a Tau Beta Pi graduate of Princeton University, worked as a financial analyst for D. E. Shaw & Co. before founding Amazon in 1994.

American entrepreneur who played a key role in the growth of e-commerce as the founder and chief executive officer of Amazon.com, Inc., an online merchant of books and later of a wide variety of products. Under his guidance, Amazon.com became the largest retailer on the World Wide Web and the model for Internet sales.

While still in high school, Bezos developed the Dream Institute, a centre that promoted creative thinking in young students. After graduating (1986) summa cum laude from Princeton University with degrees in electrical engineering and computer science, he undertook a series of jobs before joining the New York investment bank D.E. Shaw & Co. in 1990. Soon named senior vice president—the firm's youngest—Bezos was in charge of examining the investment possibilities of the Internet. Its enormous potential—Web usage was growing by more than 2,000 percent a year—sparked his entrepreneurial imagination. In 1994 he quit D.E. Shaw and moved to Seattle, Wash., to open a virtual bookstore. Working out of his garage with a handful of employees, Bezos began developing the software for the site. Named after the South American river, Amazon.com sold its first book in July 1995.

Amazon.com quickly became the leader in e-commerce. Open 24 hours a day, the site was user-friendly, encouraging browsers to post their own reviews of books and offering discounts, personalized recommendations, and searches for out-of-print books. In June 1998 it began selling CDs, and later that year it added videos. In 1999 Bezos added auctions to the site and invested in other virtual stores. The success of Amazon.com encouraged other retailers, including major book chains, to establish online stores. As more companies battled for Internet dollars, Bezos saw the need to diversify, and by 2005 Amazon.com offered a vast array of products, including consumer electronics, apparel, and hardware. Amazon.com's yearly net sales increased from $510,000 in 1995 to some $600 million in 1998 and to more than $19.1 billion in 2008.

In late 2007 Amazon.com released a new handheld reading device called the Kindle—a digital book reader with wireless Internet connectivity enabling customers to purchase, download, read, and store a vast selection of books on demand. Earlier that year Bezos had announced that he would invest a portion of his Amazon earnings to fund Blue Origin, a Seattle-based aerospace company that would offer suborbital flights in a redeveloped commercial spacecraft to paying customers beginning in 2010.

He was named Time magazine's Person of the Year in 1999. In 2008, he was selected by U.S. News & World Report as one of America's Best Leaders.


View the full website biography of Jeff Bezos.