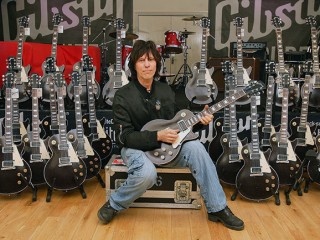 Jeff Beck
Date of birth : 1944-06-24
Date of death : -
Birthplace : Wallington, Surrey England
Nationality : English
Category : Arts and Entertainment
Last modified : 2012-01-13
Geoffrey Arnold "Jeff" Beck is an English rock guitarist. He is one of three noted guitarists to have played with The Yardbirds; (Eric Clapton and Jimmy Page are the other two). Beck also formed The Jeff Beck Group and Beck, Bogert & Appice.

Much of Beck's recorded output has been instrumental, with a focus on innovative sound and his releases have spanned genres ranging from blues-rock, heavy metal, jazz fusion and an additional blend of guitar-rock and electronica. Although he recorded two hit albums (in 1975 and 1976) as a solo act, Beck has not established or maintained the sustained commercial success of many of his contemporaries and bandmates. Beck appears on albums by Mick Jagger, Kate Bush, Roger Waters, Donovan, Stevie Wonder, Les Paul, Zucchero, Cyndi Lauper, Brian May and ZZ Top. In 1988, he made a cameo appearance in the movie Twins.

Jeff Beck has the combination of brilliant technique with personality. It's like he's saying, "I'm Jeff Beck. I'm right here. And you can't ignore me." Even in the Yardbirds, he had a tone that was melodic but in-your-face – bright, urgent and edgy, but sweet at the same time. You could tell he was a serious player, and he was going for it. He was not holding back.

There is a real artistry to playing with and around a vocalist, answering and pushing him. That's the beauty of those two records he made with Rod Stewart, 1968's Truth and 1969's Beck-Ola. Jeff is not getting in the way, but he's holding his own. And he stretched the boundaries of the blues. "Beck's Bolero," on Truth, is un-bluesy, but still blues-based. One of my favorite tracks is the cover of Howlin' Wolf's "I Ain't Superstitious," on Truth. There is a sense of humor – that wah-wah growl. I don't know if Clapton plays with the same sense of humor, as great as he is. Jeff's definitely got that.

When he got into his fusion phase, the cover of Stevie Wonder's "'Cause We've Ended as Lovers," on Blow by Blow, got me immediately. The tone was so pure and delicate. It's like there was a vocalist singing, but there was a guitarist making all of the notes. I saw him last year at a casino in San Diego, and the guitar was the voice. You didn't miss the singer, because the guitar was so lyrical. There is a spirituality and confidence in him, a commitment to being great. After I saw that show, I went home and started practicing. Maybe that's what I took from him: If you want to be Jeff Beck, do your homework.

He was ranked 5th in Rolling Stone's list of the "100 Greatest Guitarists of All Time" and the magazine has described him as "one of the most influential lead guitarists in rock".He was also ranked second greatest rock guitarist of all time in Digital Dream Door, a site that ranks movies and music. MSNBC has called him a "guitarist's guitarist".

Beck has earned wide critical praise and received the Grammy Award for Best Rock Instrumental Performance six times and Grammy Award for Best Pop Instrumental Performance once. He has been inducted into the Rock and Roll Hall of Fame twice: as a member of The Yardbirds (1992) and as a solo artist (2009).

View the full website biography of Jeff Beck.