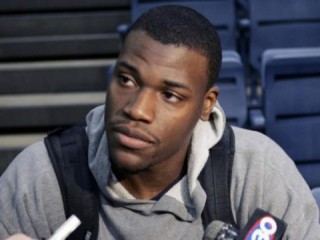 Jeff Adrien
Date of birth : 1986-02-10
Date of death : -
Birthplace : Brooklyn, Massachusetts, U.S.
Nationality : American
Category : Sports
Last modified : 2011-03-28
Jeff Adrien is an American professional basketball player with the Golden State Warriors of the National Basketball Association - NBA.

NBA CAREER :

Was not drafted in the 2009 NBA Draft ... Played in two games for the New Jersey Nets in the 2009 Orlando Summer League, averaging 1.0 points and 2.5 rebounds in 5.8 minutes ... Played four games for Memphis in the 2010 Vegas Summer League, averaging 6.5 points and 8.5 rebounds in 16.8 minutes ... Appeared in four games for the Magic at the 2010 Orlando Summer League, averaging 8.5 points and 7.3 rebounds in 23.5 minutes.

2009-10 :
Appeared in 38 games for Leche Rio Bregan of the Spanish League, averaging 12.3 points and 7.7 rebounds in 28.7 minutes ... Scored 10-plus points 23 times ... Scored 20-plus points twice ... Collected double-figures in rebounds on 11 occasions ... Registered seven double-doubles.

COLLEGE :
Played four seasons at Connecticut, averaging 12.1 points, 8.5 rebounds and 1.1 assists in 133 career games ... Finished collegiate career with over 1,600 points and 1,100 rebounds, becoming only the second Husky to accomplish since head coach Jim Calhoun took over in 1986 ... Appeared in 36 games as a senior (2008-09), averaging 13.6 points, 9.9 rebounds, 1.7 assists and 1.16 blocks in 34.6 minutes ... Helped lead UConn to the Final Four of the 2009 NCAA Tournament before losing to Michigan State ... Named Third Team All-Big East as a senior ... Appeared in 33 games as a junior (2007-08), averaging 14.8 points, 9.1 rebounds, 1.3 assists and 1.24 blocks in 33.8 minutes ... Named First Team All-Big East as a junior ... Appeared in 31 games as a sophomore (2006-07), averaging 13.1 points, 9.7 rebounds and 1.42 blocks in 33.1 minutes ... Named Second Team All-Big East as a sophomore ... Named to the 2005-06 Big East All-Rookie Team as a freshman.

PERSONAL:

Majored in liberal arts...Son of Linette Adrien ... Has one sister, Judith ... Was a consensus Top 50 recruit and was among the elite fifth-year players in the country at Brewster Academy (NH) ... Averaged 18 points and 12 rebounds per game during one postgraduate season at Brewster ... Averaged 27 points and 14 rebounds as a senior at Brookline HS ... As a senior at Brookline, was team captain, first team All-League, League MVP and named to the Boston Globe Super Team and Boston Herald Dream Team.


View the full website biography of Jeff Adrien.