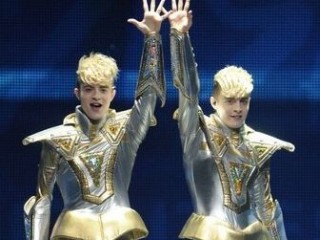 Jedward
Date of birth : 1991-10-16
Date of death : -
Birthplace : Dublin, Ireland
Nationality : Irish
Category : Arts and Entertainment
Last modified : 2012-06-15
John and Edward Grimes (born John Paul Henry Daniel Richard Grimes and Edward Peter Anthony Kevin Patrick Grimes on 16 October 1991 in Dublin), artistically known as Jedward are an irish pop singing duo. Known for their distinctive blond quiffs and unique performances, the identical twins have risen to fame since appearing in the sixth series of The X Factor in 2009, in a phenomenon described as the "Jedward paradox". They released their debut song "Under Pressure (Ice Ice Baby), a collaboration with 90s hip hop star Vanilla Ice on 31st January 2010. It hit #1 in the Irish singles charts and #2 in the UK singles charts, on downloads alone - the CD single was released on the 15th of February 2010.

They then released their second single, a cover of Blink-182's "All the Small Things", on 16 July 2010, and their debut album Planet Jedward on 26 July. Planet Jedward reached number one on the Irish Albums Chart and number 17 on the UK Albums Chart. It was also certified platinum in Northern Ireland.

Since then, Jedward have been on 3 tours in the UK and Ireland. The first, the 'Planet Jedward tour' hit both countries, with some cities being played more than once, in April and August 2010. The second, was the 'Bad Behaviour Tour' which was just in Ireland, in April 2011. They are due to hold another tour, in August 2011, named 'The Carnival Tour' which is just in Ireland, both the republic and north, with the concert held at night and 2 signings in each place at the day time. After they secured first place in the national selection on The 'Late Late Show' on rté in 11 February 2011, with their entry single "Lipstick", they then performed in Dusselhorf, Germany in The Eurovision Song Contest, coming 8th place, getting to the 1st place spot then going down during the voting process, beating both the UK's entry 'Blue' and Germany's entry 'Lena.'

Jedward's second single, a cover of the Blink-182 song "All the Small Things", was released in July 2010 and peaked at number 21 on the Irish charts and number 6 on the UK Indie Chart. The same week, Jedward released their debut album Planet Jedward, consisting of covers of a selection of pop, rock and rap songs. It which went straight to number one on the Irish Albums Chart and number 17 on the UK Albums Chart.

Later in July, the twins appeared on the Channel 4 reality show Big Brother and performed "All the Small Things" in the garden as part the housemates' task to "ignore the obvious".

In August 2010, Jedward appeared in their own ITV2 documentary, entitled Jedward: Let Loose, a three-part series in which they moved out of their home for ten days. Jedward: Let Loose covered the launch of their debut album Planet Jedward and also documented Edward's injury at T4 on the Beach and the production of the music videos for "Under Pressure (Ice Ice Baby)" and "All the Small Things".[36] In September, they appeared in OMG! It's Jedward!, a one-hour special on RTE, taking a similar fly-on-the-wall look at the twins.

On 12 February 2011, Jedward released their third single and Eurovision entry "Lipstick", which peaked at number one in Ireland. Jedward successfully qualified from the second Eurovision semi-final, eventually finishing in eighth place.

After Eurovision, "Lipstick" was released digitally across Europe, where it charted in many countries such as Belgium, Sweden, Germany and most notably Austria where it peaked at number 3. The song also peaked at number 8 in the South Korea's international artists' chart. "Lipstick" had featured in a Hyundai advertising campaign in South East Asia.

Shortly after Eurovision, on 23 May, Jedward performed in front of an audience of 60,000 people at College Green in Dublin City ahead of a speech by visiting U.S. President Barack Obama.

In April 2011, Jedward began their second tour, the Bad Behaviour Tour, with a series of dates across Ireland. Jedward's next single "Bad Behaviour" was released in July and reached number one in the Irish charts. This was followed two weeks later by their second album Victory, consisting entirely of original tracks. A new version of Planet Jedward was released by the German branch of Universal Music in July, featuring a mix of tracks from Planet Jedward and new songs from Victory.

On 31 July, the twins began the first leg of their third tour, The Carnival Tour, with 12 shows across Ireland and Northern Ireland. In September Jedward played their first European tour, with dates in Sweden and Germany, followed by a UK tour.

Three days after the first leg finished, Jedward entered the Celebrity Big Brother 8 house. They made it to the final, eventually finishing in third place behind runner-up Kerry Katona and winner Paddy Doherty. The third single from Victory, "Wow Oh Wow" was released in August 2011, with a music video featuring their Celebrity Big Brother housemate Tara Reid.

In December, Jedward starred in the pantomime Jedward and the Beanstalk, a musical comedy version of the fairytale Jack and the Beanstalk. Staged at the Olympia Theatre in Dublin, all sessions sold out.

In January 2012, Jedward embarked on the European leg of their Victory Tour, playing in Austria, Germany, Sweden, Finland and Estonia, followed by Irish dates.

In January and March, the twins recorded new songs for their third album, which they later announced would be titled Young Love, also the name of an album track. The album is due to be released on 1 June 2012. In May, Jedward released charity single and "unofficial" Irish UEFA Euro 2012 song "Put the Green Cape On". With lyrics by RTÉ 2fm DJ Colm Hayes, the song is a reworking of "Lipstick". All proceeds from the single go to Irish children's charity the ISPCC.

In February, the twins again won the Irish national Eurovision selection with their song "Waterline". In May, Jedward performed at Eurovision in Baku, Azerbaijan with their song "Waterline". After qualifying from their semi-final, they eventually came in 19th place in the grand final.

On 6 June 2012, John and Edward ran as part of the 2012 Summer Olympics torch relay in Dublin on day 19 of the relay. Jointly running in position seven, the twins ran from Cathal Brugha Street to the General Post Office in O'Connell Street.


View the full website biography of Jedward.