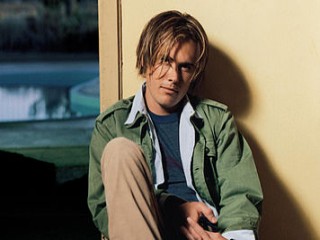 Jedd Hughes
Date of birth : -
Date of death : -
Birthplace : Quorn, Australia
Nationality : Australian
Category : Arts and Entertainment
Last modified : 2011-02-11
Jedd Hughes is a country musician born in Australia in 1982.

Jedd Hughes grew up in the small south Australian town of Quorn. His father loved the sounds of Australian traditional country singer Slim Dusty and American icons such as Johnny Cash and Marty Robbins. When he wasn't listening to music at home, much of his childhood was spent onstage. At age 8, he won first place at the Port Pirie Country Music Festival. One year later, his dad gave him a few guitar lessons, and by age 10, he was playing a custom-made acoustic guitar. At 12, he was chosen to represent Australia on a three-week tour of Europe, performing at the International Music for Youth festivals held in France, Belgium and Sweden. His early teens involved practicing guitar for hours and waiting for his voice to change.

One night, he heard the Ricky Skaggs song "Country Boy" on the radio and was hooked on Skaggs' rapid-fire blend of country and bluegrass. Through a friend who was a bluegrass mandolin champion, Kym Warner, Hughes was introduced to some of the greats of bluegrass music. He heard the sounds of Tony Rice, Del McCoury and Ralph Stanley and was taken with the music's purity. He was also drawn to country legends like Buck Owens and Merle Haggard.

He traveled throughout his teenage years as a sideman with various country entertainers. After high school he had one goal -- to attend South Plains College in Levelland, Texas, which offers a bluegrass music program. Terry McBride, formerly of McBride & the Ride, did a workshop at the college and, impressed with Hughes' talent, offered to write with him if he ever moved to Nashville. Soon after, Hughes relocated to Nashville and they began collaborating.

Just six weeks after landing in Music City, Hughes auditioned to be the lead guitarist for Patty Loveless. Within an hour, he was asked to join Loveless' rehearsal and then was invited to play the Grand Ole Opry with her the next night and later at the MerleFest bluegrass festival.

During his days off from playing with Loveless, Hughes cut demos with McBride and attracted interest from MCA Nashville. He will release his debut album, with guest appearances by Alison Krauss and Loveless, on MCA in August 2004.

Jedd Hughes - High Lonesome :




View the full website biography of Jedd Hughes.