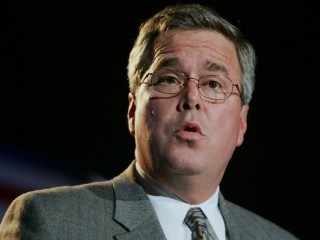 Jeb Bush
Date of birth : 1953-02-11
Date of death : -
Birthplace : Midland, Texas, U.S.
Nationality : American
Category : Politics
Last modified : 2011-08-22
John "Jeb" Bush was elected governor of Florida in 1998 and served two terms before stepping down in 2007. He is the son of former president George Bush and the brother of former president George W. Bush. A Texas native, Jeb Bush moved to Florida in 1981 and joined the Codina Group, a real estate development company. He became Secretary of Commerce under governor Bob Martinez in 1987 and was the Republican nominee for governor in 1994, losing to incumbent Lawton Chiles. In 1998 he ran again and won, becoming governor of Florida at the same time his brother George W. was governor of Texas. In the presidential elections of 2000 the race between George W. and Democrat Al Gore was so close that the entire national election depended on the results of disputed vote counts in Florida. Jeb Bush officially recused himself from decisions affecting the vote counts, though some Democrats charged that he and his staff still attempted to swing the outcome in favor of his brother. (The case eventually went to the U.S. Supreme Court, whose 5-4 decision decided the election in favor of George W. Bush.) Jeb Bush was re-elected in 2002, defeating Democrat Bill McBride (who had upset former Attorney General Janet Reno in the Democratic primary elections). Bush did not run for re-election in 2006; another Republican, Charlie Crist, was elected to succeed him.

Bush met his wife, Columba, while teaching English in Leon, Guanajato, Mexico in 1971. (Columba was born in Leon in 1954.) The two were were married on 23 February 1974, shortly after Bush graduated from the University of Texas with a degree in Latin American Affairs. They have three children: George (known as George P., b. 1976), Noelle (b. 1977) and John (known as Jebby, b. 1983)... Bush's children have had a few well-publicized scrapes with the law: in 2002 Noelle was arrested for prescription drug fraud, and in 2005 Jebby was arrested for public intoxication.

View the full website biography of Jeb Bush.