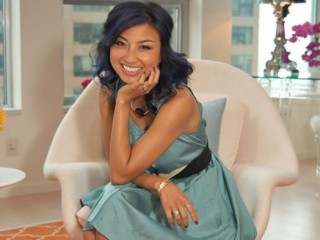 Jeannie Mai
Date of birth : -
Date of death : -
Birthplace : San Jose, California
Nationality : American
Category : Arts and Entertainment
Last modified : 2011-01-11
Jeannie Mai is an American makeup artist, fashion expert, actress, and TV personality. She is most known for her work as the host of Style Network's How Do I Look? and USA's Character Fantasy. As a fashion expert, she is frequently featured on numerous television programs such as NBC's Today Show on the "Fashion Tips Today" segment, Extra TV, and E!'s The Daily 10.

Early years and Career:

At 18, Mai launched her career as a makeup artist for MAC Cosmetics while still living in San Jose. As a trainer, she worked her way from face to face until she was eventually traveling the world to dress the face of celebrities such as Christina Aguilera, Alicia Keys, and Rosario Dawson. She has served as a celebrity makeup stylist for MTV's TRL, KCL Los Angeles, and Good Morning Sacramento.

In 2003, Mai began auditioning for local television networks with self-written scripts to demonstrate her unique hosting talents. She landed a gig co-hosting the Emmy-nominated Asian American Magazine-Style show Stir, on International Channel Networks. Soon after, the San Francisco local music channel, CMC, invited her to host her own music countdown. After gaining attention for her spunky personality and knack for style, Mai became an entertainment reporter and producer of the WB's Daily Mixx.

In 2005, Mai landed her first primetime hosting role on Character Fantasy on the USA Network, where she inspired guests each week to live their fantasies. Following this, she appeared on MTV's Granted alongside Frankie Muniz and hosted various segments related to fashion and entertainment news on networks such as E!, Lifetime, TLC, and NBC.

In 2008, Mai took part in TV history's first ever attempt to revamp Miss America's 52 hopefuls on TLC's Miss America Reality Check. She also starred in "Dude, Where's Your Style" a Style special turning men from cute to couture, and toured the world as the official spokesperson of Never Accept Ordinary, a line of cosmetics that promotes individuality through color.

In 2009, Mai took over as the host of the Style Network's popular and Emmy-nominated show How Do I Look. More than just a "makeover show," Jeannie empowers women to discover their true beauty, overcome their insecurities, and employ fashion to achieve their career goals. She also served as a correspondent and weekend host on NBC's Extra TV with Mario Lopez.

Personal

In 2010 Jeannie created a Prayer Box that she placed on Runyon Canyon, a popular hiking spot in Los Angeles. Hikers are asked to leave a personal prayer and take another that has been left in the box. Using the term "pray it forward," the box encourages visitors to open their eyes to the prayers of others and share their own, displaying the power of faith in action. The box has received much attention and has become a popular destination for residents of the city as well as tourists. Mai currently lives in Los Angeles.


View the full website biography of Jeannie Mai.