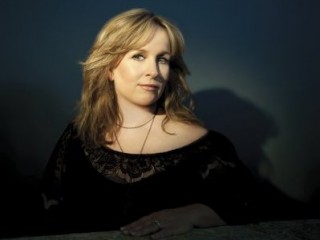 Gretchen Peters
Date of birth : 1957-11-14
Date of death : -
Birthplace : Bronx, New York City,U.S.
Nationality : American
Category : Arts and Entertainment
Last modified : 2012-01-10
Gretchen Peters is a singer-songwriter in the folk/country genre. She was born in New York and raised in Boulder, Colorado, but moved to Nashville in the late 1980s. There, she found work as a songwriter, composing hits for Martina McBride, Etta James, Trisha Yearwood, Patty Loveless, George Strait, as well as for rock singers Neil Diamond and co-writing songs with Bryan Adams. She also won the Country Music Association Song Of The Year award for McBride's "Independence Day" in 1995.

Her songs have become top country hits for country stars like Faith Hill, Bonnie Raitt, George Strait, Trisha Yearwood, Bryan Adams, Patty Loveless, Billy Ray Cyrus, Pam Tillis, and Neil Diamond. Peters also sings her own songs, although she has not received the attention given to better-known artists. According to the biography on her website, an Associated Press review praised her eponymous album, saying "This is not jukebox music--the stuff that exists to fill in the pauses in conversation. This IS the conversation." Washington Times writer Kris Garnjost described her voice as "a little piece of Emmylou Harris, a bit of Rickie Lee Jones, a smidge of Mary Chapin Carpenter, and a dash of contemporary folk singer Christine Lavin."

Peters, who reveals on her website that she is influenced by Jackson Browne, Bonnie Raitt, Gram Parson, Emmylou Harris, Joni Mitchell, Bruce Springsteen, Dolly Parton, and Leonard Cohen, began singing and playing the guitar at an early age, learning folk and protest songs from her father. She wrote her first song with her sister when she was five years old, riding in the back seat of the family car on a long road trip. Peters admitted to Jasper Rees in the London, England, Independent that, unlike most country singers, she didn't grow up poor or in the South. "Obviously ... [my childhood] was pretty different, because I grew up middle class in New York." Her father, a writer, left the family in 1970. Her mother moved Peters and her siblings to Colorado, where they settled in Boulder, a town with an active music scene.

Peters began playing in clubs at the age of 15. When she was 19, she submitted a homemade tape to the local Music Weekend contest--and won. She continued to play in Boulder clubs for the next ten years, then moved to Nashville in 1988 to advance her career as a country artist.

Throughout her career, Peters had been frustrated by pressure to be either a singer or a songwriter. In an interview with the American Society of Composers, Authors, and Publishers (ASCAP), she told Erik Philbrook, "I think all songwriters and artists experience some frustration with being known for one thing and not other things....When I first moved to Nashville ... I was kind of baffled by the whole delineation between singer and songwriter, because I grew up with singer/songwriters. I grew up listening to Joni Mitchell and Paul Simon and Jackson Browne.... I just sort of patterned myself after those people. I was confused when ... people would ask me which thing did I want to be." After a Nashville record executive told her she was a better singer than songwriter, she decided to prove him wrong.

Peters began to write songs for herself and not for any particular singer, believing that the songs would find their audience. She told Philbrook, "I really believe songs find their own natural home anyway." Her plan, she continued to Michael Mehle in the Rocky Mountain News was "to not look for a record deal but to settle down and write. I knew that if I could establish myself as a writer, I would have more clout in terms of artistic control over my own album."

Peters's songs did find their homes, and she established herself in the ranks of Nashville songwriters. Her first big success came when a song she wrote with her husband, "Chill of an Early Fall," performed by George Strait, went to number one on the country charts. Because she had cowritten the song, however, Peters didn't feel entitled to claim this success on her own. That changed when she released the first single that she had written, "Let That Pony Run," performed by Pam Tillis. She followed that with Patty Loveless's number-one rendition of "You Don't Even Know Who I Am."

In 1995 Peters received both a Grammy nomination and a Country Music Association Song of the Year award, both for Martina McBride's rendition of "Independence Day." The song tells the story of a child who watches her parents' marriage, and her home, go up in flames, an emotionally accurate--if not authentically autobiographical--portrayal of her parents' divorce and family upheaval. It also tells the story of a woman striking back against an abusive husband.

Peters made her recording debut in 1996, with Secret of Life, Rees wrote that the album was a "frank, frills-free ... set of songs that make their point about the travails of womanhood without yanking wearyingly on the heart-strings." The album's chances for success were stifled, however, when its label, Imprint Records, folded. Fortunately, several songs from the album were picked up and covered by well-known country artists.

Peters is often pegged as a woman's writer--even though some of her biggest hits have been performed by men. Jim Patterson of the Buffalo News noted that "[i]n a town where men often write the biggest hits about how women feel, female stars take to her songs because they are uncommonly literate." Peters elaborated, telling Patterson, "I get called a woman writer a lot of times and I just think that all I ever really wanted to be was a good writer and my sex had nothing to do with it, you know?"

In 2001, Peters signed a multimillion dollar deal with Sony/ATV Tree. Company president and CEO Donna Hilley told Craig Havighurst in the Tennessean, "I can't imagine not having Gretchen. She's one of our family, as well as one of our writers."

In 2003 Peters was nominated for a Golden Globe award for her work on the DreamWorks animated film Spirit: Stallion of the Cimarron. That same year her song "Independence Day" was named one of Country Music Television's Top 100 Greatest Songs in Country Music. Peters is philosophical about her lack of airplay, telling Rees, "I prefer to be in the group not being played on the radio, because those are to me the people that are making really meaningful music."

View the full website biography of Gretchen Peters.