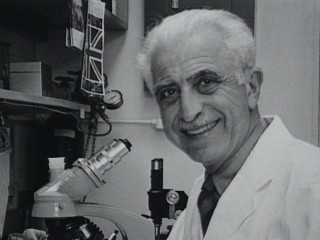 Gregory Pincus
Date of birth : 1903-04-09
Date of death : 1967-08-22
Birthplace : Woodbine, New Jersey,U.S.
Nationality : American
Category : Science and Technology
Last modified : 2011-12-17
Gregory Pincus (April 9, 1903 - August 22, 1967) was an American biologist and researcher who co-invented the combined oral contraceptive pill.

Endocrinologist Gregory Pincus, reproductive biologist Min-Chueh Chang, and gynecologist John Rock are generally credited with inventing modern oral contraceptives. Pincus spent most of his career studying hormones and animal physiology, and in an early experiment he achieved in vitro fertilization in rabbits -- but this was highly controversial, and he was vilified as a Frankenstein in much of the national media. The publicity cost him any chance of tenure at Harvard, and he instead eventually taught and conducted research at tiny Clark University in Worcester, Massachusetts, where he established the Worcester Foundation for Experimental Biology.

His foundation was so woefully underfunded, however, that Pincus himself swept up after hours to save the salary of a janitor. He studied ovum development, ovarian hormones, and the nature of blastocysts, and these and other reproductive studies eventually attracted the attention of Margaret Sanger. She provided a small grant from Planned Parenthood beginning in 1948, and she eventually convinced philanthropist Katharine McCormick to provide greatly increased underwriting. When Pincus's colleague, Chang, discovered in 1951 that progestines inhibit ovulation, Pincus received additional funding from Searle Pharmaceuticals.

When their ovulation-suppressing mix of estrogen and progestin was ready for testing, the clinical trials had to be conducted in Puerto Rico, because all forms of contraception were illegal in Massachusetts. The successful results were published in Science in 1956, and the next year it was approved by the FDA -- as a treatment for "certain menstrual disorders". After several years of controversy and a seeming epidemic of women claiming menstrual disorders to obtain a prescription, it was approved by the FDA as the first birth control pill in 1960, under the brand name Enovid.

Later in his career, Pincus developed a hormone used to treat breast cancer and pregnancy complications. Still working with Chang, Pincus also developed the "morning-after" pill, which prevents the egg from implantation after ovulation.

In 1943 Pincus attended a conference on hormones, held by the American Association for the Advancement of Science was held at a private whites-only facility. This was routine for the time, but Pincus was alarmed to learn that the policy meant noted chemist Percy Julian could not attend, and he personally persuaded the facility's management to open its doors to Julian, despite his color. In subsequent years Pincus took responsibility for organizing the conference, which became an annual event.

Pincus died of bone marrow cancer in 1967, which was probably caused by years of heavy exposure to early solvents and lab chemicals. His uncle, Jacob Goodale Lipman, was a soil chemist and bacteriologist who was the first editor of the scientific journal Soil Science. Another uncle, plant physiologist Charles Bernard Lipman, discovered living microbes inside Precambrian and Pliocene rocks.
View the full website biography of Gregory Pincus.