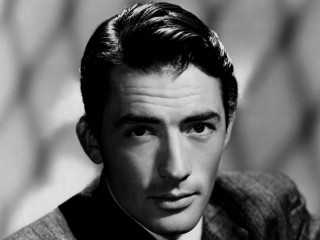 Gregory Peck
Date of birth : 1916-04-05
Date of death : 2003-05-12
Birthplace : La Jolla, California, U.S.
Nationality : American
Category : Arts and Entertainment
Last modified : 2011-09-21
Eldred Gregory Peck was an American actor.

One of 20th Century Fox's most popular film stars from the 1940s to the 1960s, Peck continued to play important roles well into the 1980s. His notable performances include that of Atticus Finch in the 1962 film To Kill a Mockingbird, for which he won an Academy Award. President Lyndon Johnson honored Peck with the Presidential Medal of Freedom in 1969 for his lifetime humanitarian efforts. In 1999, the American Film Institute named Peck among the Greatest Male Stars of All Time, ranking at #12.

Peck grew up in a broken home. His parents separated when he was three years old and later divorced. During his early childhood he split his time between his mother, his father, and his maternal grandmother. At the age of ten, he was sent to St. John's Military Academy in Los Angeles, California. From there he went on to attend the University of California at Berkeley where he studied English. Theater was never an interest of his until a director asked him to take a part in an adaptation of Moby Dick. CNN.com reported Peck said of the experience, "I don't know why I said yes. I guess I was fearless, and it seemed like it might be fun. I wasn't any good, but I ended up doing five plays my last year in college."
That brief experience with theater hooked Peck and after graduating from college he headed to New York to become an actor. He worked several odd jobs to support himself, including ushering at Radio City Music Hall, guiding tours at the NBC studios, and as a model. He was awarded a scholarship at the Neighborhood Playhouse and studied there for two years. His movement instructor was the innovative choreographer Martha Graham. During one of his classes with her she pushed on his back during a stretching exercise and caused an injury that eventually exempted Peck from military service. With some of Hollywood's most prestigious leading men serving in the war, Peck ably stepped into the role of leading man.
His star rose quickly. A year after leaving California he received the best actor award from the Barter Theater in Abingdon, Virginia. Two years later, in 1942, he debuted on Broadway in Morning Star. Soon afterward he was invited to Hollywood and made his film debut in 1944 in Days of Glory, playing a Russian fighting the Nazis. That same year, at age 28, he was nominated for an Academy Award for his role as a young priest in Keys of the Kingdom. By the end of the 1940s, he would collect nominations for three more films: The Yearling, Gentleman's Agreement, and Twelve O'Clock High.
Peck became one of the first stars to defy the studio system by refusing to sign with any single studio. He was also extremely careful in choosing his roles, trying to avoid typecasting himself. By the time he won his Oscar in 1962 he became one of the few actors with the power to command a million-dollar salary.
A committed activist, Peck dedicated himself to political causes throughout his career-supporting Democratic candidates, as well as social justice issues. At one point he was even being asked to run for office, but declined. President Lyndon Johnson named Peck to the National Council of the Arts and awarded him the Medal of Freedom, the United States' highest civilian honor. While he was a favorite of Johnson's, Peck earned a place on President Richard Nixon's infamous "enemies list" for his activities.
While the late 1960s were lean times for Peck's film career, he was incredibly involved behind the scenes by his membership in several entertainment industry associations. From 1967 to 1969 he served on the board of the American Film Institute, of which he was also a founding chairman. He was also president of the Motion Picture Academy of Arts and Sciences from 1967 to 1970. In 1968, the Motion Picture Academy awarded him the Jean Hersholt Humanitarian Award for his contribution to causes such as civil rights.
The 1970s produced only one real hit for Peck. In 1976, he played the father in the horror film The Omen in which his son is the reincarnation of Satan. The film was one of the most popular movies of the decade. He continued to accept roles here and there into the 1980s and 1990s. In 1983, he played President Abraham Lincoln in a television miniseries about the civil war called The Blue and The Gray. In 1987, he played a president again in Amazing Grace and Chuck. In 1989 he appeared as writer Ambrose Bierce in the film Old Gringo. His last role in a television version of Moby Dick, for which he won critical raves. It was ironic that he performed in this adaptation, since his first acting role had been in a play based on the same novel.
Peck married for the first time in 1942. That marriage lasted 13 years and produced three sons. After his divorce, he married the French journalist Veronique Passani in 1955. His marriage to Passani lasted until his death and resulted in two children, a son and a daughter. In 1975, Peck's oldest son from his first marriage committed suicide.
Peck received numerous lifetime achievement awards including ones from the Screen Actors Guild, the American Film Institute, and the Kennedy Center. In 2003, just weeks before his death, Peck's character, Atticus Finch, was named the number-one film hero by the American Film Institute. Peck died on June 12, 2003, in his sleep at his home in Los Angeles, California; he was 87. He is survived by his wife, three sons, and a daughter.
View the full website biography of Gregory Peck.