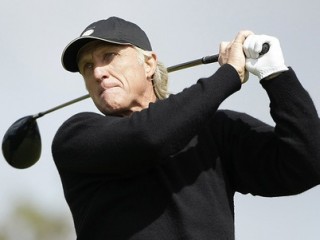 Greg Norman
Date of birth : 1955-02-10
Date of death : -
Birthplace : Mount Isa, Australia
Nationality : Australian
Category : Sports
Last modified : 2011-10-11
Gregory John Norman is an Australian professional golfer and entrepreneur who spent 331 weeks as the world's Number 1 ranked golfer in the 1980s and 1990s. He is nicknamed The Great White Shark or sometimes simply The Shark – a reference to Norman's blond hair, size and aggressive golf style and the shark inhabiting Australian waters.

Tour Victories:
• PGA Tour: 20
• European Tour: 17
(86 victories worldwide)

Major Championships:
• British Open: 1986, 1993

Awards and Honors:
• Member, World Golf Hall of Fame
• PGA Tour money leader, 1986, 1990, 1995
• PGA Tour Vardon Trophy winner, 1989, 1990, 1994
• PGA Tour player of the year, 1995
• 4-time member, International team, Presidents Cup
• Captain, International team, 2009 and 2011 Presidents Cup

Growing up in Australia, Norman's games were rugby and Australian Rules football. He didn't spend much time at golf until age 15 in 1970. He caddied for his mother during her weekly round, and borrowed her clubs following the round.

Two years later Norman was playing at scratch. He trained as an Australian PGA professional, and played amateur events around his home country.

In 1976, Norman turned pro. He joined the European Tour in 1977 and that year earned his first victory. In 1982 he was that tour's leading money winner. The following year, he joined the U.S. PGA Tour.

Norman's first win in America was at the 1984 Kemper Open, and he also won the Canadian Open that year. But Norman's first playoff loss in a major also happened in 1984, when Fuzzy Zoeller beat him in an 18-hole playoff at the 1984 U.S. Open.

Norman narrowly missed catching Jack Nicklaus at the 1986 Masters, but he pushed his approach shot to the 72nd green into the stands.

Bob Tway holed a bunker shot at the 1986 PGA Championship to snatch the win away from Norman; Larry Mize holed a long chip shot in a playoff at the 1987 Masters to deny Norman again. Perhaps most famously, Norman blew a 6-shot lead entering the final round to lose the 1996 Masters to Nick Faldo by 5 strokes.

But amid the bad breaks were plenty of wins - 20 of them on the U.S. Tour. Norman won three PGA Tour money titles and three PGA Tour scoring titles. He was Player of the Year in 1995 and for one stretch in the early 1990s held the No. 1 world ranking for 331 weeks.

And there were British Open titles in 1986 and 1993.

In 2008, at the age of 53, Norman made an unlikely run at a third British Open title, holding the third-round lead before finishing tied for third.

Also in 2008 - just a couple weeks before his British Open run - Norman married tennis legend Chris Evert. They divorced less than two years laters.

Off the course, Norman was a highly successful businessman, building Great White Shark Enterprises into an empire that included golf course design, apparel, development and production companies, merchandising and licensing, wineries, and even his own brand of beef. He also was an important figure in the development of Cobra Golf into a major brand.

View the full website biography of Greg Norman.