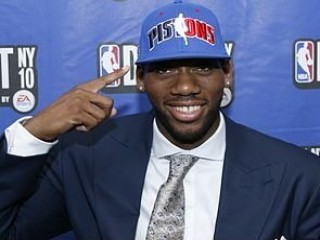 Greg Monroe
Date of birth : 1990-06-04
Date of death : -
Birthplace : Harvey, Louisiana, U.S.
Nationality : American
Category : Sports
Last modified : 2011-05-02
Greg Monroe, Jr. is a professional basketball center for the Detroit Pistons. He was drafted by the Pistons in the 2010 NBA Draft with the 7th overall pick. In his freshman season at Georgetown University he was named Big East Rookie of the Year.

CAREER:

Selected in the first round (7th overall) by Detroit in 2010.
Was an early entry candidate for the 2010 NBA Draft out of Georgetown.

2009-10 (Sophomore):
Averaged 16.1 points, 9.6 rebounds, 3.8 assists, 1.2 steals and 1.5 blocks in 34.2 minutes per game…Led the Hoyas to the Big East Tournament championship game averaging 19.3 points (.545 FG), 9.3 rebounds and 4.8 assists during the tournament…Recorded 14 double-doubles during the year (13 points/rebounds; 1 points/assists)…Scored in double figures 30 times and had 15 games with 10 or more rebounds…Led the team in scoring 13 times, rebounding 30 times and assists 15 times… Scored 16 points and grabbed a career-high 16 rebounds against Harvard…Scored a career-best 29 points and tied his career-high with 16 rebounds at Villanova…Had 15 points, 10 rebounds and seven assists against Syracuse in the Big East Quarterfinals.

2008-09 (Freshman):
Averaged 12.7 points, 6.5 rebounds, 2.5 assists, 1.8 steals, 1.5 blocks and 30.9 minutes in 31 games…Scored in double figures 27 times, including a streak of 27 straight double-figure scoring performances…Recorded four double-doubles…Ranked 29th in the Big East in scoring, 19th in rebounding, ninth in field goal percentage, fifth in steals and eighth in blocks…Scored a season-high 21 points with 10 rebounds against Notre Dame…Grabbed a season-high 11 rebounds at Syracuse…Recorded two-plus blocks 15 times, two-plus assists 21 times and two-plus steals 16 times.

COLLEGE:

Was a First Team All-Big East selection as a sophomore (2010)…Named to the 2010 Big East All-Tournament team (2010)…Selected as the Big East Rookie of the Year as a freshman with the Hoyas (2009)…Dished out a careerbest 12 assists at Providence (2/9/10), the most by a center in Big East history.

PERSONAL:

Full name is Gregory Keith Monroe, Jr. .Son of Gregory Sr. and Norma Jean Monroe…Has one sister, Brittany…Uncle Norman Dixon played football at Brigham Young University.

View the full website biography of Greg Monroe.